Adjectives: energetic, social, ancient, necessary, fantastic, exciting, fabulous, dull, comfortable, convenient, suitable, affordable, voluntary، mandatory, compulsory, temporary, permanent, Immense, vast, salty, extinct, vulnerable, pessimistic, optimistic, realistic, practical, knowledgeable, flexible, confident, Western, intensive, tranquil, spectacular, intact, various
Verbs: train, develop, collect, supervise, mark, edit, revise, exhibit, donate, surpass, register, support, hunt, persuade, concentrate, discuss, suggest, arrange, borrow, immigrate, review, learn, touch.
Sports: jet-skiing, bodyboarding, snowboarding, cricket, baseball, basketball, rugby, hang-gliding, skydiving, soccer, american football, hockey, swimming, tennis, squash, the javelin, badminton, ping-pong, field, court, pitch, stadium, team, the discus, the hammer, the high jump, horse racing, show jumping, polo, cycling, canoeing, refreshment, gymnasium, extreme sports, paragliding, abseiling, athlete, gym, bungee jumping, white-water rafting,surfing, windsurfing, kitesurfing, mountain biking, push-up,judo, recreation, jogging, press-up, snooker, walking, barbell, treadmill, championship.
Shapes: Oval, Square, rectangular, triangular, polygon, spherical, circular, curved, cylindrical, three dimensions, Measurement width, length, altitude, imperial system, metric system, spiral, Mass, depth, breadth, height, frequency
Weather: humid, hot, sticky, breeze, chilly, cold, cool, dry, dusty, freezing, hot, warm, wet, weather forecast, antenna, moisture,
Equipment and tools: helmet, light, musical instrument, cassette, silicon chip, digital monitor, gadget, device, screen, breaks, wheels , mechanical pencil, disk, backpack,
The arts and media: Opera , Orchestra , concert , symphony, the press, conductor, vocalist, audience, festival, carnival, exhibition,classical music, theatre, cinemas, art gallery, museum,ballet, television, radio, graphics, newspaper
The animal kingdom: lion, penguin, seabirds, poultry and game, birds of prey,mammals, genus, species, cetacean, whale, primates, rodents, reptile, insects, octopus, phylum, fish, amphibian, class, order, family, livestock, creature, plants: mushroom, fungus, stem, roots, cluster, fertilizer, leaves, seed, core, bark, trunk, twig, branch, flower.
Vehicles: camper, double-decker bus, single-decker, minibus, forklift truck, school bus, coach, truck, tanker, van, lorry, transporter,tow truck, breakdown truck, pickup, jeep, taxi, cab, tram, underground, subway,caravan, tractor, stream train, freight train, goods train
Expressions and time: midday, three times, three times per week, millennium, a gap year, fulltime, part-time, midnight, century, decade, fortnight.
Materials: aluminum, copper, fur, metal, steel, rubber, plastic, ceramics, cement, stone, textile, cotton, fabric, wool, glass, leather, bone, paper, lumber/wood, glue, concrete, wax, paper, wood, silver, composite, fiberglass, gold, feather
Color: blue, white, orange, green, grey, black, red, yellow, purple, brown, pink
Other: sufficient, dialogue, passport photo, state, variety, private sector, practice, gender, creativity, government, individual, original inhabitant, indigenous, demonstration,circuit, guarantee, commerce, carriage, narrative, strike, entrance, chocolate, satellite, decision, prototype, attitude, activity, recipient, ultrasound, pedestrian safety, daily routine, personal fulfillment, traffic jams, procedures, creation, senior, opportunity, driving license, prize, junior, process, literary, man-made, republicans,waiting list, sewer systems, liberal democracy, democrats, umbrella, frequently updated, lunar calendar, libertarian, burger, videos, fund-raising event, magnet, dialect, ramification, straight,nature conservation, life expectancy, farewell, welfare, encyclopedia, illiteracy, robot, proficiency, evolution, revolution.
Download PDF file: 1200 Commonly Repeated Words for IELTS Listening
The following two tabs change content below.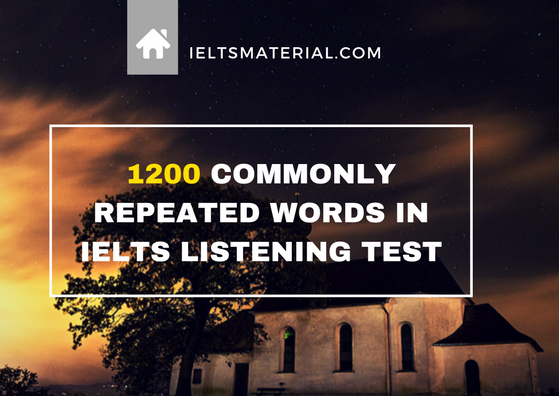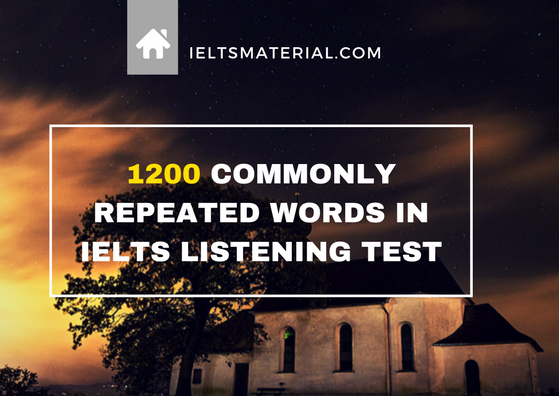 Main IELTS Pages:
This website is to develop your IELTS skills with tips, model answers, lessons, free books, and more. Each section (Listening, Speaking, Writing, Reading) has a complete collection of lessons to help you improve your IELTS skills.
Get all the latest updates/lessons via email:
Subscribe for free IELTS lessons/Books/Tips/Sample Answers/Advice from our IELTS experts. We help millions of IELTS learners maximize their IELTS scores!
Subscribe to IELTS Material to receive the latest lessons