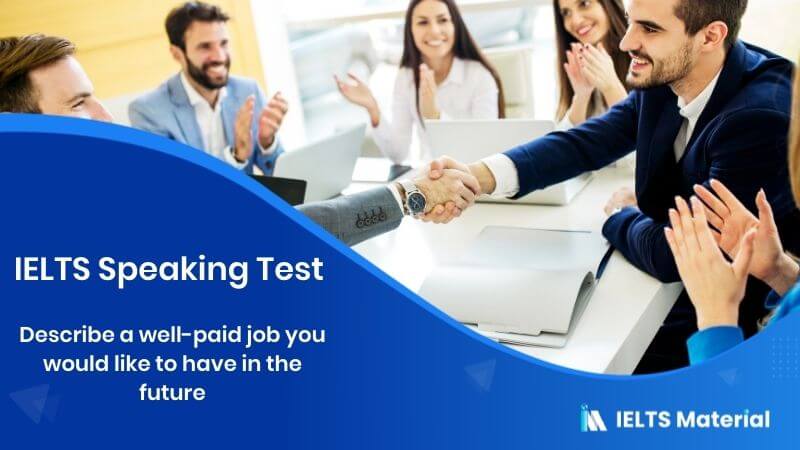 IELTS Speaking Test – Describe a well-paid job you would like to have in the future
IELTS Speaking Part 2
Describe a well-paid job you would like to do/you will be good at in the future. You should say:
what the job is
what qualifications are required for this job
how this job is different than other jobs
and explain why you would like to be good at this job.
Sample Answer
It's difficult to predict the future as to what job will dominate the labor market, but I'm pretty sure that teaching English as a foreign language stands a good chance of being one of the hottest professions in the upcoming years. And, to be honest, I'm working hard on enhancing my English teaching ability to prepare myself properly for this golden opportunity and become an IELTS examiner down the road.
Teaching English requires patience and perseverance and if you're an impetuous and bad-tempered person, then this noble profession is not cut out for you. In this job, I will have to get exposed to people of different educational and cultural backgrounds, some of them might be too stubborn to be a good listener or simply they're too lazy to acquire any knowledge. The two qualities I have mentioned is my strong suit actually. I have been employed as an English teacher and somehow learnt about the art of imparting knowledge and encourage students to actively participate in the lessons without being fed up with the students, I think this characteristic can be tackled over time and that being not too lenient with the students means I care for them pretty much.
At the moment, teaching social subjects like Literature or History admittedly doesn't guarantee a lucrative income. Yet it's not the same for English as it's an international language and is a prerequisite for international students or those working in multinational corporations. So, l speculate that in the foreseeable future the job as an IELTS examiner will promise a bright future.

Vocabulary
As to (phrase) concerning someone or something
Labor market (phrase) the number of people who are available to work, considered together with all the available jobs
Stand a chance (phrase) to be likely to achieve something
Down the road (idiom) in the future
Impetuous (adj) done quickly, without thinking about what the effects will be
Bad –tempered (adj) angry, irritable, or ungracious
Cut out for someone (phrasal verb) to be the right type of person to do something
Impart (verb) To pass on; transmit
Be fed up with (phrasal verb) be bored with something/somebody
Lenient with someone (adj) if a person or system is lenient, they punish someone less severely than they could
Also check :
Part 3 Questions
What kinds of jobs are poorly-paid in your country?
Obviously, manual workers receive the lowest income in my country; they work hard physically but with no good pay. Some of these occupations don't require much brain work and usually include factory workers, street cleaners or caretakers. Somehow; it is proportional to the efforts and time they spend when they were young.
Do people who have different levels of income feel happy about how much they earn?
This is a fascinating question, really. The discrepancy in income levels generally reflects the degree of happiness a person may feel. This is due to the fact that when people have the means, they can easily afford high-quality services and enjoy their life better. They can go to the cinema with their buddies to watch a blockbuster or hang out at some coffee shops. These things make people satisfied in life. On the contrary, if people can't take their mind off stuff like how to earn a living to support their family financially, definitely they sense no happiness in this life.
Do you think it is good to change jobs frequently?
If i have to choose, the answer would be no. Instead of job-hopping in a frequent basis, it would be better if we reflect on our interests or make greater efforts and determination in what we are doing. This helps us to have an overall picture of our genuine abilities and better adapt to an environment for longer stay. Another plus point is the promotion prospects are more promising if we set our heart on staying at the same place because the more we work, the more hands-on experience we gain. This makes us qualified for a pay rise or a good promotion.
You can get our IELTS speaking ebook titled "IELTS Speaking Actual Tests & Suggested Answers (Ebook)" which covers all the latest IELTS Speaking Actual Tests in 2017 with Band 9.0 Model Answers to boost your IELTS score.