Task 1: Two tunnels (diagrams)
The diagrams show the cross-sections of two tunnels, one joining France and Italy and the other joining two Japanese islands.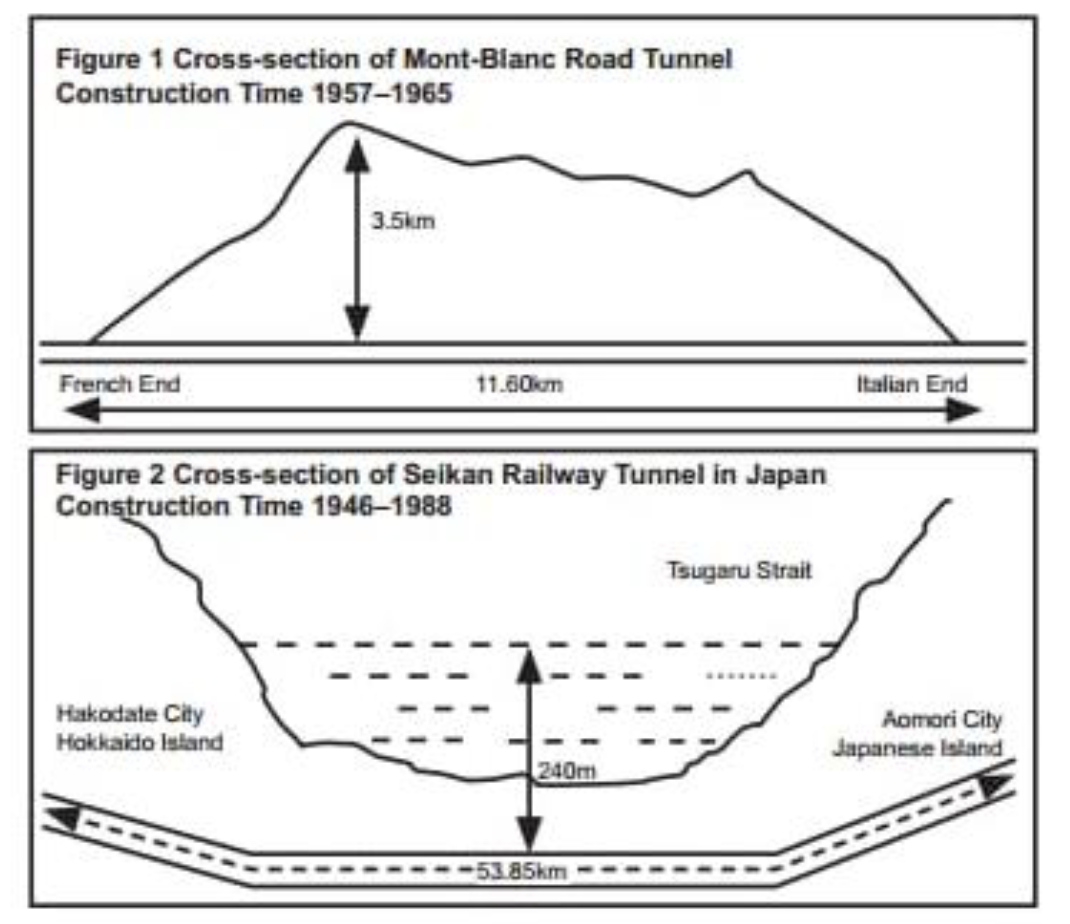 Report Plan:
Paraphrase: diagrams/figures; show/compare: illustrate; joining/linking.
Overview/summary: (1) the railway tunnel is longer (2) it took longer to build than the road tunnel.
Paragraph 3: compare the (maximum) depths of the tunnels. Contrast the lengths of the tunnels.
Paragraph 4: Compare the Japanese railway tunnel construction dates with those of the Mont Blanc tunnel. Note that the Japanese tunnel was built under the sea -the tunnel linking France and Italy was built under a mountain.
Report:
The figures compare the cross-sections of two tunnels. Figure 1 illustrates a road tunnel joining two European countries, while Figure 2 shows a railway tunnel linking two islands in Japan.
Overall, it is clear that the railway tunnel in Japan is much longer than the tunnel under Mont Blanc. Also, the Seikan Railway Tunnel took much longer to build than the Mont Blanc Road Tunnel.
The depth of the Mont Blanc Tunnel is 3.5 km at its maximum, compared with only 240m for the Seikan Tunnel. However, whereas the length of the Mont Blanc Tunnel connecting Italy and France is only 11.6 km, the Seikan Tunnel is much longer, at 53.85 km.
The construction times of the two tunnels were markedly different. The railway tunnel was built under the sea, connecting two Japanese islands, and its construction took 42 years to complete, starting in 1946 and finishing in 1988. The road tunnel under Mont Blanc, however, was completed in just 8 years, between 1957 and 1965.
166 words
The following two tabs change content below.
Latest posts by IELTS Material (see all)
Main IELTS Pages:
This website is to develop your IELTS skills with tips, model answers, lessons, free books, and more. Each section (Listening, Speaking, Writing, Reading) has a complete collection of lessons to help you improve your IELTS skills.
Get all the latest updates/lessons via email:
Subscribe for free IELTS lessons/Books/Tips/Sample Answers/Advice from our IELTS experts. We help millions of IELTS learners maximize their IELTS scores!
Subscribe to IELTS Material to receive the latest lessons