5 Best IELTS Coaching in Kottayam 2022
Janice Thompson,
Updated On
Are you planning to immigrate to an English-speaking country but feeling baffled about what approach to follow for IELTS preparation?
IELTS or International English Language Testing System is an English proficiency test accepted by a variety of countries. Many institutions and organizations have a particular IELTS score requirement. As a result, a high band score is required to improve your chances of getting selected for the immigration procedure.
IELTS Coaching in Kottayam
Abound in offline coaching centres, Kottayam provides students with in-depth learning experiences and knowledge. Since IELTS aspirants require proper guidance, all the institutes customize learning material, tips and strategies to help students enhance their overall English language skills.
All of these Kottayam coaching institutions are staffed with skilled IELTS specialists who can assist applicants in improving their consistency and regularity.
Top 5 IELTS Coaching centres in Kottayam
Many people have recently shown an interest in settling in foreign nations. As a result, several coaching institutes have sprung up in Kottayam. Through the professional learning atmosphere and classroom programs, these institutes assist students in improving their test preparedness level.
The better the coaching, the more likely you are to succeed. So, pick the finest IELTS tutoring that is suited for you, depending on faculty expertise, course prices, distance from your house, and course material offered. To save time and make your IELTS journey easier, use the list of top IELTS tutoring centres in Kottayam provided below.
| SL No. | IELTS Coaching Centres in Kottayam | Location | Specializes in |
| --- | --- | --- | --- |
| 1 | Manjoorans Academy Kottayam | Kanjikuzhi, Kottayam | IELTS Coaching |
| 2 | Ealoor Consultancy | Near Nagampadam Bridge, Kottayam | IELTS Coaching |
| 3 | Kanjirakadans Academy | Thirunakkara, Kottayam | IELTS Coaching |
| 4 | St. Jude International | Kottayam | IELTS Coaching |
| 5 | Rayo Academy | Baker Junction, Kottayam | IELTS Coaching |
1. Manjoorans Academy Kottayam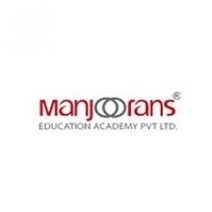 With over 35 years of expertise, this institute specializes in IELTS and OET preparation. Its IELTS coaching classes are conducted by IELTS professionals who have exceptional knowledge of the IELTS exam. They are CELTA qualified trainers who know how and what approach to follow with different students. It also offers interactive sessions to enhance students' speaking and listening skills.
Moreover, it provides the right learning environment to students by keeping the batch size small. There are currently 4 branches of this coaching institute in Kottayam, and it aims to offer quality guidance to its students.
Address: 1st Floor, Municipal Building, Kanjikuzhi, 686004, Kottayam, Kerala
2. Ealoor Consultancy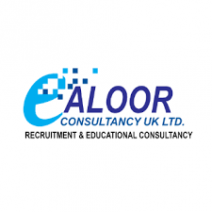 Ealoor Consultancy offers both online and offline sessions for the IELTS exam. They restrict their offline batch size to 10 students in order to ensure that each student receives the necessary attention.
Apart from that, they make certain to present a variety of unique tips, approaches, and strategies to assist students in improving their test-taking and time-management skills. All of their courses are well planned, including daily speaking and writing assignments as well as feedback sessions.
Time: Monday to Friday – 9.30 AM to 4 PM
Address: Opposite Pittappillil Agencies, Near Nagampadam Bridge, Kottayam, Kerala
3. Kanjirakadans Academy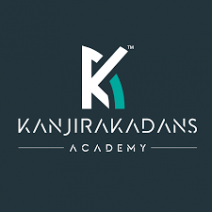 Kanjirakadans Academy has been in IELTS and OET preparation for a long time and has a stellar reputation as one of the best IELTS preparation courses. It offers high-quality course material and effective expert instructions. It offers a tailor-made study plan option developed by its top IELTS experts.
There are also several full-length sample tests, small batches, daily corrective sessions, and basic English grooming sessions included. Besides that, for the utmost benefit of the students, it also offers Spoken English and German courses. Students can avail the free demo class facility as well.
Time: Monday to Friday – 10 AM to 3.30 PM
Address: Cinima Maasiga Building Azad lane, Thirunakkara, Kottayam, Kerala 686001
4. St. Jude International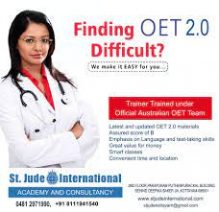 St. Jude International is one of the finest coaching centres of Kottayam for OET, CBT and IELTS. It offers numerous sessions on IELTS listening, writing, speaking and reading and helps students achieve their desired band score. It provides a comprehensive learning experience to its students and a unique methodology to enhance their approach to the IELTS exam.
The IELTS course offered consists of a structured approach for IELTS writing tasks, practice tests, and self-evaluating test performance. Moreover, students can choose a flexible schedule for best learning experience.
Address: St.Jude International, Academy & Consultancy, 2nd floor, Parapuram Puthenpurackal, Building, Behind Deepika Baker Jn., Kottayam-686001
5. Rayo Academy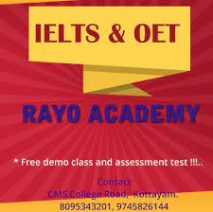 Rayo Academy is just what you need to quickly and effectively prepare for the IELTS test. It serves not only IELTS but OET course facilities as well to candidates. The panel of IELTS experts specially design all its courses, and each of these courses is divided into 5 level modules.
The course structure provided by them includes advanced study materials, weekly mock tests and a daily assessment facility. Besides that, its classes are well equipped with advanced audio labs. This course involves full-length practice tests and guidance for all four parts of the test – reading, writing, listening, and speaking to help students develop their test-taking performance.
Address: Opposite Deepika, Baker Junction, Kottayam
Why Choose IELTS Coaching in Kottayam?
Talking about the IELTS classes in Kottayam, there is a multitude of them available in the city. Acclaimed for the virtuoso in teaching patterns and adeptness in training the IELTS students and examinees, this city has covered a long distance in mentoring IELTS trainees.
The fantabulous history of the city has garnered a reputation for itself, and that is the reason why people wish to get admission to any IELTS coaching institute in Kottayam. IELTS training in Kottayam has certainly garnered a praiseworthy place thanks to the mind-boggling band scores achieved by the aspirants over the years.
How do I Choose the Best IELTS Coaching in Kottayam?
At times, selecting the institute that provides the best IELTS classes could be viewed as a complicated road to traverse across. However, that needn't be a hurdle in your way. Your search shouldn't be slimmed by following the scores of the students to be the only criterion for your search.
The best institutes could be chosen keeping various dynamics in mind, such as the distance of the institute, the ambience, faculty, etc. Always bear in mind, what works for someone else doesn't have to necessarily perform for you as well. Hence, the best IELTS coaching centre in Kottayam has to be wisely chosen by you.
Although there are students who have passed the IELTS exam without any support, enrolling in a coaching program can help you boost your chances of achieving a high band score. These Kottayam coaching classes can assist you in improving your IELTS preparation.
Being in a continually competitive setting will improve your performance and help you prepare for the IELTS exam. When it comes to thorough preparation, there is no substitute for IELTS coaching.
Check the list of top ielts online training institutes in Kottayam and start your ielts online classes right away!