SECTION 1
Questions 1-4
Answer the questions below.
Write NO MORE THAN THREE WORDS for each answer.
Which documents could Sam use as proof of her name?
Example passport
1 …………………………….
2 …………………………….
Which could she use as proof of her address?
council tax bill
3 …………………………….
phone bill (fixed line)
4 …………………………….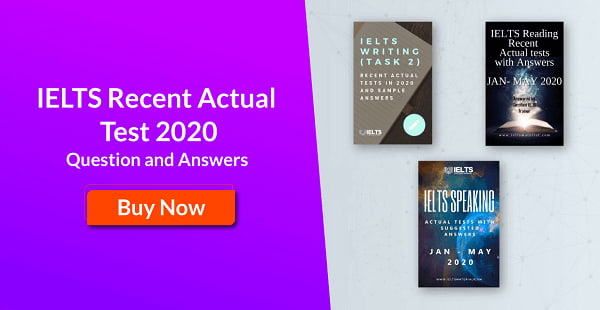 Questions 5-7
Complete the notes below.
Write NO MORE THAN TWO WORDS OR NUMBERS for each answer.
Name of bank? Savings Bank
Open which days? Monday-Friday
Opening hours? 5 …………………………….
Where? 6 …………………………….
Free gift? 7 …………………………….

Questions 8-10
Match the places in Questions 8-10 to the appropriate letters A-H on the map.
8 Royal Bank ________
9 Northern Bank. ________
10 National Bank. ________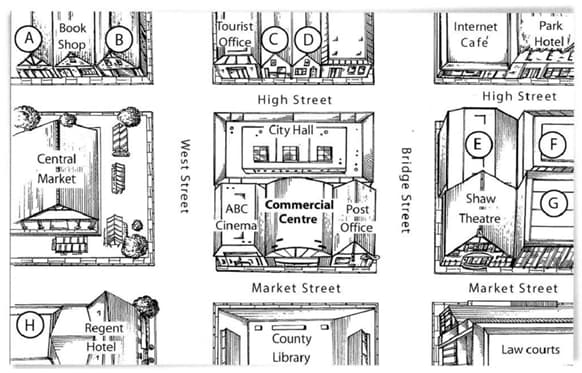 SECTION 2
Questions 11-14
Complete the table below.
Write NO MORE THAN THREE WORDS for each answer.
Preparing for the interview
What to do
How to do it
Step 1:

Prepare things to take.

Gather all documents, e.g. copies of resume.

Choose 11………………… e.g. designs, drawings, written work.

Step 2:

Get more information.

Check you have pen and paper.

Ask firm for a 12………………………

See profiles at Chamber of Commerce, library.

Step 3: Focus on you and the job.
Contact 13………………….. of this or related firms.

Compare yourself with what is required.

Imagine likely questions and your answers.

Decide how to make up for any 14…………….. you lack
Questions 15-20
Complete the notes below.
Write NO MORE THAN THREE WORDS for each answer.
At the interview
Arrive no more than 15…………………………….before the time of the interview.
After you hear the question, you can 16…………………………….before you reply.
You can 17…………………………….if you don't understand what they're asking you.
Wait for them to offer you the job before you say what 18……………………………. you want.
Learning from the experience will make you more 19…………………………….in future interviews.
Pay attention to your 20…………………………….- it shows you have a positive attitude.
SECTION 3
Questions 21-24
Complete the summary below by writing NO MORE THAN THREE WORDS in the spaces provided.
To many employers, academic success and personal development as a result of being at 21…………………………….can be as important as course content, so choose 22…………………………….modules that you may do well in. You should, however, think more carefully about your choice if your course is 23 …………………………….. In this case the course normally includes all the modules necessary for professional training, but if you are in any doubt check with your academic department or the 24…………………………….at the university.
Questions 25-29
Write the appropriate letters A-C against questions 25-29.
Which modules have the following features?
A Applied Chemical Engineering
B Fluid Mechanics
C Chemical Engineering: Science 1
25 developing computer skills …………
26 exemption from part of a module …………
27 assessment by formal examination …………
28 developing speaking and writing skills …………
29 learning through problem-solving ………….
Question 30
30 Which chart shows the percentage of private study time on the Spanish 1A module?

SECTION 4
Questions 31-33
Label the diagram. Write NO MORE THAN TWO WORDS AND/OR A NUMBER for each answer.

Questions 34-36
Choose from letters A-C and write them on your answer sheet.
34 The crater at Acraman is
A nowadays entirely covered by sea water.
B one of the most beautiful on Karth.
C less spectacular than others in Australia.
35 Williams realised what had happened at Acraman when he
A saw pictures of the area taken from above.
B visited Acraman for the first time in 1980.
C noticed a picture of the crater in a textbook.
36 Where was rock from Acraman found?
A Only in the Flinders mountains.
B At several placcs over 300 km from Acraman.
C At a place 500 km from Acraman, but nowhere else.

Questions 37-40
Write NO MORE THAN THREE WORDS for each answer.
37 What made the sea water shake?…………………………….
38 What threw the pebbles into the air?…………………………….
39 What was mixed with silt to form a layer of rock?…………….
40 What shaped the ripples on top of the rock?…………………….
Answer key
driving license
benefit book
insurance certificate
electricity bill
9.30 – 3.30
ground floor
no/ nothing
F
A
C
work samples
job description
employees
experience or skills
ten minutes
take your time
ask for clarification
salary
confident
appearance
university
interesting
vocational
careers service
A
C
B
A
C
C
90,000/ ninety thousand
4 km/ four kilometres
40 km/ forty kilometres
C
A
B
(the) earthquake / shock waves
(the) explosion
sand
(the) (huge) waves
BONUS EXERCISE: GAP-FILLING
The texts below are transcript for your IELTS Listening Practice Test. To make the most out of this transcript, we removed some words from the texts and replaced with spaces. You has to fill each space with the missing word by listening to the audio for this IELTS listening practice test.