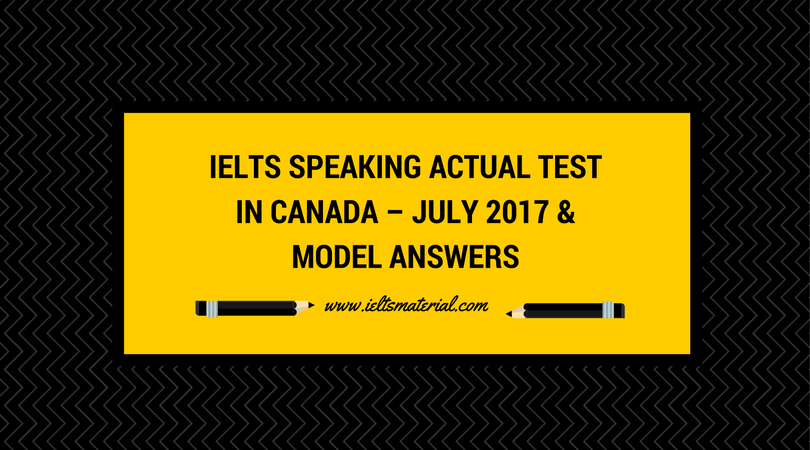 IELTS Speaking Actual Test in Canada – July 2017 & Model Answers
Speaking Part 1
1

What is your full name?
Well, I am Meera Shah.
2

Can I see your ID?
Of course! Here it is. 
3

Where are you from?
I'm from the city which is well known for its inventions and discoveries. Yes, it is Kanpur that has acquired the fifth position among Indian states. This city is also known for the industries such as rayon, leather, cotton, etc.
4

Do you work or study?
I m right now working as an employee in a well known organisation which deals with the creation of  web pages according to the customers needs and also makes sure that the data of different companies are maintained confidentially.
5

Are you interested in robots? Why?
No, I'm not really keen on robots because I'm kind of a low-tech person. Also, a robot is a luxury technological product that I have never been able to afford, so I don't feel like I want to know much about them.
6

Is it good to have a robot at home?
If I had a lot of money, I'd like to have a robot in my home. As I'm always occupied with my work, I need a robot to help me do chores and prepare meals whenever I come home at night. That'd be great!
7

Would you want to take a car where a robot is the driver?
No, I  wouldn't want a robot to drive my car. It would be too dangerous and risky for me to take a drive with a robot. Because a robot is programmed by humans, I don't think that it can handle road incidents quickly and efficiently enough to ensure safety.
IELTS Actual Tests Questions (March - June 2021) with Answers
8

Will robots replace human beings in the workplace completely?
Well, I have to admit that robots play an important part in our modern life. However, they will never completely replace the roles of humans at work as they are incapable of feeling emotions and thinking deeply like humans. For example, in a conference, people have to discuss problems in great detail before giving solutions and making decisions, but robots lack the capacity to respond to all questions instantly and effectively.
Speaking Part 2
Talk about a time when you went to a very good event which was attended by many people.
You should say:
What was the event?

Who did you go there with?

How did you feel during and after the event? 
In this hectic life of ours, we don't like to miss any opportunity to celebrate. Here, I would like to talk about one such opportunity which allowed me to enjoy a little. It was one of my best friend's weddings. It was a memorable event as I met many of my friends after a long gap of 10 years. This was a rare opportunity for me to meet them and it was like a réunion for all of us. Many of them had fallen out of touch due to busy work schedules. But thanks to the wedding ceremony, we had lots of fun. The moment was nostalgic as meeting old friends after a long span of time makes you realize how much your life has changed. We had a good time sharing our old memories and life experiences. Besides, the wedding ceremony was held at night in an open backyard which was fantastically decorated with some marvellous lighting system, potted plants and fresh flowers. All the guests were dressed to kill in traditional dresses and suits. Apart from this, the traditional and authentic biryani and other associated dishes were mouth-watering. The wide variety of sweets & desserts were just enough to lure everyone to eat more and more. Overall, the wedding ceremony was amazing, and I thoroughly enjoyed meeting my friends. 
Vocabulary for Cue Card
Memorable:

worth remembering or easily remembered, especially because of being special or unusual 


Eg:

My grandmother recalled the memorable moments of her life. 

Reunion:

a social gathering attended by members of a group of people who have not seen each other for some time.


Eg:

Our school reunion party is going to be held next week. 

Nostalgic:

feeling happy and also slightly sad when you think about things that happened in the past:

Eg:

The old man was nostalgic to see the photo album. 

Fantastically:

extraordinarily well.


Eg:

The entire theme of the event has been fantastically decorated. 

Dressed to kill:

wearing glamorous clothes intended to create a striking impression.


Eg:

People were dressed to kill at the party yesterday. 

Mouth-watering:

smelling, looking, or sounding delicious.


Eg:

I was tempted by the mouth-watering chocolate truffles. 

Lure:

tempt (a person or animal) to do something or to go somewhere, especially by offering some form of reward.


Eg: The kidnappers lured children into the car by promising to give chocolates and cookies.
Speaking Part 3
1

Why did you go?
It was one of my best friend's weddings and I'd definitely not want to miss it at any cost. We are friends from the age of 6 and it is impossible for me to miss one of the memorable events in her life. 
2

How many people were there?
Many guests were present at the ceremony as the groom, and the bride is from joint families. I got a chance to mingle and socialize with many nice, new people from whom I got positive vibes.
3

Do you like over-crowded places?
It depends. Even if a place is over-crowded and the people there share the same interests as I do, I'd feel comfortable. In contrast, if I am surrounded by strangers in the crowd, then I will start to feel extremely anxious and intimidated. And it's very unpleasant when someone pushes and shoves us in overcrowded places.
4

What makes people go to, or avoid crowded area's?
Some people find it interesting to go to crowded places like concerts as they want to see the artist performing live. Also, it's exciting to watch the crazy crowd during the concerts. On the other hand, some people avoid being in over-crowded places as there's a lack of oxygen, and mobility. They may also not like getting bumped into each other.
5

What are the advantages and disadvantages of going to crowded areas?
There are many advantages to living in a city such as frequent social gatherings, broadminded people, more cultural events, better medical facilities and job availability, etc. However, there are disadvantages to living in a city, such as overcrowding, lack of oxygen leading to chronic diseases, and problems with mobility.
6

What is your opinion about over-crowded places?
In my opinion, the government should take immediate action against these overcrowded places as there's a high risk of getting infected.  Also, people should avoid going to these places.
7

Why do you think so?
Well, I think it's best to avoid going to crowded places because there's a chance of getting infected with the air-borne viruses, and there will be breathing difficulties due to lack of oxygen. So if it's necessary to attend a large gathering or public event then you must remain cautious about your own safety.
Vocabulary For Speaking Part 3
At any cost:

no matter what dangers or difficulties are involved 


Eg:

John is determined to win the tournament at any cost. 

Mingle:

 to move around and talk to other people at a social event:


Eg:

Rose is an introvert and doesn't like to mingle with people. 

Vibes:

A distinctive mood or aura surrounding a person, thing, or place, as sensed or felt by another person


Eg:

You've got to experience it to get the vibe of the place. 

Intimidated:

frighten or overawe (someone), especially in order to make them do what one wants.


Eg:

The villagers were intimidated by the police. 

Bumped:

knock or run into someone or something with a jolt. 


Eg:

I almost bumped into him at the wedding. 

Cautious:

not acting quickly in order to avoid risks


Eg:

The old lady is very cautious with her money.
Also check :