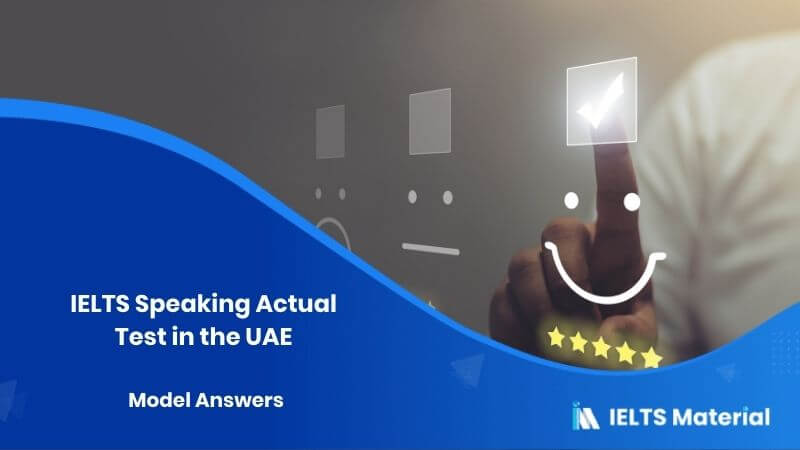 IELTS Speaking Actual Test in the UAE – Feb 2018 & Model Answers
Speaking Part 1
1

What is your name?
Well, I'm "Sonam Shaikh."
2

Could you show me your ID?
Of course! Here it is. 
3

Do you work or study?
Currently, I am working as a nurse in one of the most reputed hospitals in my city. I've been in this profession for almost a year now. My work mainly involves taking care of the patients, and I love it when they express their gratitude to me.
4

When do you usually have meals?
Once I am done with my work in the morning session, I get a break of 50 minutes, and that is when I grab a bite of sandwich. Sometimes I have a quick snack around 2.30 PM. My dinner time gets shifted due to work and commuting schedules. 
5

Whom do you often have meals with?
I have my meals with one of my colleagues, Sneha. Although she's my senior, she's very humble and polite. We share a very close bond as she's from my native place. And very often, we share our meals and talk about current affairs.
6

Do you think it is important to eat with family?
In my opinion, it depends upon the individual whether they prefer eating with their families or not. But family meals provide an excellent opportunity for the family members to share their food choices, and strengthens the bond between parents and the children. Besides that, eating together builds a sense of belonging and promotes sensible eating habits.
Speaking Part 2
Describe an experience of good service of a company you had
You should say
When it was
What the product was
How they solved the problem
And explain why you think it was good service
Sample Answer
I am a student and often busy with technical gadgets. Also because it's pandemic, all the work is done online, via laptop/mobile/PC etc. Last year on May 20th, I bought a HP laptop. The laptop which I had was 10 years old, and it wasn't functioning according to my needs. But the new laptop I bought had all the modern specifications and the facilities my old laptop failed to provide.
I bought it offline from the HP store in Chandi. The sellers were polite and knowledgeable about every product. After the selection was done, the payment procedure took less time and there were no problems with the papers.. They did the necessary configurations and started my laptop.I used it for a month, and it didn't have any issues. Suddenly the laptop started to black out and hang every now and then. And after a few days, my laptop didn't start. I called the customer care service, and they approached me politely. After patiently hearing my problems, they decided to send a technician home and get the work done. The technician arrived the very next day. After analysing the laptop, he concluded that the windows had crashed due to the recent update that was done. He told me that the update needed to be undone. Luckily I had my backup for the documents. They reconfigured my windows and brought it back to normal. They turned off the auto-updates as well.
It was a real good service. They were polite and dedicated. Since it had a 1 year warranty, the service charge was less. I would always recommend HP not only for the quality of the product, but also for the helpful servicing committee. They resolved the issue in no time.
Vocabulary For Cue Card
Technical:

one with technology and gadgets


Eg:

Rahul is really good with

technical

stuff.

Pandemic:

(of a disease) prevalent over a whole country or the world.


Eg:

The global

Pandemic

was due to the new CoronaVirus.

Configuration:

an arrangement of parts or elements in a particular form, figure, or combination.


Eg:

She

re-configured

the computer.

Drawback:

disadvantage


Eg:

The

drawbacks

of windows 7 are visible clearly after the invention of windows 10.

Recommend:

suggest


Eg:

 I would

recommend

you to keep a low profile.
Speaking Part 3
1

How important it is for a company to have customer call centers?
A company needs to have customer call centers to help customers contact the company. The call center's main objective is to handle the customer service and retail sales, billing, and collection of a customer in an instant manner.
2

Which one is better to solve a customer's problem, face to face or on the phone?
In my opinion, face to face interaction is better to solve a customer's problem rather than clearing out the problem through a phone conversation.In a direct interaction, we get a more detailed version of the customer's issue with the product.
3

What qualities does a call center employee should have?
A call center employee must possess some qualities like attention to detail, organization, flexibility, friendliness, effective communication skills, creativity, ability to handle pressure, problem-solving skills, speed & efficiency, emotional stability, etc.
4

Do you think it is important for companies to have feedback from customers?
Of course! It is essential for the companies to receive feedback from the customers to improve customer retention. A feedback lets the company know about their weaknesses and changes needed on the product or service. This is also essential for measuring customer satisfaction. Thus, customer feedback stands as one of the most important aspects of running a business.
Vocabulary For Speaking Part 3
Call centre:

an office in which large numbers of phone calls are handled, especially one providing the customer services functions of a large organization 


Eg:

After graduating from the University, John moved to Mumbai to work in a call centre. 

Objective:

something that you are planning to do or achieve


Eg:

The main objective of the scheme is to provide financial support to needy students. 

Interaction:

communication or direct involvement with someone or something.


Eg:

The interaction between the journalist and the politician changed into a debate. 

Weaknesses:

the fact or state of not being strong or powerful


Eg:

The interviewer asked the interviewee to describe his weaknesses. 

Satisfaction:

fulfilment of one's wishes, expectations, or needs, or the pleasure derived from this


Eg:

The old man's satisfaction knew no bounds when he met his granddaughter after a long gap of 10 years. 
Also check :