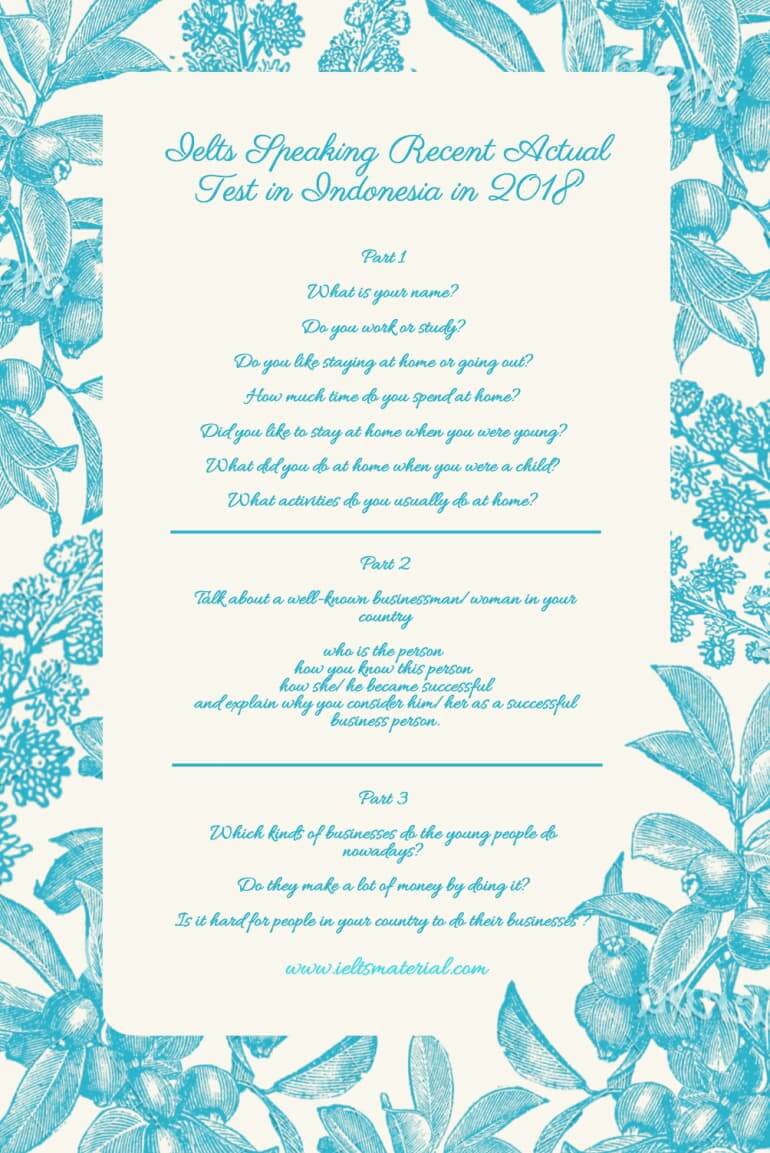 IELTS Speaking Recent Actual Test in Indonesia in 2018
Check out IELTS Speaking Recent Actual Test in Indonesia.
For Band 9.0 Model Answers for all Part 1, 2, 3 topics in 2018, you can take a look at IELTS Speaking Actual Tests (January – April 2018) & Suggested Answers (Ebook)
Speaking Part 1
1

What is your name?
My name is Sanjana Shukla
2

Do you work or study?
I'm pursuing BBA(Bachelors Of Business Application) right now which deals with the management and all the laws ,policies and process regarding operation of a business
Staying at home
3

Do you like staying at home or going out?
I like to go out, try new food, meet my friends, and have fun with my family at outdoor dinners
4

How much time do you spend at home?
Mostly you can find me at home. I don't go out much. But I do step out occasionally and hang out with my friends.
5

Did you like to stay at home when you were young?
Yes , I always used to play with my friends in the playground near my house. I barely used to stay at home. After coming from my school, I used to eat something and go to play. My parents didn't like this habit of mine and often scolded me for spending more time in the playground.
6

What did you do at home when you were a child?
Staying at home, I usually tend to make drawings, watch different type of cartoons in television, play with my brother, study and also used to complete my pending homework given by teachers in school
7

What activities do you usually do at home?
I spend time with family, chit-chat with my friends on a call, try to cook, attend online classes etc. Mostly I try to put myself into something productive.
Speaking Part 2
Talk about a well-known businessman/woman in your country
You should say
who is the person
how you know this person
how she/he became successful
and explain why you consider him/her as a successful business person.
Sample Answer
As a child, I always wished to become a doctor. I was too much into it that whenever I visited a hospital, I would read their pamphlets and about every person's medical history. Now with age, the dreams have changed. But I haven't got over my old habit of reading pamphlets. On such a note, I came across the name Sunita Reddy.
She was the person who made the Apollo Hospitals famous in India. Suneeta Reddy has been instrumental in making the Apollo chain of hospitals one of the country's biggest. In terms of revenue, its growth is by 14% in FY2018. Apollo pharmacy business also grew in the same FY by 18%. The company also acquired Fortis Healthcare in a significant deal sometime back.
She was able to expand an organization throughout India and make it a success . In this male dominating country, she is one of the many women who has successfully shown that a woman is no less in any field. Building a business is hard. However, every entrepreneur must start somewhere. There is no magic shortcut to building a good business. She proved that there is no place for gender bias in business. It doesn't matter when you start or where you start your journey or who starts it. If you are dedicated, you will get results.
Vocabulary for Cue Card
Pamphlet: leaflets containing information
Eg: She is handing over the pamphlets
Healthcare: the organization that takes care of your health
Eg: You should visit a health care for your daughter
Pharmacy: medicine shop
Eg: I went to the pharmacy last night
Dominating: ruling over
Eg: She is dominating in nature
Entrepreneur: individual who creates a new business
Eg: She is a successful entrepreneur.
Describe a large company that you know
Describe a successful small business that you know
Speaking Part 3
1

Which kinds of businesses do the young people do nowadays?
Young people nowadays are moving towards entrepreneurship. They try to start their own business such as making jewellery, painting or sketches , selling of clothes, mugs, pottery, opening little grocery shops and stationery shops.
2

Do they make a lot of money by doing it?
No , not a lot of money, but they do earn enough to sustain themselves or we can say they earn enough to lead a peaceful life.
3

Is it hard for people in your country to do their businesses ?
As the population of India is growing, so are the demands for goods. So business is not so difficult. You may have to struggle initially, but once the business has gained ground, life is easy.
Vocabulary for Speaking Part 3
Entrepreneurship:

Taking on financial risks in the hope of profit 


Eg: Yes we have to take to entrepreneurship in order to be successful.
Sustain:

strengthen or support physically or mentally.


Eg: The country is trying to sustain itself with minimum imports.
Gain ground:

become more popular or accepted.


Eg: His new computer business has gained ground.
Also check :