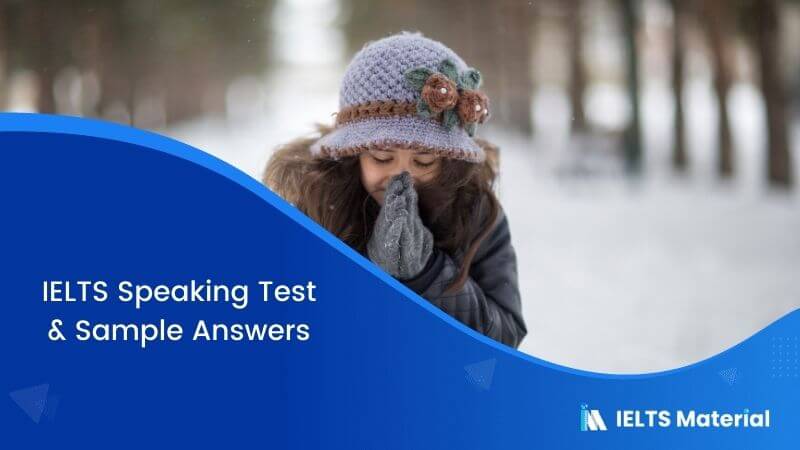 IELTS Speaking Test in Indonesia – March 2018 & Sample Answers
Check out the latest IELTS Speaking Test In Indonesia in 2018 with Answers
Speaking Part 1
1

What is your full name?
My name is Arunima J. Angajan. You can call me Arunima.
2

Can I see your ID?
Yes. Here is my ID.
3

What can I call you?
You can call me Arunima.
4

Do you work or study?
I am a student of Xavier's. I am studying animation.
5

Do you like travelling?
Yes! I love to travel. When I was a kid, I used to dream of becoming a globetrotter. I have been to half the states in India, and I wish to travel more.
6

Do you like travelling by plane?
Yes, I do. It's faster than many other conveniences but it is costly too. And the process of acquiring a passport becomes difficult in case of emergency.
7

How often do you use your phone?
I use my phone often. Due to the pandemic, everything has come down to mobiles and laptops. Since I haven't bought a laptop yet, I use my phone for all purposes.
8

What is your favourite app?
My favorite app will always be Pinterest. I love to draw, and pinterest provides great ideas to work on.
9

Can you create a new app?
No. I am a student of animation. I can make logos and designs of the app, but cannot develop an entire app, as such.
10

What app do you want to have?
I haven't thought of it yet. If possible I would love to have a social site with every painter around the world encouraging one another.
Speaking Part 2
Describe a kind of weather you like
You should say
What kind of weather it is
What you usually do during this weather
How this weather affects your mood
Why you like this type of weather
Sample Answer
Well, I enjoy cold weather which is always such a rare event in my city, you know since our city is near the equator, so it's hot and humid during a year. Therefore, I always look forward to December when the weather is cool and a little bit cold with wind. It's my time; then during this weather, I usually prefer lying on the bench in my garden, watching the sky and sipping my hot coffee with joy and pleasure. As I can do what I can't in the dry season, so I'm always like on cloud nine whenever this cold comes. I enjoy doing all the things under this kind of weather, especially with my mother, such as planting the trees, looking at the sky and going out without having to wear any jackets. I think I never get bored with the cold weather due to the fact that it's very comfortable to work and study. Besides, when this type of weather turns up, it means that an interesting series of holidays may come around soon like Christmas and New Year, which are the time for family.
Vocabulary for Cue Card
equator: an imaginary line drawn around the middle of the Earth an equal distance from the North Pole and the South Pole
Eg: The nights and days are equally divided round the equator.
humid: (of air and weather conditions) containing extremely small drops of water in the air
Eg: The weather today is hot and humid
look forward to: to feel pleased and excited about something that is going to happen
Eg: I am looking forward to meeting the chief guest.
sip: to drink, taking only a very small amount at a time
Eg: She took a sip of the tea and realised it was delicious.
on cloud nine: to be extremely happy and excited
Eg: She was on cloud nine after getting the scholarship.
be/get bored with: feel tired and unhappy because something is not interesting or because you have nothing to do
Eg: Ross got bored with Mike while Phoebe was out.
turn up: to arrive or appear somewhere, usually unexpectedly or in a way that was not planned
Eg: She turned up on her sister's birthday
series: a number of similar or related events or things, one following another
Eg: The GP series is better than Harmonic series.
come around: If an event that happens regularly comes round/around, it happens at its usual time
Eg: What goes around, comes around.
Speaking Part 3
1

Do you think the weather has changed compared to the past? In what way?
Yes, the weather has changed so much since the last 10 years. The temperature is always at its extreme. It is either too hot or too cold. Spring and autumn have almost vanished.
2

Do you think most people enjoy hot weather? Why/Why not?
I don't know about others, but I don't like the hot weather. I love the winters, instead. The morning sun of winter is beautiful. You can take a walk round your neighborhood without getting stinky and sweaty. Thus I feel winter is appealing in its own way. Nevertheless, Summer has its benefits too.
3

Do you think weather usually affects people's mood? How?
Yes. Weather affects people's moods. Mostly the rains. Some happen to enjoy the rain and while others love to sink in and lose themselves in the mesmerising beauty of the rains.
Vocabulary for Speaking Part 3
Temperature: the degrees to determine hotness.
Eg: The temperature was high.
Beneficial: advantageous
Eg: Walking is beneficial for health
Sink in: emerge into
Eg: She sank into the song played on the radio
Appealing: agreeable
Eg: Some songs are so appealing that you cannot ignore it.
Also check :