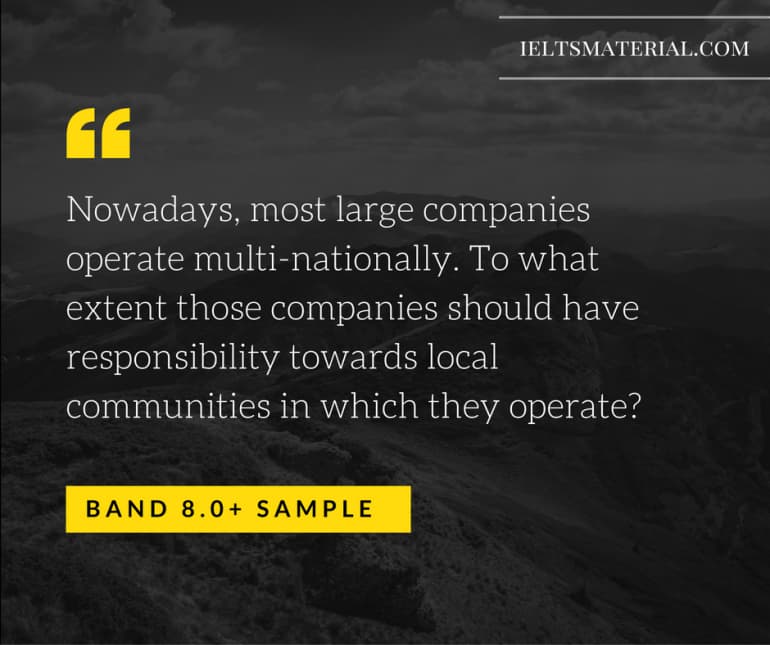 IELTS Writing Actual Test in July 2016 & Band 8.0+ Sample Argumentative Essay
IELTS Writing Task 2 Topic
Nowadays, most large companies operate multi-nationally. To what extent those companies should have responsibility towards local communities in which they operate?
Band 8.0 Sample Essay 
In the globalisation process, a variety of organisations run on an international scale. However, I believe that these firms should not forget to place more of an emphasis on contributing to the development of the local societies where they are located in several aspects.
IELTS Actual Tests Questions (March - June 2021) with Answers
The first responsibility that the multinational companies should take is to preserve the local environment. Companies of any size would exert negative influence on the region's air and water quality by running factories, disposing of waste to the waterworks or simply using airconditioners. Therefore, it is encouraged that they are active in placing restrictions on the level of the contaminants released and endeavouring to operate on an environmentally friendly basis.
Second of all, paying tax on schedule is also an obligation. The tax money is used to upgrade the public constructions and regulate the socio-economic activities, thus facilitate people's life. Accordingly, not paying tax properly, the companies not only violate the national laws, but also indirectly deprive the inhabitants of a wide range of benefits they are well-deserved to reap.
Finally, the major global companies can support the regional communities by creating jobs. Provided with career opportunities at a firm near their homes, the workers can not only save time and money for traveling but also find it easier to take care of their family. In a broader view, this action helps reduce the unemployment rate at the area, which boosts the local economic development in the long run.
In conclusion, I believe that helping the local communities thrive should be considered a must for the international organisations, and there are many ways to implement the task.
(273 words – Thành Nguyễn)
Useful Expressions
Place (more of) an emphasis on smth (V)
Exert influence (collocation)
Waterworks (N
Dispose of N (V)
Place restriction on (collocation) = limit
Endeavour = Strive = Exert effort (v)
On schedule
Regulate (V)
Socio-economic (Adj)
Violate (V)
Reap benefits (Collocation)
Boost the economic development
Thrive
An obligation = a must
Implement = Execute = Perform
Also check :