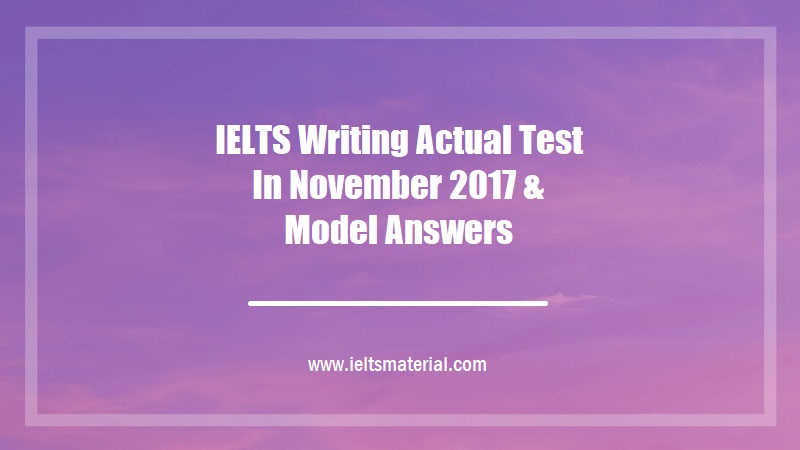 IELTS Writing Actual Test in November 2017 & Model Answers
IELTS Writing Test
It is difficult for people in the cities to get enough physical exercise. What are the causes and solutions?
Model Answer
It is true that people in urban regions are being prone to being couch potatoes and lazy sloths due to their lack of regular exercise. This can be explained by some reasons, and solutions can be taken to eliminate the problem.
Two reasons are to blame for this trend. Firstly, the hectic schedule that many people are having pressurizes them into the maelstrom of work/study and depriving them of time for sufficient exercise. Children have to occupy themselves with school assignments and examinations while employees have to attend frequent meetings with customers to secure contracts. These activities detach modern people from non-work/study activities and they tend to less prioritize physical activities. Secondly, people in the cities would lack the facilities to practice sports or other healthy activities. There are few parks, and if there are any, there are only some horizontal bars or parallel bars, which are not
adequate to accommodate the needs of every citizen.
IELTS Actual Tests Questions (February - May 2021) with Answers
Some measures should be taken to address the issue, and schools/companies and government should provide education or hold social campaigns to yield desirable outcomes. As for schools, they should be responsible for instilling in children a sense of health awareness and necessary background health-related knowledge. For instance, children should be motivated to be proactive in keeping fit and staying healthy by the inclusion of more physical education classes. Besides, companies should give their staff more flexi time or sponsor gym membership for them. As for the governments, they can run some social campaigns to encourage the citizens to maintain health via TV programmes, banners on the street. As well as this, more funds should be allocated to the construction of more sports facilities in the cities.
In conclusion, people have a tendency to do sport or other physical activities less; however, efforts can be taken by both schools and governments to deal with this situation.
300 words.
Also check :