Are you searching for the best IELTS books to help yourself be well-prepared for the IELTS test? Look no further. Here are our list and reviews of the top 12 IELTS books for 2017. 
1. The Official Cambridge Guide to IELTS
The Official Cambridge Guide to IELTS is the definitive guide to IELTS from the organization that produces the test – Cambridge English Language Assessment. This guide covers all 4 IELTS sections (writing, reading, speaking, listening) which provides IELTS learners with useful step-by-step instructions, tips and hints for IELTS and focuses on skills development and test-taking strategy to help you maximize your band-score and has 10 practice tests for both Academic and General Training. For thorough and authoritative IELTS preparation, choose The Official Cambridge Guide to IELTS. It can be your guide to IELTS success. You can register for IELTS while preparing for IELTS.
I would recommend it for IELTS learners who aim to get a 6.0 or above in the IELTS test.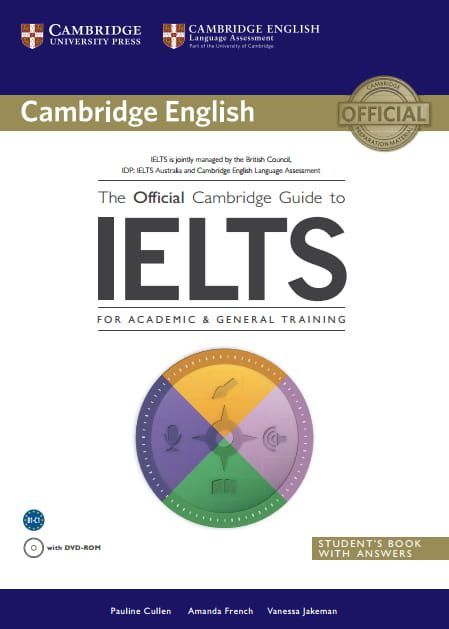 2. Cambridge IELTS 10 – 11 – 12 – 13
Cambridge IELTS 13 is the latest edition in Cambridge Practice Tests for IELTS series. It contains four authentic IELTS examination papers from Cambridge Assessment English, providing excellent exam practice. The Student's Book with answers allows students to familiarise themselves with IELTS and to practice examination techniques using authentic tests.
Cambridge IELTS 12 was released in May 2017. This book contains 4 complete authentic tests for both General Training and Academic module. Every student who will sit for the IELTS test should have this book to get themselves familiar with the IELTS test.
Cambridge IELTS 11 contains four complete tests for either Academic or General Training candidates, a comprehensive section of tapescripts and answers, models and samples for all the Writing tasks. Like other Cambridge IELTS books, it reflects the IELTS actual test and is the most updated version.
Cambridge IELTS 10 provides students with an excellent opportunity to familiarise themselves with IELTS and to practice examination techniques using authentic test material. This IELTS practice test series was published by IELTS test makers from Cambridge Press so they provide an invaluable insight into the test. Each book contains four complete tests for Academic module candidates, plus extra Reading and Writing modules for General Training module candidates.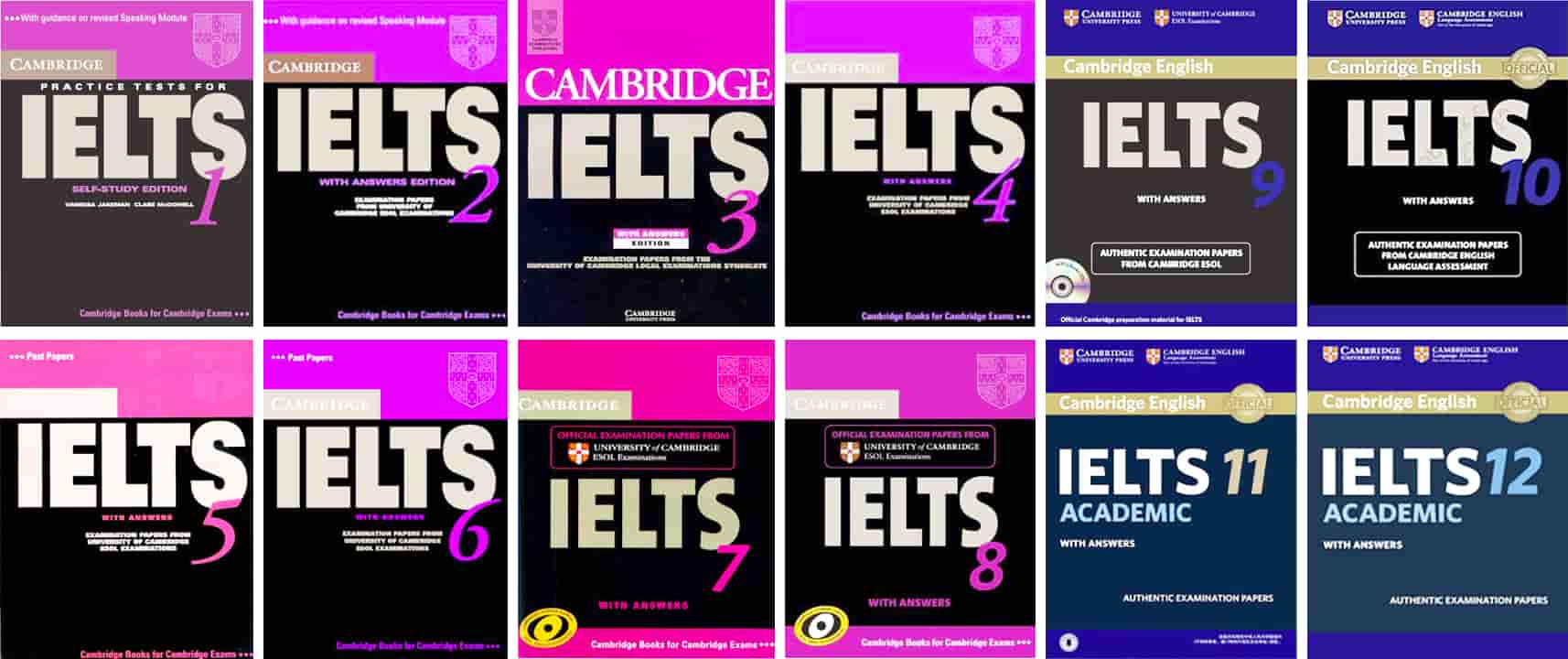 3. English Collocations in Use
To sound like a native speaker, you should check this book out.  It aims to improve your style of spoken and written English with 60 lessons about a rich variety of topics, each contains 2 pages for the theory and practice exercises with a total of more than 1,500 collocations. This book is ideal for IELTS learners at the intermediate level and above.
To get Band 6.5+ for IELTS, I'm sure you shouldn't miss this excellent book: English Collocations in Use.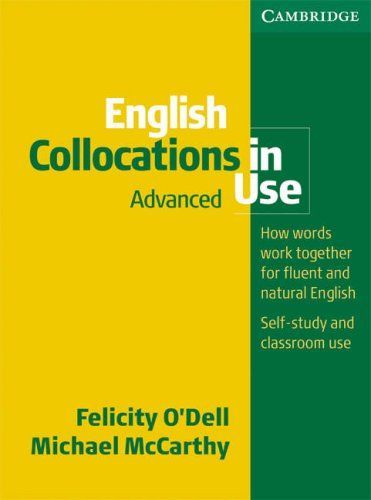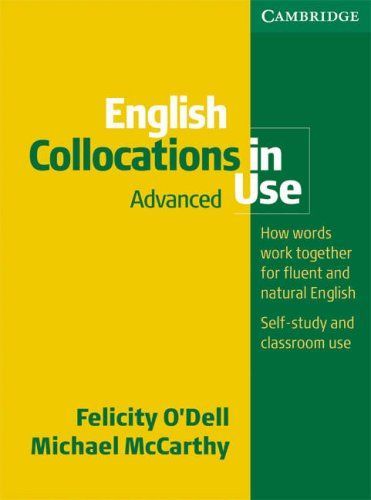 4. English Vocabulary in Use
This book series is known as the best-selling vocabulary reference and practice books from elementary to advanced level and is the perfect choice for IELTS learners wanting to build their vocabulary skills. My favorite book in the family of the best-selling vocabulary books is English Vocabulary in Use (Upper-Intermediate edition). Some main features of this book is:
Vocabulary is explained and presented on left-hand pages with a wealth of innovative follow-up activities opposite.
100 units, covering approximately 3,000 new vocabulary items
Offers learners the opportunity to consolidate and expand existing vocabulary
This book is suitable for anybody who has a burning desire to get band 6.5 or above in IELTS test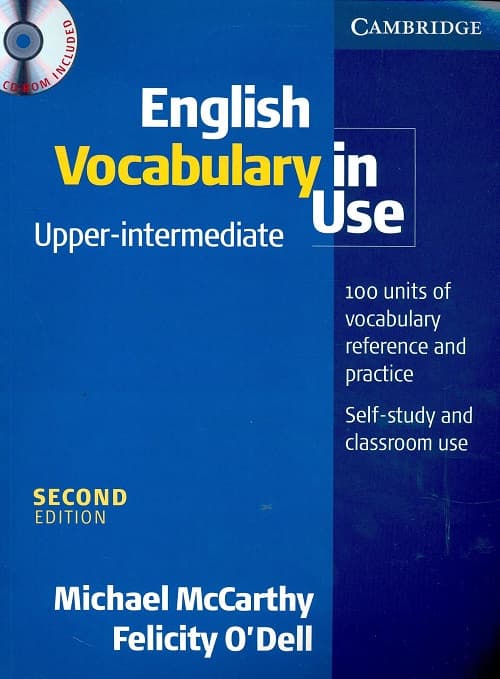 5. New Insight Into IELTS
New Insight into IELTS offers comprehensive preparation and practice for IELTS. By exploring the test paper by paper, and looking in detail at each task type, the course gradually builds up the skills, language and test techniques students need to approach IELTS with confidence. The course contains a detailed introduction to the test and a full answer key and is equally suitable for use in the classroom or for self-study.
The material is intended for use with students whose current level is around Band 6 and is suitable for both Academic and General Training candidates.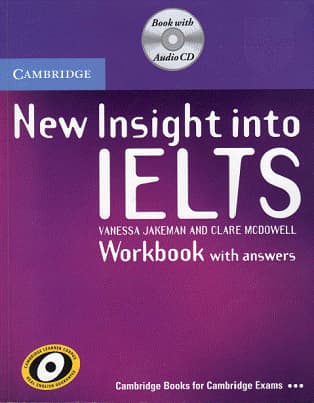 6. Barron's IELTS Practice Exams
Barron's is the leader in test preparation and students'#1 choice. This newly updated second edition with two audio CDs prepares test takers for success on the IELTS, an English competency test that's recognized by leading colleges, universities, and government agencies in the United States, Canada, the United Kingdom, Ireland, Australia, New Zealand, and South Africa.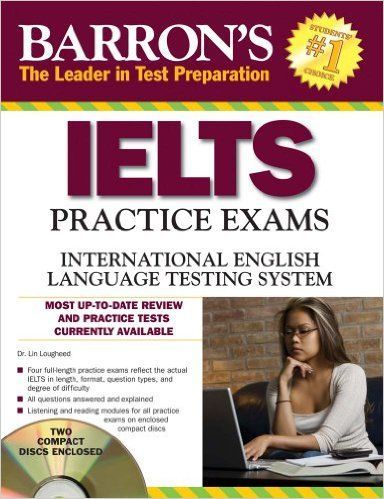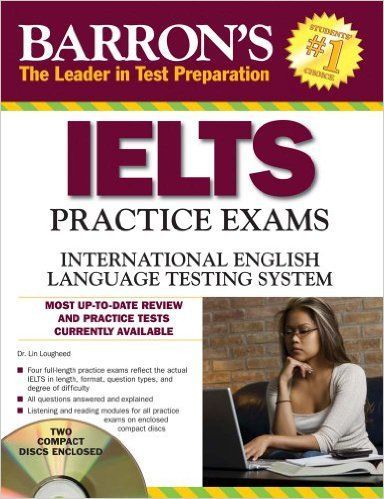 7. Official IELTS Practice Materials Volume 1 & 2
This book is a comprehensive teacher resource pack with the view to helping IELTS learners preparing themselves to sit the IELTS test. Written by Cambridge ESOL examiners and material writers with many years of experience preparing IELTS tests, this pack shows candidates how each of the tests is assessed and provides valuable tips. These Official IELTS Practice Materials Volume 1 & 2 offer samples of the Reading, Listening, Writing and Speaking tests with sample answers and examiner comments.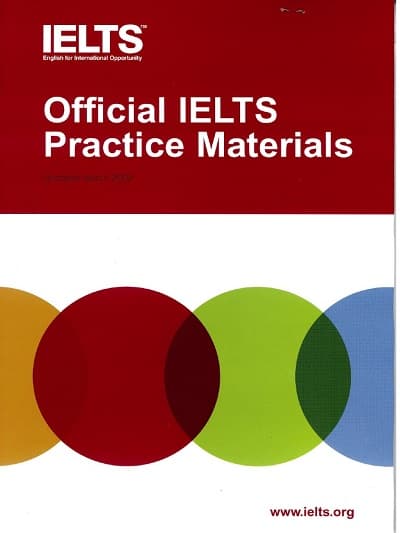 8. Cambridge Vocabulary for IELTS
This advanced version of Cambridge Vocabulary for IELTS covers all the vocabulary needed by students aiming for band 6.5 and above in the IELTS tests and provides students with practice of exam tasks from each paper. Cambridge Vocabulary for IELTS Advanced focuses on moving students to 6.5 and beyond by working on vocabulary-building strategies necessary for success at advanced levels. It includes useful tips on how to approach IELTS exam tasks and covers especially tricky areas such as paraphrase and collocation.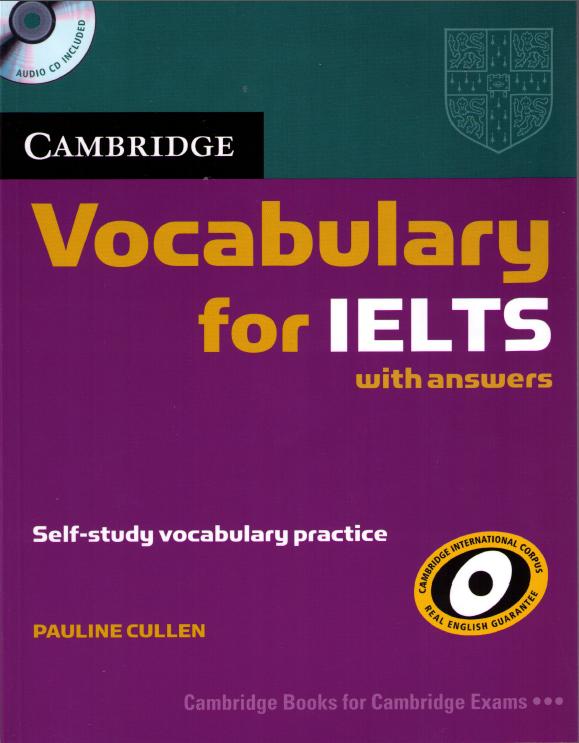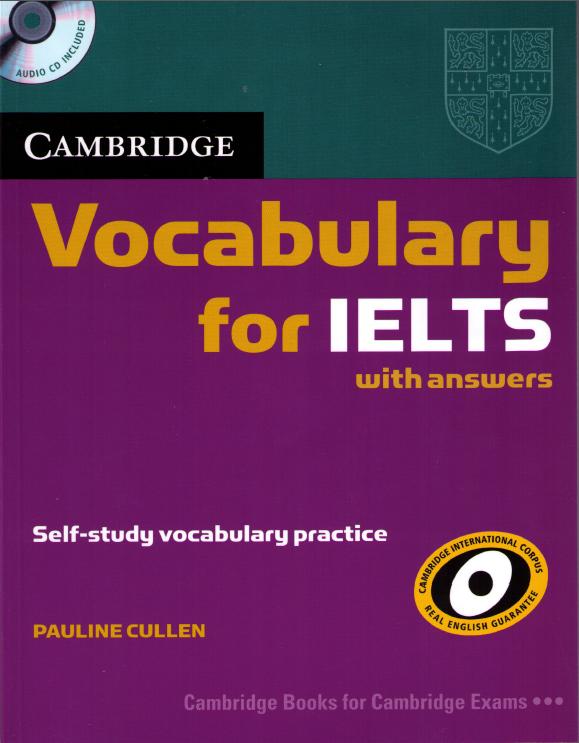 9. Cambridge Grammar for IELTS
Cambridge Grammar for IELTS provides complete coverage of the grammar needed for the IELTS test and develops listening skills at the same time. It includes a wide range of IELTS tasks from the Academic and General Training Reading, Writing and Listening modules, and contains helpful grammar explanations and a grammar glossary.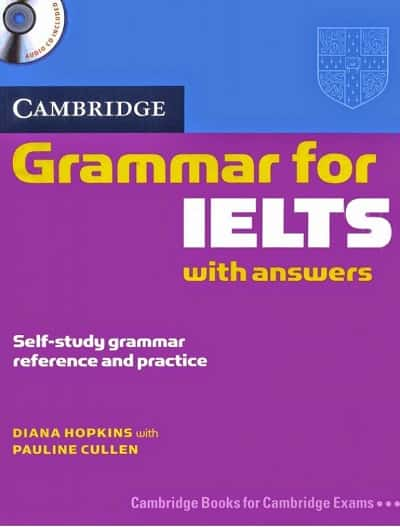 10. IELTS Advantage Series
IELTS Advantage: Writing Skills
"IELTS Advantage: Writing Skills" written by Richard Brown (Author), Lewis Richards (Author) is a fully comprehensive resource designed for IELTS learners who want to achieve a grade of 7.0 or higher in the Writing section of the Academic IELTS test. Students are guided step-by-step through the different tasks in the writing module, using material developed in the classroom, by authors with many years' experience in helping hundreds of IELTS candidates achieve a high IELTS score.
IELTS Advantage: Reading Skills 
This book is suitable for IELTS learners who want to pass the IELTS Academic Reading Test with a grade of 6.5-7.5 or higher. This book provides a intensive preparation for success in the IELTS reading paper, with a focus on vocabulary development and paraphrase training. It teaches IELTS learners a range of key strategies for reading effectively and for understanding texts more easily, such as skimming, scanning and speed-reading techniques, helping students to get a better result in the Reading paper.
IELTS Advantage: Listening & Speaking Skills
IELTS Advantage: Speaking & Listening Skills is a comprehensive resource for all IELTS candidates who want to get Band 6.5 or higher in the Speaking and Listening modules. IELTS learners are guided step-by-step through the different stages of the speaking and listening modules, using lively material covering a wide range of the topics that are likely to occur in the IELTS examination.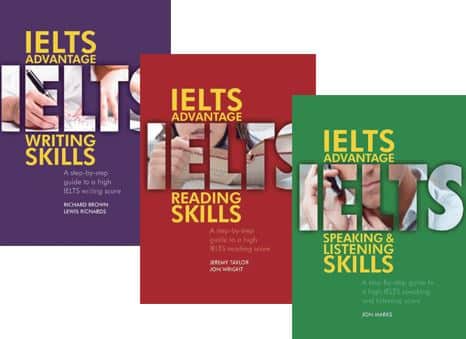 11. Improve your IELTS skills Series
Improve Your IELTS Skills – Reading
"Improve your IELTS Skills" is aimed at students between bands 4.5 and 7.5. The series has three preparation courses, Academic Reading, Academic Writing, and Listening and Speaking. The courses develop language, skills and test techniques to help students achieve a higher IELTS score. The three books in the series may be used together as a complete course or may be used to target specific skills. Or they may be used separately to supplement other coursebooks.
Improve Your IELTS Skills – Writing
This book puts emphasis on the importance of sentence structures, vocabulary, and improving one's ideas from a variety of drills for the examination. This book is a must-have for all candidates for the IELTS test. Study with alone or with a coach, Improve Your IELTS Writing Skills will definitely be the best English proficiency training for you.
Improve Your IELTS Skills – Listening & Speaking
It is a complete preparation course for the Listening and Speaking Modules of the International English Language Testing System. Through targeted practice, it develops skills and language to help you achieve a higher IELTS score in these two modules.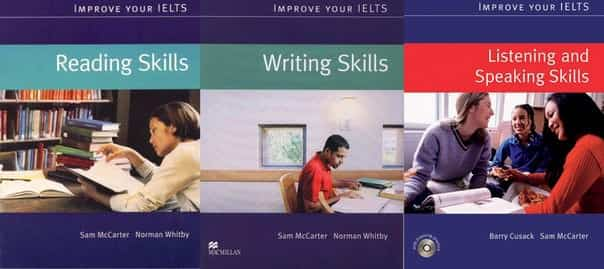 12. Cambridge IELTS Trainer with Answers
IELTS Trainer by Cambridge English includes six full practice tests plus easy-to-follow expert guidance and exam tips designed to guarantee exam success. The first two tests are fully guided with step-by-step advice on how to tackle each paper. Extra practice activities are informed by a bank of real candidate's exam papers and focus on areas where students typically need most help.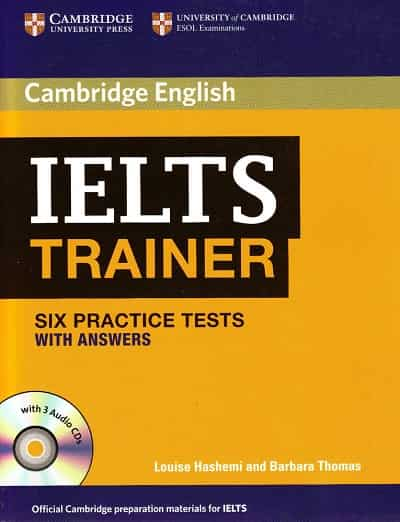 Other IELTS books:
13. English Grammer in Use
English Grammar in Use Fourth Edition is the world's best-selling self-study grammar book for learners of English, written by Raymond Murphy and published by Cambridge University Press. It is a self-study reference and practice book for intermediate to advanced students of English. It has 136 two-page units covering all areas of English Grammar with a multitude of additional practice exercises to consolidate learning
I would highly recommend this book for any IELTS learners who want to get a 6.0 or above in the IELTS test.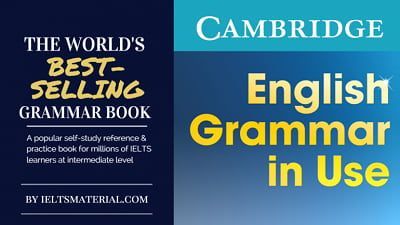 14. Target Band 7: IELTS Academic Module – How to Maximize Your Score
This excellent self-study book for intense IELTS preparation in a few weeks is designed to help students achieve their best personal score. All the tips, techniques, strategies and advice are focused on maximizing students' score by increasing their task-solving speed and efficiency and preventing typical mistakes.
I hope you have found this article useful. Do you agree with my top 12 IELTS books? Do you have any other recommendations?
Please let us know in the comments below or on our Facebook page.