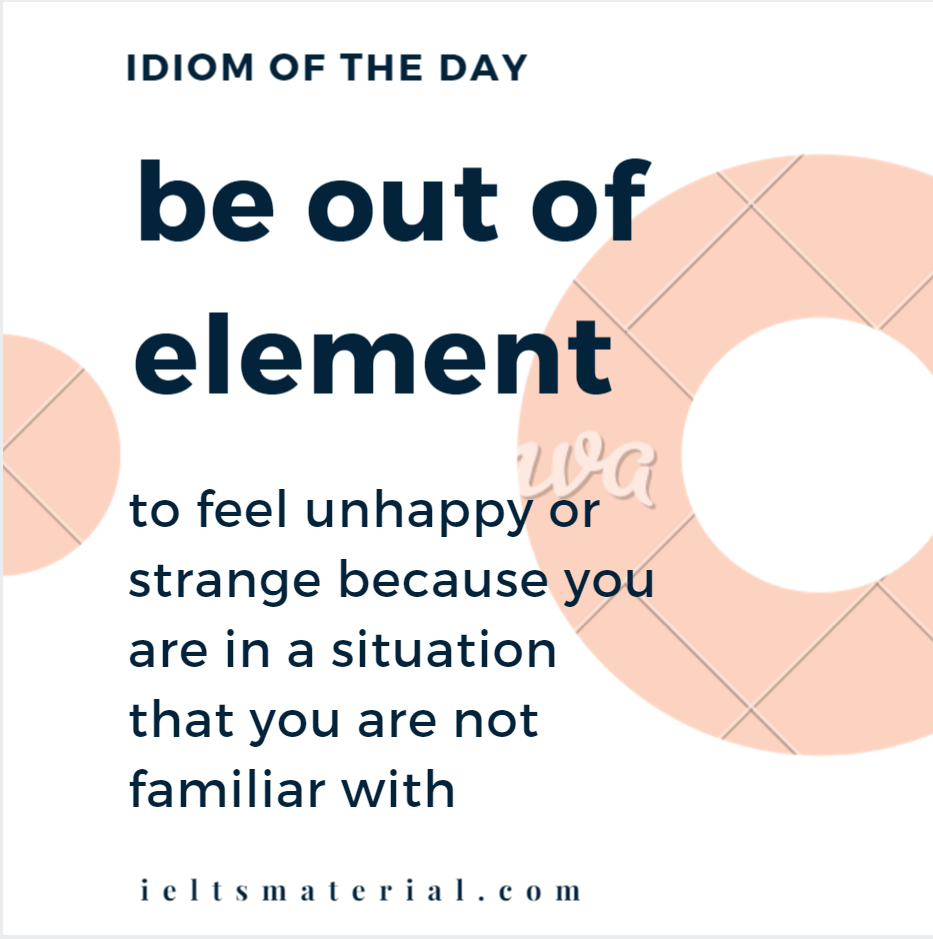 Be out of Element – Idiom of the Day for IELTS Speaking & Writing
Be out of Element – Idiom of the Day for IELTS Speaking & Writing
Definition : to feel unhappy or strange because you are in a situation that you are not familiar with
Examples :
Elen found herself in a complete awkward situation when being dragged to her friend's party. Since she wasn't very socially dynamic and led a quiet life, Elen felt out of her element around other social butterflies.
We were out of our element at the grandeur and luxury level of the wedding ceremony since we had only been to events like this on rare occasions.
IELTS Actual Tests Questions (March - June 2021) with Answers
Socially dynamic: sociable
Social butterfly (n): a person who is socially dynamic, networking, charismatic, and personally gregarious
Grandeur (n): the quality of being great and impressive in appearance
On rare occasions: seldom, barely
Matching Exercise
| | |
| --- | --- |
| | |
| | Not working or cannot be used, be injured |
| | To not be involved in a particular situation |
| | To no longer be pestering or annoying to one; to not be one's responsibility or burden any longer |
| | To feel unhappy or strange because you are in a situation that you are not familiar with |
| | Not right or suitable for the situation |
| | To not have the knowledge, experience, or skills to deal with a particular subject or situation |
Practice : Fill in the blank
With Jason, the most formidable candidate, being …… due to ankle injuries, Hank has a high chance to win the marathon competition.
He was …… when his colleagues started to discuss politics, a topic he had no interest in due to its ambiguity and manipulation.
She felt …… in her formal business suit while others seem comfortable with their casual outfits.
Also check :