IELTS Registration Made Easy 2023: IELTSMaterial Partners with IDP
Courtney Miller,
Updated On
IELTS Registration India
Gearing up to take the IELTS soon? IELTSMaterial has partnered with IDP to help you on the way. This means that taking the IELTS exam has never been easier and more affordable for IELTS aspirants in India.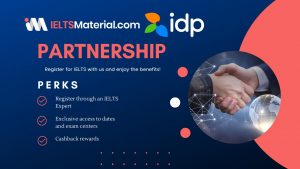 Let's explore how to do IELTS registration in India. Read on to find out more about the exclusive perks you can unlock by registering for IELTS with us.
Why take the IELTS Exam?
If you wish to study or work abroad, IELTS (International English Language Testing System) Certification is a must-have. If you're over the age of 16, you're eligible to take the IELTS! If you are under the age of 18, you will require parental consent forms to take the test.
IELTS is also essential for immigration to the USA, UK, Canada, Australia and any major English-speaking county. Millions of people take the test each year – so let's learn how IELTSMaterial can set you on the IELTS path.
Which Type of IELTS Should I Take?
The IELTS test is available in two different versions: Academic and General Training.
IELTS Academic Test: This version is aimed at candidates or students who wish to pursue higher education or professional registration abroad.
IELTS General Training Test: This version is taken by people who wish to migrate to English-speaking countries. If you aim to enrol for secondary education or training programs in foreign countries, you should prefer IELTS General Training.
There are no differences in the Speaking and Listening modules, but there are differences in the Reading and Writing tests between the two versions.
IELTS Exam Registration in India
The IELTS registration process can be done online or offline. Let's take a look at the registration process for IELTS.
IELTS Registration Process Step by Step 
Step 1: Ask to register for IELTS with IELTSMaterial. An IELTS Expert will soon reach out to you!
Step 2: Select your preferred mode of taking the IELTS – computer or paper-based.
Step 3: Select the version of IELTS you have to take – IELTS Academic or General.
Step 4: Select your exam location.
Step 5: Select a convenient date and time slot from the exclusive ones made available through IELTSMaterial's partnership with IDP.
Step 6: Fill out the IELTS registration form with the correct details.
Step 7: Upload the required documents.
Step 8: Add the details of the institutes and IELTS Recognising Bodies to which you wish to send your results.
Step 9: Review all the details with IELTS Expert and make payment.
Documents required for IELTS exam registration
A valid passport
If you're under the age of 18 on the day of registration, then parental consent forms must be submitted.
You will need to carry your valid identification card on the day of the exam as well.

Modes Of Taking IELTS 
Paper-Based Test: In the Paper-Based Test, the Listening, Reading, and Writing sections will be conducted through pen and paper mode while the Speaking test will be conducted face-to-face with the IELTS examiner.
Computer-Based Test: In the Computer-Delivered IELTS Test, the Listening, Reading, and Writing sections are conducted on a computer, while the Speaking test will be conducted face-to-face with the IELTS examiner.
You can also check:
Educational Qualification for IELTS
There are no specific educational requirements to appear for the IELTS Exam. Anyone interested in pursuing higher education or anyone who wishes to work in a foreign country may appear for the examination.
You must also take a look at the criteria set by the institution that you are applying for if you intend to study abroad to understand their language and academic requirements.
IELTS Exam fee in India
At present, the registration fee for the IELTS examination is Rs. 16.250/- and it is liable to change. The IELTS test fee is the same for both Academic and General Training versions.
If you register through IELTSMaterial, not only will you get the aid of an IELTS expert to make the process completely hassle-free, but you will also receive amazing cashback rewards.
Find out how you can save on your IELTS registration fee – sign up to IELTSMaterial now!
Note: The IELTS test fee is the same whether you take it on paper or on a computer.
IELTS Exam Dates
The IELTS exam in India is conducted up to 4 times a month. However, due to the high demand on exam centres, it might be difficult to find a date that's perfect for you.
Take a look at the available IELTS Test Dates.
If you register for IELTS with IELTSMaterial, you can find a wider window of test dates and times. So make sure you take advantage of the perks offered by IELTSMaterial's partnership with IDP.
All you need to do is speak to one of our IELTS expert counsellors who will be available to guide you through any issues you may have during your IELTS journey.
How many days before the test date can I register for IELTS?
You can register 3 months in advance or up to a week before the test date.
Methods For IELTS Registration
You can register for IELTS online or offline.
Online registration is an easy and accessible way to apply for the IELTS test. If you're unsure about online registration, you can make the registration in person. For this, you have to download the application, fill it and submit it to the nearest British Council or IDP India office.
However, the easiest way to register for IELTS is with the help of a counsellor who is familiar with all the latest changes and requirements of the test. With IELTSMaterial, you will have someone to help you through any issues you might face while registering for this important exam day.
You can also make the most out of it through our exclusive perks such as wider availability of exam dates and cashback on the fee payment.
Candidates can appear for the exams at their convenience and can take the test as many times as they want. But, every time you retake the IELTS, you'll have to pay the registration amount of Rs. 16,250/-. So, it's vital that you make sure the process goes smoothly and that you pass the test with flying colours on your first try!
IELTS Results
Once you are done with the IELTS examination, the offline test result will be posted within 13 calendar days from the day of your exam. If it was an online test, the result will take around 5-7 days to get published. You'll be able to check your result by logging in to your account and providing your passport number and test date information to view your score sheet.
Learn more about IELTS Results here.
Conclusion
A high level of English language proficiency is required if you want to work, live, or study in an English-speaking country. It is necessary for both finding employment prospects and blending into society in a new country.
So speak to an IELTS counsellor now and get started!
Once you're all set to take the IELTS, it's time to get your pens out and start preparing for the test. Take a look at the top IELTS books! Sign up to IELTSMaterial for the latest IELTS news and expert insight into how to get a top band score.
IELTS Preparation Books
If you're taking the IELTS Academic, start your exam prep with the IELTS Academic: A Comprehensive Learner's Bundle.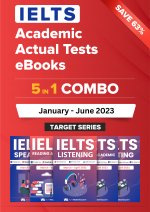 This ebook bundle contains guides for all four modules, with a breakdown of how to answer each question type. You can assess your strengths and weaknesses with the self-assessment check provided.
For the IELTS General Training module, you can bet on the Band 8 Preparation Course & Limited Edition Ebook Combo which covers the key details of all four modules along with 10+ hours of video guides to help you study. You will also find a free 1:1 counselling session with an IELTS expert to help you get across the finish lines.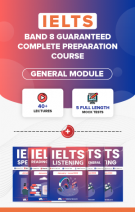 Find more ebooks at the IELTS Material Store.
Frequently Asked Questions
How long does it take for the IELTS Results to get posted?
If you have taken a computer test, the results will be previewed online with 2-5 days after your test. If you took it as a paper-based test, the results will be previewed online around 13 days after your test date.
Can I cancel my IELTS Application?
Yes, you can cancel your IELTS test 5 weeks before your test date. You'll also be eligible to receive a refund minus the administration fee that is 25% of the total test fee.
Is there a provision to send the TRF to the foreign Universities that I apply for?
Yes. You can do it when you are registering for the test.
Is there a provision to apply offline?
Yes. There is. You can make the payment in person. You have to download the application, fill it and submit it to the British council or IDP India office.
What if I cancel the test due to some medical condition? Will the fee be refunded?
If the candidate produces a medical certificate within 5 days of the test, the amount will be refunded with deduction of some administrative fees.