IELTS Writing


Limited-Time Offer : Access a FREE 10-Day IELTS Study Plan!
"IELTS writing is divided into task 1 and task 2. IELTS Writing test duration is 60 minutes. 20 minutes on the IELTS writing task 1 and 40 minutes on the IELTS writing task 2. "
A lot of students find the IELTS writing test to be difficult because of the allotted time limit to write the full-length essay and description of the graph or a letter. We at IELTSMaterial.com, are here to help you out with that.!
IELTS Writing Test
You'll be given an hour to complete the whole writing test including task 1 and task 2. It is advisable not to spend more than 20 minutes for task 1 and invest the remaining time in completing task 2, as task 2 will fetch you more band as compared to task 1. The scoring will be done based on factors including grammar and the number of words you use while writing the test. Therefore make sure to use around 150 words for task 1 and 250 words for task 2.
IELTS Writing Academic
In the IELTS Academic Writing Task 1 section, a diagram will be given and students will be asked to write and describe the chart based on what they can understand. The diagram may be a table, chart or graph. You should read the graph and focus on writing what you understand from it and not your opinion of the given data. To get a high band for writing, your grammar and vocabulary must be used correctly. In Task 2 you'll be asked to write an essay on a topic which will be given by the examiner. It'll be slightly more complex when compared to the general training section.
IELTS Writing General Training
In the General Training Writing Task 1, you'll be asked to write a letter on a topic given by the examiner. The letter can be written to anyone, like a friend, family member or a manager. In task 2 the examiner will give you a topic for essay writing. For this task, you have to keep in mind that you'll only be evaluated based on your language usage and not your knowledge on the given topic. So make sure to use proper grammar and vocabulary while framing the sentences.
Practise IELTS Writing
Ace the art of report writing and letter writing with our practice tests on Academic Writing task 1 and General Writing Task 1. Learn how to write essays concisely with that perfect vocabulary using our sample answers for Writing task 2
Points to remember during IELTS Writing
You should be able to describe the given information justly.
You must describe the given data and not just evaluate it.
You must be able to compare the information given regarding the diagram.
You must write based on your understanding of the diagram and not focus on giving your opinion on the matter.
Try not to repeat words.
Be careful about punctuations.
Avoid spelling errors.
IELTS Writing tips: Check out some useful tips to improve your IELTS writing.
Test format for IELTS writing
As you all know that there are 2 sections in the writing test, Academic section as well as General Training test, and the test format of both may differ based on which kind of test you take.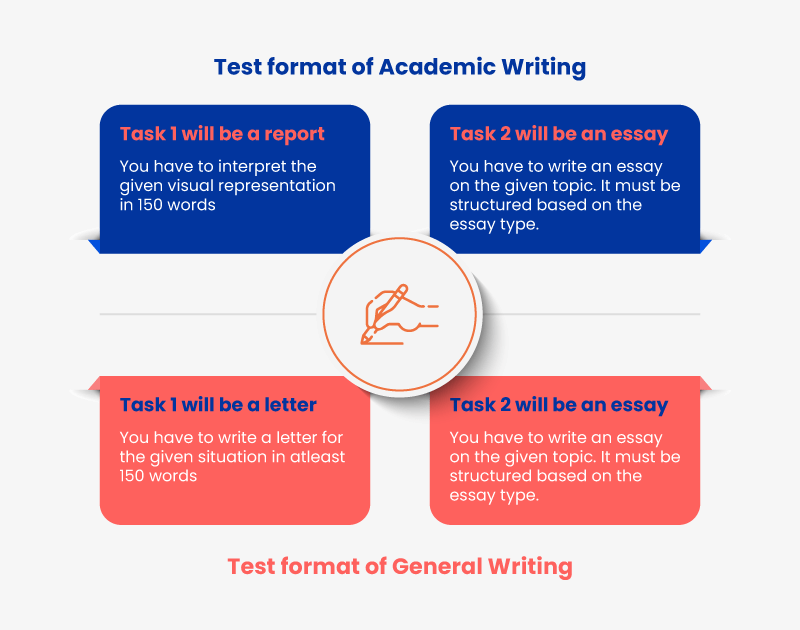 Test format of Academic Writing
You will have 60 minutes to complete the test. The topics will be general and will be suitable for the test takers who are looking to pursue undergraduate or postgraduate courses in a place where English is used as the language for communicating. There will be two writing tasks, and both have to be completed.
In task 1 you have to focus on explaining the trends you observe in the graph and compare the data that is shown on the table. The language you use while describing the data must be accurate and in an academic style.
In task 2 your assessment is done based on how well you can explain the topic by giving examples and supporting your ideas along with using the language accurately.
Further explanation about task 1 and task 2 is given in the above paragraphs.
Test format of General Training
For the general training test also you'll have 60 minutes to complete the test, which will consist of 2 tasks. In this, the topics will be based on general interest and there is no academic interest included in this.
In task 1 you will be assessed based on how well you're able to frame the sentence for letter writing, the content, the start and the finish, and what kind of language you use while writing a letter.
The task is to check your ability to follow English discursive writing conventions, the ability to link 2 sentences, how to start and end the paragraph and also how to use the language accurately.
In-depth information about task 1 and task 2 are given in the above paragraphs. There'll be 2 questions given and you must complete both the questions.
Scoring in IELTS Writing
The writing test will be evaluated by certified examiners who have relevant teaching experience in IELTS. They are hired by the test centres and approved by the British Council, IDP and IELTS Australia. The total marks awarded, will be converted to bands ranging from 1 - 9. In this, detailed descriptors are used to assess the answers.
Sample Essays Based on Countries
Test in Ukraine - Feb 2018 & Model Essay
30+ Recent Actual Tests & Model Essays
Other Useful Articles
Other IELTS Writing Books
Frequently Asked Questions
What's the difference between the General Training Writing module and the Academic Writing module?
Task 1 is different for both Academic and General whereas task 2 remains the same.
Are IELTS Writing questions repeated?
Yes, they can be repeated
Why should I paraphrase the question?
If you write the same words that exist in the question, it won't be counted during the word count and if you're word count is less than what is required, it might lead to a lesser band score than required.
Should I count the number of words I have written?
You might not have enough time to count the number of words, so when you practice, make sure you count the words and keep in mind the number of lines that it comes up to
What will happen if I don't write 150 or 250 words?
The band scores will be reduced if you don't meet the word limit.