IELTS Bar Chart/Graph – Samples, Tips to Describe Bar Graphs
Janet,
Updated On
Amidst all the other types of questions, you will also come across a question that will showcase a bar graph. Also known as a bar chart, the bar graph is evaluated similar to a line graph. Such a bar chart also comes with two axes, showing changes and diversifications over a given period of time. Furthermore, the bar graph has rectangular bars that could be either displayed vertically or horizontally, representing two or more values of data.
Types of IELTS Bar Graphs
When preparing for the IELTS exam, you would have to prepare for two different types of bar graphs: vertical and horizontal.
Vertical Bar Graph
Here is how a vertical bar graph looks like: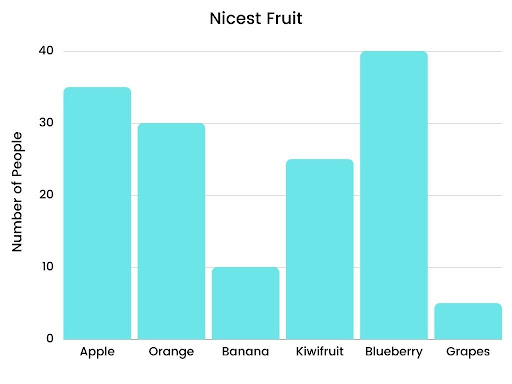 Horizontal Bar Graph
Here is how a horizontal bar graph looks like: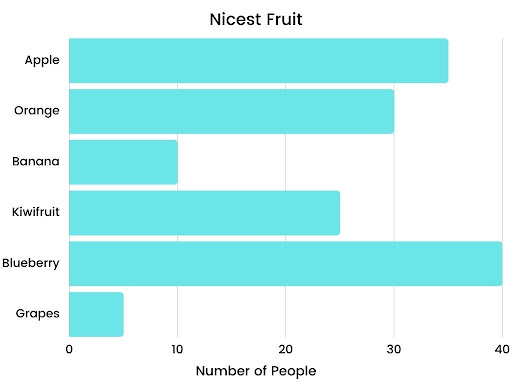 A Comprehensive Guide to Write IELTS Bar Chart Essay
If you wish to learn more about writing a high-scoring IELTS bar essay, here is a comprehensive process that will help you out.
Evaluating the Question
The first and foremost step is to evaluate and analyze the question. In the question, you will get a brief description of the bar chart along with instructions. Your job here will be to discover the central idea.
Assessing the Given Data
The next step is to assess the data that you have in the question. Find out whether it is dynamic or static. If it is dynamic data, it will show two or more time periods. If it is static data, it will show only one time period. For both these data types, you will have to use different languages to write the description.
Discovering Primary Features
Majorly, bar graph questions are meant to test your mathematical as well as language skills. Hence, you must know how to derive the primary features from the given data and write about it.
Describing a Bar Chart
Here is the complete format that should be used when describing a bar chart or a bar graph.
The Introduction
In the introduction paragraph, you would have to paraphrase the asked question. This can be done by using synonyms and paraphrased words and sentences. Also, ensure that this section is sounding natural.
The Overview
Usually, an overview forms the second paragraph of the essay. In this one, you would have to write down the main features. Also, you must discover available comparisons and talk about general trends occurring in the given data.
The First Body Paragraph
In the first body paragraph, you will have to give detailed information and explain the given data. Here, you must focus more on language instead of facts. Making relevant comparisons is always useful.
The Second Body Paragraph
This second body paragraph will have your explanation of the remaining features. It will be the same as the first body paragraph, but with different information.
Choosing the Information from the Bar Graph
As you would already know, a bar graph question requires a report of 150 words to be written. To help you out with an easier way, you can follow (but not stick to) the below-mentioned guidelines.
| Format | Content |
| --- | --- |
| Introduction | One sentence |
| Main Features | Two sentences |
| Comparison | One sentence |
| Exception | One sentence |
| Describing Data | One sentence |
Tips to Write IELTS Bar Chart Essay
Jotted down below are some tips that will help you write a relevant, on-point IELTS bar chart essay
1. Is it difficult for you to match the word count?
Most of the time, people find it difficult to match the word count. Hence, they start using complicated words to unnecessarily extend the sentences. While using high-end vocabulary is a pro, writing sentences that are difficult to be understood is a con.
2. Be straightforward in your writing
When describing the bar graph, try not to complicate the description. Be straightforward and on-point.
3. Do you only practise with one type?
While practising, do you only try working on one type of chart or graph, or do you expand your horizons as well?
4. Practise as much as possible
While practising, work on varying bar charts or graphs so as to enhance your ability to explain whatever comes in the examination.
5. Are you always in a hurry for submission?
One of the common mistakes that people commit is not reviewing their answers before submission. This could lead to you missing out on errors and issues that can impact your marking.
6. Review your writings before submitting
Once written, double-check for grammatical errors. Review important details and superlatives to make sure you didn't miss anything.
Here are 10 bar graph IELTS practice test examples:
Demonstrating the graphical representations is a very crucial task in IELTS Writing Task- 1. To assist you further, we have our dedicated and dynamic
IELTS online classes
.
Also check :
Frequently Asked Questions
What is a bar chart?
A bar chart uses either horizontal or vertical bars to show comparisons among two or more entities. One axis of the chart shows the entities being compared, and the other axis represents a given value
What is the structure of a bar graph?
The structure of a bar graph is: Introduction Overview Body paragraph 1 Body paragraph 2
What is the difference between introduction and overview? Can I skip the overview because I feel introduction is enough?
In the introduction part, you have to paraphrase the question. In the overview statement, you highlight the key features. If you skip the overview, you will end up with poor scores for task achievement.
Can I have just one body paragraph where I give almost all the information?
No. You cannot. You must have a minimum of 2 body paragraphs. You are evaluated based on the organisation of your paragraphs. It carries 25% of marks.
What is the expected word count for describing a bar chart?
A minimum of 150 words.