Main Reasons why Agricultural Land Becomes Less Productive- Pie Chart and Table
Janice Thompson,
Updated On
Main reasons why agricultural land becomes less productive. The table shows how these causes affected three regions of the world during the 1990s.
You should spend about 20 minutes on this task.
Summarise the information by selecting and reporting the main features, and make comparisons where relevant.
You should write at least 150 words.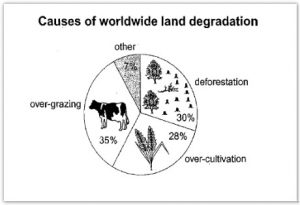 Report Plan
Paraphrase: Paraphrase the topic sentence.
Overview: Mention the main features of both the images and give an overview of the information provided.
Paragraph 1: Elaborate on the different causes of land degradation worldwide.
Paragraph 2: Elaborate on the causes of land degradation by region.
Sample Answer
The pie chart in the first image shows the different causes of land degradation. The table portrays the various causes of land degradation in different regions.
Overall it is evident that deforestation and overgrazing are two of the major reasons for the deterioration of agricultural land and Europe had the highest percentage of degraded land in 1990.
Deforestation accounts for 30% of land degradation and the same from overgrazing is 35%, making these two the primary reasons for diminishing land quality. Overcultivation also contributes 28% to land degradation along with other factors contributing 7% in total.
The main causes of land degradation in Europe were deforestation and over-cultivation. In North America, degradation of land was due to over-cultivation and overgrazing. As for Oceania, overgrazing was the chief cause of degraded agricultural land, and deforestation marginally contributed to the issue.