Demand for Electricity in England- Line Graph and Pie Chart
Janice Thompson,
Updated On


Limited-Time Offer : Access a FREE 10-Day IELTS Study Plan!
The graph below shows the demand for electricity in England during typical days in winter and summer. The pie chart shows how electricity is used in an average English home.
You should spend about 20 minutes on this task.
Summarise the information by selecting and reporting the main features and making comparisons where relevant.
You should write at least 150 words.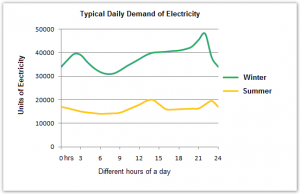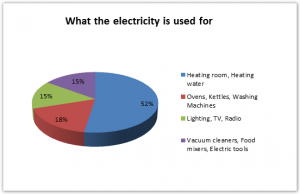 Report Plan
Paraphrase: Paraphrase the topic sentence.
Overview: Mention the main features of the two images and give an overview of the information from both these images.
Paragraph 1: Explain the trends in daily demand for electricity in England during summer and winter.
Paragraph 2: Elaborate on the different uses of electricity by the local residents.
Sample Answer
The given images are a line graph showing the typical daily demand for electricity in England during summer and winter and a pie chart showing various uses of electricity by the natives.
The consumption of electricity in England is quite fluctuating during the winter months whereas it is more consistent during the summer. It is clear that heating appliances are the most used appliances in England.
During the winter season, the electricity use is lowest in the morning and rises around 9 AM. The peak electricity usage is during the night, especially between 9 PM and 12 AM. Consumption of electricity is relatively consistent throughout the summer, with sudden increases in the afternoon and late at night.
The majority of electricity which is 52%, is used by the people of England for operating heating appliances. The other major constituents of electricity use include ovens, kettles, washing machines at 18%, followed by TV, radio, lighting and vacuum cleaners, food mixers, other electrical tools at 15%.