IELTS Academic Writing Task 1 Tips, Strategies and Criteria
Zuhana,
Updated On


Limited-Time Offer : Access a FREE 10-Day IELTS Study Plan!
Introduction
The IELTS writing section assesses your ability to create an appropriate response, organise your thoughts, and use language and vocabulary correctly.
Those who are still stuck at figuring out IELTS Academic Writing Task 1, know that everything in it is quite simple, once you are trained adequately. Under this task, you will be asked to write a comprehensive summary of up to 150 words and you will be given the time of 20 minutes.
The summary could be for a bar chart, line graph, or table chart. You may be asked to compare the data as well. In simple words, you would have to create a succinct report of the given data.
Apart from this, some of the other pointers that you will have to keep in mind include writing up to 3-4 paragraphs and a report that has 150 words, paraphrasing of sentences in the first paragraph, and writing an overview in the second paragraph.
Tips To Ace Academic Writing Task 1
To help you ace this section of the IELTS exam, here are some tips to be kept in mind:
1. Reading Instructions Carefully
It may seem like an obvious tip, however, it is most commonly overlooked by most of the students. Regardless of how excited or nervous you are about the exam, you must take a minute to read through the instructions and familiarize yourself with the questions.
2. Adequate Language
The first thing to be kept in mind is that you must use adequate language when it comes to describing the information or comparing graphs. There could be times when you may have to write the same thing in a different way. Here, make sure you are being innovative and not repeating anything.
3. Paraphrasing Is a Must
In case you were thinking about merely copying the answer, know that the examiner will have an eagle's eye and such a strategy can lead to losing marks. Paraphrasing is extremely important. To do so, you must use synonyms and related words.
4. Keep The Tenses In Mind
A lot of IELTS candidates get stuck in the web of tenses. They either end up using the wrong tenses or mixing up two of them. To avoid such a blunder, you must ensure that you are certain about the tense to use. For instance, if the data given is in the past tense, you must write your answer in the past tense and vice versa.
5. Never Stop Practising
Out there, you can find plenty of books where you can practise academic writing task 1. You can refer to such books and information to practise better. There are also samples of topics, especially for this task.
6. Make Use of Adequate Vocabulary
In terms of vocabulary, you must make a complete list that will help you paraphrase while describing. Your examiner will primarily check for adequate use of words and not your knowledge. Also, make sure you are using adequate connectors to link sentences.
Strategies For Preparing For IELTS Academic Writing Task 1
Let's move on to the IELTS academic writing task 1 strategy to bag a higher score and avert losing marks.
Comprehend the Question Type
To begin any task, you must ensure that you fully understand the question type. This way, you can seamlessly get rid of confusion, if any. The easiest way to comprehend the question type is by looking at the given information, be it a table, a chart or a diagram. On the basis of the understanding, you can effortlessly create answers.
Copying or Memorising Won't Help
No matter how much you practise beforehand when you are in the examination hall, know that you cannot write a memorised answer. You must look into the question, understand it well and then write the answer in your own words, which should be different from other tests.
Clear and On-Point Overview
Keep in mind that the overview that you will be writing should be based on how you are going to describe the given information. The key features should be mentioned. Also, make sure your overview is giving an exact idea about your answer.
Concentration on Grammar
If your aim is to gain a band score that is more than 6, it is essential that you make use of complex grammar and structured sentences when describing. Thus, practising daily with adequate grammar can help you to a great extent.
Criteria for Marking IELTS Academic Writing Task 1
Below-mentioned marking criterion will help you comprehend what should be your sole focus:
| Factor | Marking Criteria |
| --- | --- |
| Vocabulary | 25% |
| Coherence & Cohesion | 25% |
| Task Achievement | 25% |
| Grammatical Range & Accuracy | 25% |
You can improve your writing by learning synonyms to make sure you use a varied vocabulary and attain a high IELTS band score. Let's take a look at how you can learn IELTS synonyms: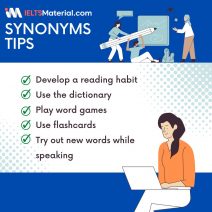 Tips, strategies and criteria – knowing all three of them can help you do your best in the academic writing task. To know more, join our
best IELTS online classes
now.
Frequently Asked Questions
How can I prepare for IELTS Writing task 1?
The best way to prepare for IELTS Writing Task 1 is the the best way to prepare for any test, by practising. You can prepare yourself by practising sample tests and writing notes and messages in English. While practising you should focus on your vocabulary and grammar.
Can I retake IELTS Writing test only?
No, it's not possible for anyone to retake ielts individual tests. Even if you wish to improve your score of a single section, you'll have to retake the whole exam again including all 4 sections.
How is IELTS Writing Task 1 marked?
The IELTS Writing task 1 is marked using 4 assessment criteria, i.e Grammatical Range, Task Achievement, Coherence and Cohesion, and Vocabulary, with each of the criteria worth 25% of the total marks.
Are IELTS Writing test questions repeated?
Yes, they might be repeated.
Can the IELTS Writing test be taken through the computer?
Yes, if you choose the computer-based test, you'll be able to complete your writing test through the computer.
How do I know what tense should be used in Task 1?
There will be dates in most of the questions, the tenses change according to the dates. If there are no dates given, simple present tense should be used.