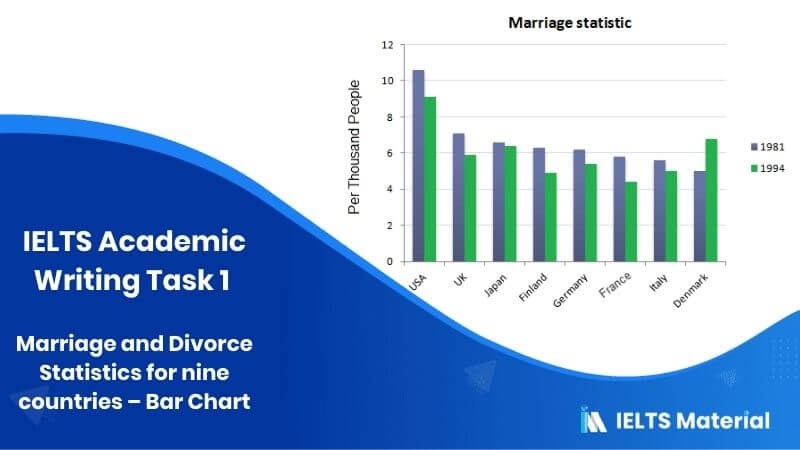 IELTS Academic Writing Task 1 2020 Topic : Marriage and Divorce Statistics for nine countries – Bar Chart
The bar charts below show the Marriage and Divorce Statistics for nine countries in 1981 and 1994.
Write a short report for a university lecturer describing the information shown below.
Write at least 150 words.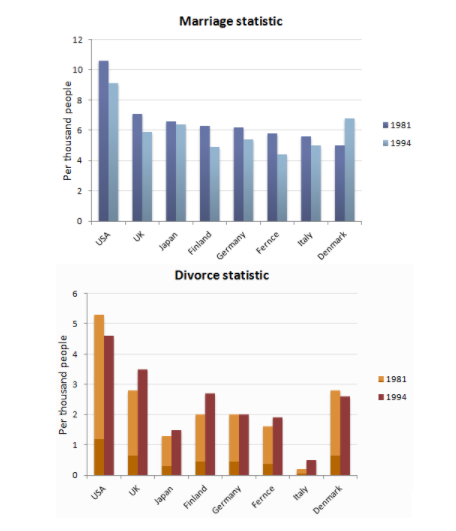 MODEL ANSWER
The bar graphs demonstrate the number of marriage and divorce in 9 different nations for 1981 and 1994. As can be seen from the chart, the rate of marriage in all of these countries – except for Denmark – diminished over the surveyed period while that of divorce experienced an increase in five out of nine nations.
As is presented in the bar chart, the marriage rate in 1981 in the USA was by far the highest among the reported nine nations, which was more than 10 per thousand. In other European countries, including the United Kingdom, France, Finland, Denmark, Italy, the marriage rate was around 6 for each thousand. Denmark had the lowest rate of marriage in 1981, which was about 5/ thousand. After 15 years, the marriage rate fell slightly in a majority of the given nations, with the exception of Denmark with the rate rising by nearly 2/thousand.
It is noticeable from the divorce statistic that the highest rate of divorce rate was in the USA which was over 5 per thousand. The divorce rate in 1994 went on in comparison with that in 1981 in all of the nations apart from the USA and Denmark. Italy had the lowest divorce rate among the given nations, and there was no change in this rate for the given 2 years in Germany.
BAND 7.5+ 
Also check: