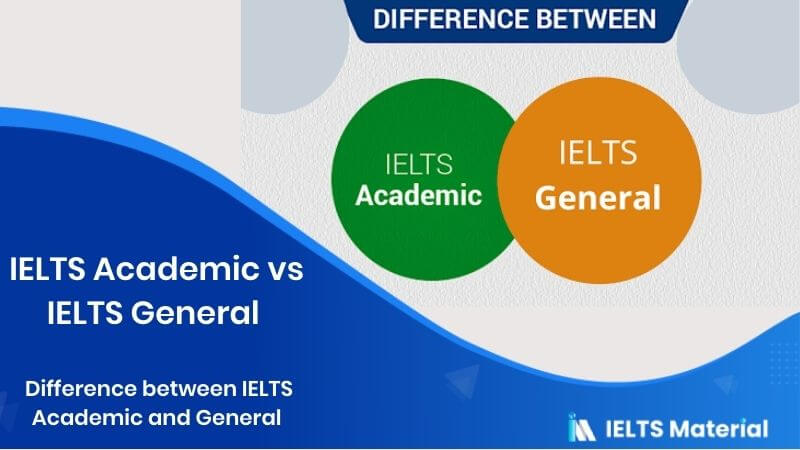 IELTS Academic vs IELTS General | Difference between IELTS Academic and General
Ram is trying to get into university in the UK. He wants to pursue Masters at the University of Cambridge Although he has graduated from a reputed college in India, the University of Cambridge has asked for an IELTS test. He is in a confusion whether to opt for an Academic or General training module.
Sarah has applied for a job with an IT company in London. The company has asked for evidence of her English ability. Sarah is confused whether to take the IELTS Academic or IELTS General training module.
Hasina is a nurse-midwife. She is going to apply to Canada with her family and work there. She is confused as to which version of IELTS she should take.
IELTS Academic vs General
Types of IELTS:
There are two versions of the IELTS
Academic Module and

General Training Module
The IELTS test has 4 parts:
Writing (task 1 & 2)

Reading

Listening

Speaking
Listening, Reading and Writing will be completed in one sitting. The Speaking test will be conducted on the same day or up to seven days before or after the other tests. Listening and Speaking tests are the same for all the test takers, while the Reading and Writing tests vary depending on whether the test taker is taking the Academic or General Training version of IELTS.
Writing Task 2, Listening and Speaking are the same for both IELTS Academic and IELTS general.
Writing task 2 is on essay writing. The test taker needs to write a 250 words essay in 40 minutes.
In the Listening test, 4 audio recordings will be played and the test taker has to answer 40 questions based on it. 
In the Speaking test, the test taker will be interviewed by an examiner. This test includes 3 parts: the interview, the short presentation, and the discussion. It lasts for 15 minutes.
So, how do they differ?
The answer is : They differ in Writing task 1 and Reading
IELTS Academic and IELTS General: Writing task 1 
Academic
Write an article based on the following:
Bar chart

Line graph

Pie chart

Table

Diagram
General
Letter writing on any one of the following:
Formal (to someone you do not know)
Semi-formal (to someone you know formally)

Informal (to friend or family)
IELTS Academic and IELTS General: Reading
Academic
There are 3 long passages with questions below it. 

Texts from

magazines, newspapers, books, journals, and online resources.

Topics given are of interest to students at undergraduate or postgraduate level. 
General
There are 3 sections in the General Training Reading section. The reading passages become increasingly difficult. They are:
Section 1:  The passage is quite short and topics are usually centered around day-to-day life in an English country..
Eg: To pull information from notices, timetables etc.
Section 2:  The passage is quite short and topics are usually work related.
Eg: To pull information from job descriptions, contracts, staff development and training materials
Section 3:  The passage is long. The topics are adapted from newspapers, magazines, books and online resources.
Comparison of evaluation methodology in IELTS Academic and IELTS General
IELTS Listening, Speaking, and Writing are evaluated in the same way for both exams.
But IELTS Reading, is evaluated differently on IELTS academic vs. IELTS general training.
For example, the test taker gets 30 out of 40 answers correct in IELTS Reading, also known as a raw score of 30.
IELTS gt marking: 
In general training reading, it corresponds to an IELTS Band of 5.0.
IELTS Academic marking:
But 30 out of 40 corresponds to a band of  6.0 in academic reading. The raw scores vary completely depending on whether it is an IELTS academic or general test.
IELTS general vs academic difficulty:
So it is quite natural to ask:  Is IELTS general training easier than academic? 
IELTS General is most likely to be easier than IELTS Academic which is why a score of 30 is Band 6 in Academic and band 5 in General. But the listening and speaking modules will have the same difficulty level for both the modules.
Difference between IELTS Academic and General Training
Which IELTS is better? 
Take the Academic test if you want to:
Pursue undergraduate or postgraduate studies

Apply for Tier 4 Student Visa at a university that is a Tier 4 Sponsor in the UK.

Work for an organization in an English-speaking country.
Take the General test if you want to do the following:
Plan to settle in a English speaking country permanently.

Undergo work related training in an English speaking country.
So take the IELTS exam which best suits your needs.
Also check :