IELTS Speaking Cue Card Topics / Samples with Answers 2023
"Check the IELTS cue card topics and samples that appeared in the actual IELTS test with answers. You are given exactly 1 minute in the IELTS speaking test to prepare for a particular topic."
The Cue Cards is the second task in the speaking section of the IELTS examination. While answering this question, you are expected to have some skills and one of the skills is framing the answers based on the topic.
What is a Cue?
Misconception: Some people tend to think it is a "q" card. But it is not the alphabet "q" but the word "Cue"
Clarification: In the Speaking part 2, you will be given a topic to speak on. The topic given to you is called a cue. So you may call it a cue test too.
What is a cue card?
During the IELTS examination, you will be given a cue card, which is also called a task card,  consisting of 3-4 questions and some instructions that will guide you on how to answer the questions given in the cue card. You will not be given an option to change the question, you have to speak about whichever topic you receive in the cue card. But you will be given a minute to think about the answer. You will also be handed a pencil and a paper, if you are not able to remember the points which you have prepared in that one minute, you can write down the points in the given paper.
You are given exactly 1 minute in the IELTS speaking test to prepare on a particular topic and this topic will be called the IELTS Cue card. You are asked to speak continuously for 2 minutes until the examiner asks you to stop. Then the examiner will ask some questions regarding the topic given. The test lasts for 2 - 3 minutes including the 1 minute preparation time. For more information, bookmark this particular web page.
List of Cue Card Topics
The cue card samples given below are categorised according to different topics. These are the latest cue card topics that appeared in actual tests [2021] with answers. We've done this to enable you to browse through the list and pick a speaking cue cards of your choice.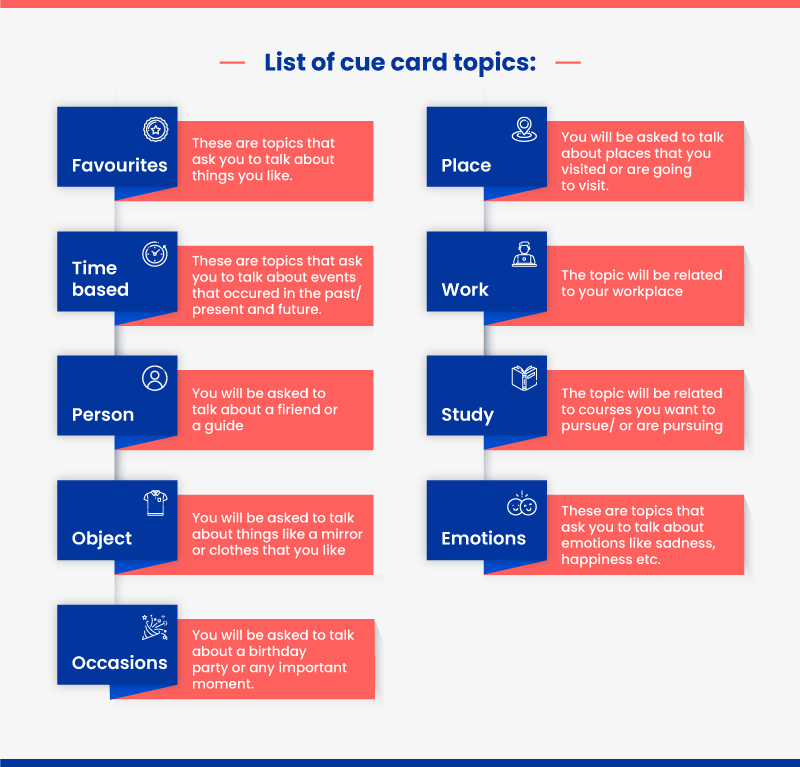 FAVOURITE
These are the cue cards that asks you about things you like.
TIME-BASED
These are the cue cards that asks you to talk about events that occurred in the past/present and future.
PERSON
These are type of cue cards where you will asked to about your friend or a guide.
FAMILY
In these type of cue cards you will asked to talk about your family.
OBJECT
These are the cue cards in which you will be asked about things like objects.
PLACE
These are the cue cards in which you will be asked to talk about the places which you are going to visit or already visited.
WORK/STUDY:
EMOTIONS/ASPIRATIONS:
OCCASIONS:
RECALL:
POPULAR:
ACTIVITY:
SOMETHING IMPORTANT:
More Something Important Cue cards>>
LIFE:
EVENT:
SOMEONE:
CHILD:
WHO YOU ADMIRE:
More Who You Admire Cue cards>>
USEFUL:
APP/MOBILE
BUSINESS:
MOVIE:
INTERESTING:
GIFT:
CHANGE:
YOUR COUNTRY:
More Your Country Cue cards >>
HEALTH:
OTHER CUE CARDS:
Frequently Asked Questions
How many points will a cue card have?
A cue-card usually has one question and three prompts.
How do I answer a cue card?
You make sure you answer all the prompts in the cue card and make sure you talk for about 2 minutes and not less than that.
How do I change a cue card question?
Unfortunately, you cannot change a cue-card question.
Do I get to use 'umms' and 'aahs'?
No, using umms and aahs will lower your band score. Make sure you use fillers.
Does the examiner know what is in my cue card?
Yes, you are required to show the examiner the cue card you get.