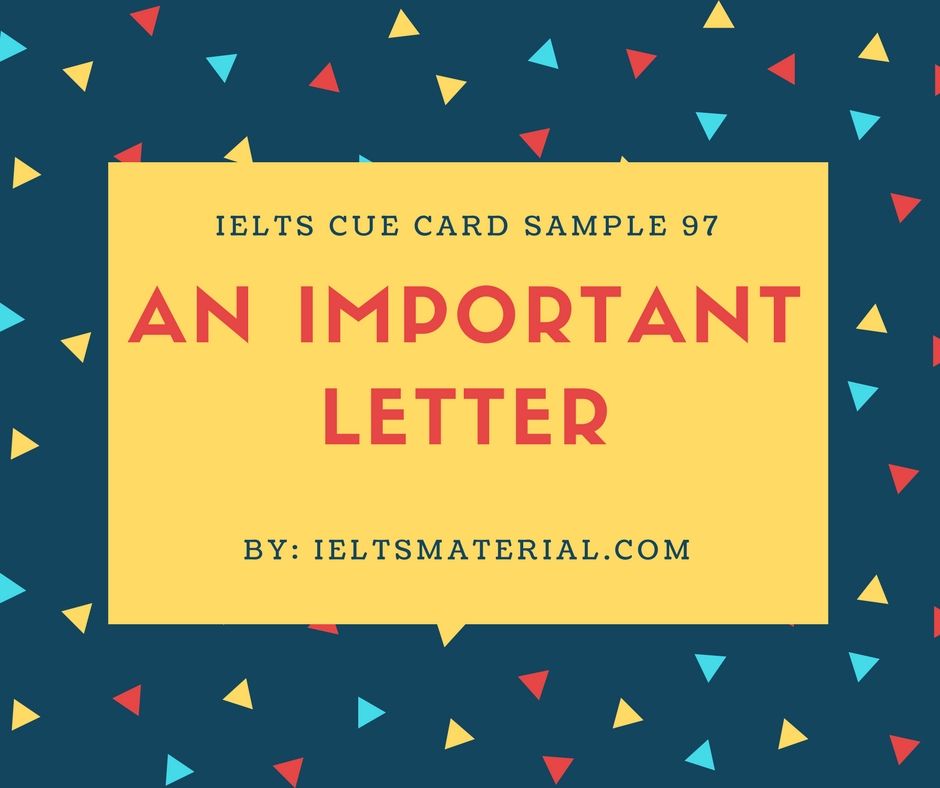 Describe an important letter or email you wrote – IELTS Cue Card Sample 97
Describe an important letter or email you wrote.
You should say:
who you wrote to
when you wrote it
what you wrote
and explain why you wrote that letter.
MODEL ANSWER
When talking about an important letter or email I wrote, I would like to share with you my application to a big company when I graduated from university.
I still remember the day 2 years ago, when I was looking for a job in marketing. Based on my background and working experience, I could only apply for a position as an executive or a trainee. For that position, I had successfully found a job in Unilever – the leading company in the FMCG field. That job suited me perfectly, so I made up my mind to write a letter applying for the vacancy in that company. According to the information provided in the recruitment post, I contacted HR Department to sent my CV as well as cover letter, letting them know more about me.
In the letter, I wrote a lot about myself, including my introduction, academic performance, related working experience. Besides, I also included my strength, weakness and my expectation for the job I applied for in the letter. The most important content, I think, was my willingness to work and contribute to the whole company. By including those contents in my letter, I hope that they can get to know more about me, thus, choose me for that position. Finally, I thanked them and expressed my hope to receive their reply and being able to meet them in person so that they can judge my potential for the position they were recruiting.
Fortunately, I got the position I had applied for as soon as I sent the email. Now, I've been promoted to a senior position already, but I still remember the letter which marked a turning point in my career.


VOCABULARY
on the purpose of: (do sth) for certain objective
Ex: I sent you an email on the purpose of letting you know more about new campaign.
vacancy: an unoccupied position or job
Ex: a vacancy for a shorthand typist is now open for recruitment.
academic performance: study achievements in schools
Ex: She has an excellent academic performance
 Get to know: to start to be familiar with someone or something
Ex: It took a while to get to know the city properly.
As soon as: immediately at or shortly after the time that
Ex: Let call me as soon as you get there, buddy!
Turning point: A decisive point at which a significant change or historical event occurs
Bonus cue card:
Describe an important letter you wrote to someone.
You should say:
Who you wrote this letter to
When you wrote it
What the subject of the letter was
Also check :