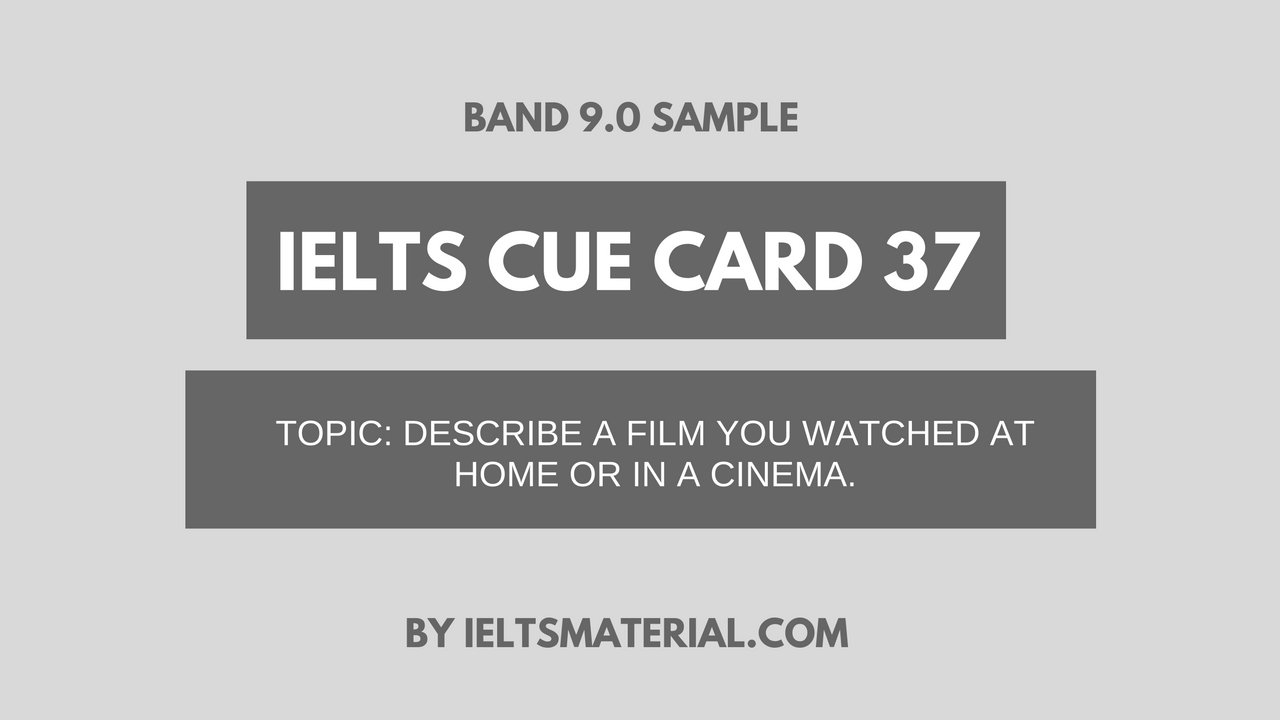 Describe a film you watched at home or in a cinema – IELTS Cue Card Sample 37
Describe a film you watched at home or in a cinema
You should say:
what film it was
what it was about
why you chose to watch that film who you watched it with
and explain if you learned anything important from the film
Sample Answer
Here is the sample for "describe a film you watched at home or in a cinema" topic:
(What film it was?) I am a Cinephile and love to watch different kinds of films, be it horror, thriller, crime, documentary, or action. My best friend and I recently watched the film named 'The Sky is Pink' in a nearby cinema. (What was it about?) The movie is based on a true story of a couple married for 25 years, told through the lens of their spunky teenage daughter, Aisha Chaudary, who gets diagnosed with Pulmonary Fibrosis. The movie is unexpectedly humorous and heart-wrenching at the same time. ( Why you choose to watch that film and who you watched it with?) When I first saw the trailer of the film, it captured my attention. So, I decided to watch it. Apart from that, I was excited to see Priyanka Chopra in a Hindi film after a long time, and she played the lead role of a mother and did justice to her part. The cinematography was amazing, where we get to see the magic of life and the beauty of death manifesting in a family's unique and courageous journey. (And explain if you learned anything important from the film) The scene that stands out in my mind is when the son complains about his teacher who scolded him for painting the colour of the sky as pink and not as blue. To which, the mother replies that, 'No one has the right to tell you which colour your sky should be. You're the one who will paint your own sky.' Therefore, the movie subtly reminds us to live our lives to the fullest because we don't really know when our last day will be. 
Vocabulary
Here are the vocabularies for "describe a film you watched at home or in a cinema" with examples:
Spunky:

Determined and Courageous 


Eg:

The hero of the movie is always described as spunky. 

Humorous:

Causing laughter and amusement 


Eg:

Comedy shows are always humorous and entertaining. 

Cinephile:

A person who is passionate about cinema. 


Eg:

The movie is dedicated to Cinephiles. 

Manifest:

Obvious and clear 


Eg:

Rose manifested the signs of severe fever. 

Cinematography:

General art and motion picture photography behind the film


Eg:

His hobbies include Traveling, Trekking, Cooking, and Cinematography. 
Also check :