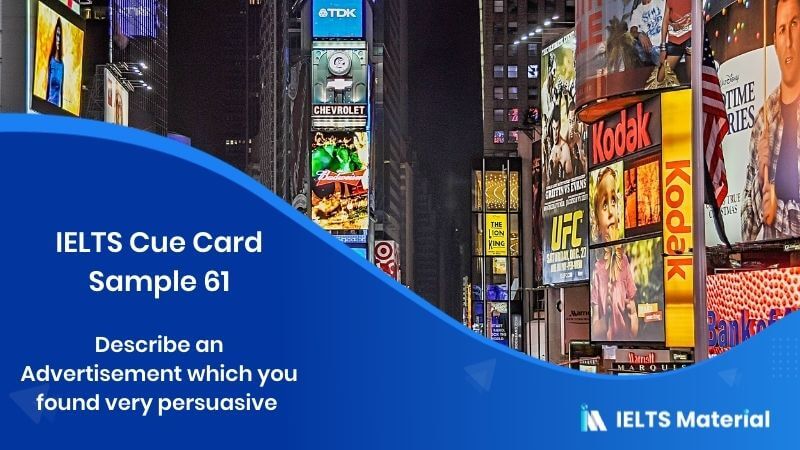 Describe an Advertisement which you found very persuasive – IELTS Cue Card Sample 61
Cue card on advertisement
Describe an advertisement you remember well
You should say:
When and where you saw it
What was advertised
What the contents of the advertisements were
And explain how you felt about it
Band 8.0+ Sample Answer
We have been bombarded with an array of advertisements every single day. Whether it is newspaper, television or social media like Facebook or LinkedIn, advertising always has their own way to reach us. One of the most frequent pieces of advertising I have encountered these past few days was about [tech event in your country 2018].

As an avid Facebook user, I scroll down my newsfeeds board practically every 30 minutes to stay abreast of every latest action within my social network. Admittedly, there are some better things I can do but I just can't help myself. Therefore, the fact that the ads about [tech event in your country 2018] repeatedly popped up on my newsfeed really caught my attention. Some of my friends also shared this news. It piqued my interest so much that I paid a visit to their website to figure out what their gig was. As far as I am concerned, it is a 2-day international technology and investment event for entrepreneurs and business leaders. It is appealing not only to big tech companies but tech savvy individuals as well. The event aims to reach out to foreign investors, raising funding opportunities and developing the tech and startup community in the era where tech disruptions are leading almost every industry. With some of the most brilliant and world-class speakers, attendees are going to get some food for thought and inspiration during and after the event.
For me, it was a really useful ad because this big tech event was a golden opportunity for young and talented engineers, developers and entrepreneurs who are thriving non-stop toward a better future, a better life within [your country] and beyond. If I am able to schedule my time and afford the tickets, I will definitely be there to enjoy the vibe and explore many potentials in this rising industry.
Vocabulary & Useful Expression
be bombarded with: to be attacked (with too much information, criticism…)
stay abreast of: keep up-to-date
pique someone's interest: to

arouse

interest;

to

arouse

curiosity

pay a visit to: visit somewhere
what one's gig is (informal): what is special, interesting… about something
tech savvy (a): well informed about or proficient in the use of modern technology
food for thought: 

issues

to be

considered

vibe (n): 

a mood or an atmosphere produced by a particular person, thing or place

tech disruptions: newest innovations in technology
PART 3 – Follow up questions:
1.  Describe an advert you once saw that was very effective?
It was the time when female infanticide was at its peak. The government made an advert with the superstars of Bollywood cinema where all the actors explained the importance of women in the world and requested people to stop killing baby girls. The advert was very effective as it created awareness among the illiterate and rates of female infanticide did come down.
2. Describe an advertisement that persuaded you to buy a product? (0r) describe an advertisement that influenced you to buy a product?
It was an advertisement of a dishwashing liquid. A famous cook featured in it and explained how the dishwashing liquid made his vessels sparkle. He made a dish with ghee in high flame in a copper bottom vessel and showed how it got burnt. Then he used the dishwashing liquid and showed us how it removed all of it. It impressed me so much that I bought it the very next day.
Also check :