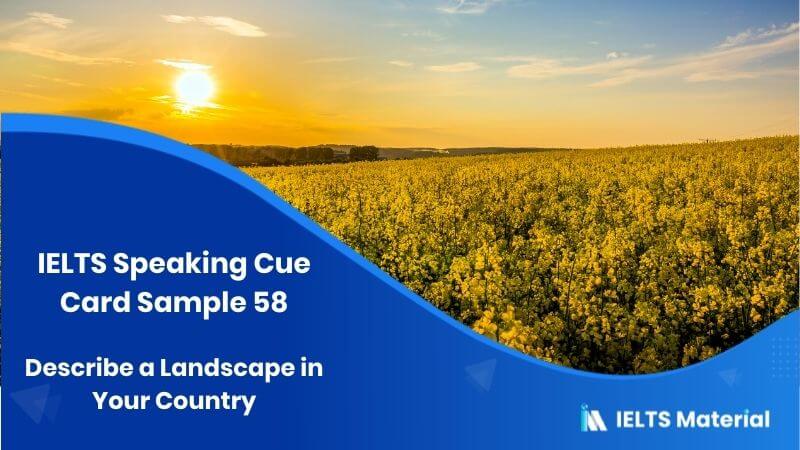 IELTS Speaking Topic(Scenery): Describe a Landscape in Your Country – Cue Card Sample 58
Describe a place of natural beauty in your country that you would suggest to foreign visitors.
You should say:
where the landscape is;
how people can get there;
what special things that foreigners would like to learn;
and explain why it is an interesting place for international tourists

Band 8.0+ Sample Answer
Vietnam is blessed with a variety of astonishing landscapes, many of which have been recognized as UNESCO's heritages and national treasures. From the northern mountainous areas, to the Mekong delta, you can come across hundreds of signature tourist attractions, and if you're into exploring local mountainous lifestyle and breathtaking scenery, Sapa is destined for you.
Sapa might not be a familiar name to travelers around the world, but it's a must-go destination for those who enjoy fresh air and unique practices of a large circle of ethnic minority groups residing here. Sapa is an incredibly picturesque town in northern Vietnam, along the border with China. Visitors can get there either by bus or train from Hanoi and because there are quite many schedules for tourists to choose from, you can be active in planning ahead your journey. More interesting, Sapa can also be reached by motorcycle from Hanoi by variety of routes; so if you don't mind 10 hours being on the road, go for it. One of the most intriguing features of Sapa is its weather. It is said that you can experience four seasons in one day. Chilly winter in early morning, spring time after sunrise, summer in the afternoon and cold winter at night. Sapa is home to many ethnic minorities like H'mong, Muong, Thai, Hoa, to name a few, with rich cultural diversities. Best way to learn and explore local customs is to live like a local. I would recommend a homestay if you love the authentic mountainous lifestyle. People are so hospitable that they would introduce you to everyone within vicinity and welcome you with open arms. Traditional markets on weekend is another thing you can't miss where handicrafts, ethnic style clothing, fresh produce, medicinal herbs and other tribal artworks are on display. All those things make Sapa an exceptional attraction for foreign travelers who wish to discover Asia's, especially Vietnam's culture.
Vocabulary & Useful Expression
astonishing (a): very surprising; difficult to believe
picturesque (a): pretty, especially in a way that looks old-fashioned
intriguing(a): very interesting
diversity (n): variety
authentic (a): true and accurate
hospitable (a): generous and friendly to visitors
vicinity (n): the area around a particular place
exceptional (n): very unusual
Also check :