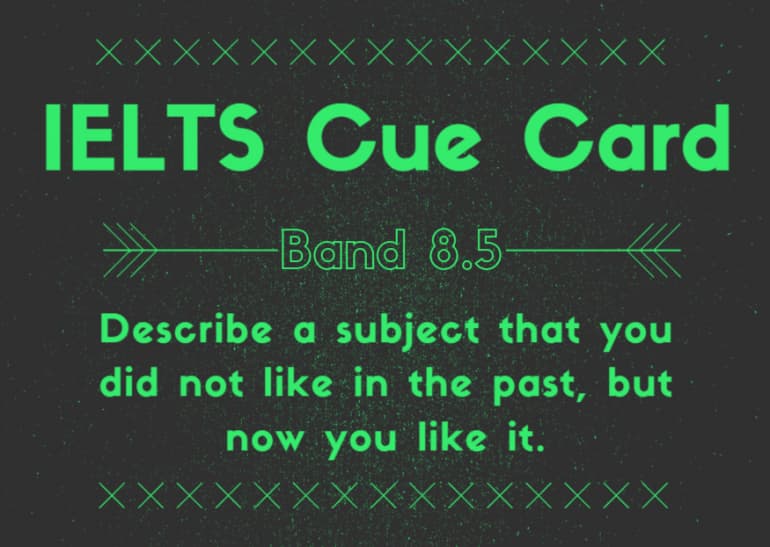 A Subject at School – Recent IELTS Cue Card with Answers (Sample 3)
Describe a subject that you did not like in the past, but now you like it.
You should say:
what it was

when you studied the subject

why you didn't like it before

and explain why you have interest in it now.
Model Answer 1 for IELTS Speaking Part 2 Topic:
As a high school student, I learned a number of subjects. Among them, I was not really into history at the first time. The reason was really simple: I disliked my teacher's method of teaching. It was boring..
He was so lazy. He just copied words, facts and figures from the book to the board and made us write down what he wrote. Then he told us to memorize all information if we did not want to receive a low score for this subject. This made me and my classmates sick.
Later when I grew older, I had a chance to watch a movie about Vietnamese history. The movie is about King Ly Cong Uan relocating the capital city from Ninh Binh to Hanoi more than a thousand years ago. I really liked the film and realized that history is not as boring as I thought. After that I managed to read more historical articles and watched more historical movies, and now I am really interested in history.
I think the Ministry of Education should adjust the school curriculum or train teachers how to deliver history lessons more successfully and attractively. Without any action, many Vietnamese pupils still hold a negative attitude towards history.
Model Answer 2:
Well, I'm afraid that the subject that I didn't like in my high school was physics. But I had to learn it because of the exams, you know. It was one of the compulsory courses during my entire middle school for six years.
My physics teacher always tended to be demanding with us, he seemed like making the abstract theory more obscure, and sometimes I didn't understand what my teacher had said, and he also left endless homework to us, which really made me frustrated. I felt that physics was the most challenging subject in the world.
Another reason was that there were too many abstract formulas I had to remember. You know, I was not good at memorising things, so I often used the incorrect formula in the exams, and made lots of mistakes and got low marks as a result. But after I grew up, I found that physics was a really indispensable curriculum in the school education because it could help me develop the logical and rigorous thinking pattern so that I sometimes found myself a critical thinker. Besides, with the knowledge of physics, I'm aware of many physical phenomenon round me, such as optics, mechanism, which helps me understand the intrinsic principle of many devices.
Bonus cue card:
Describe a subject you enjoyed studying at school.
You should say:
What this subject was
When you started studying it
And why you enjoyed studying it
Also check :