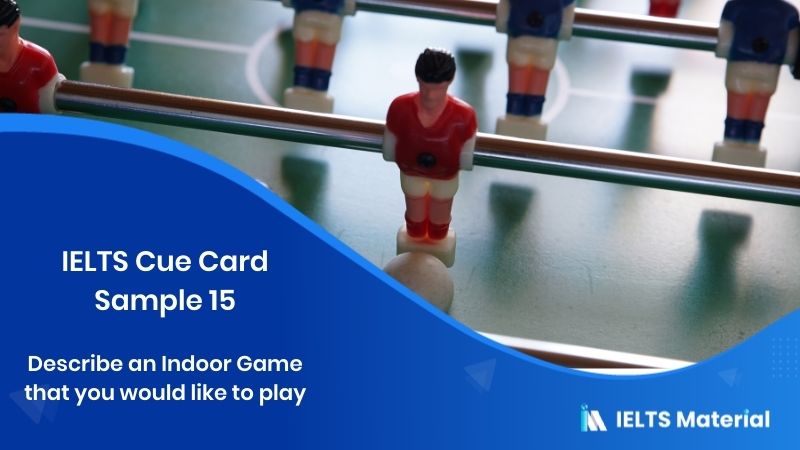 Describe an Indoor Game that you would like to play – IELTS Cue Card Sample 15
Describe an indoor game that you liked to play when you were a child | Describe an indoor game that you played when you were a child
You should say :
what the game was
who you played it with
how you played it where you played it
and explain why you liked playing that game.

Band 8.0 Answer :
An indoor game that I liked to play when I was a child was badminton. I started playing the game when I was in the 6th grade. At that time, I was living near my uncle's house. Every morning, he would take me and my cousins to the sports centre near our house.
We attended a badminton class. So we had teachers and other students too. We practiced badminton for an hour every day. During the summer holidays, we would stay for another half an hour. Just like tennis, you can play badminton as a singles match or a doubles match. The rules are pretty much the same as tennis. The only difference is that the badminton shuttlecock is lighter than the tennis ball, thus, it requires less strength.
Due to my short-sightedness, I was not very good at playing this game but I enjoyed it anyway. It helped to keep me fit. In addition, I could train my eyes to look further and faster, and it quickened my reflexes.
Vocabulary :
badminton: [noun] an indoor game. Players hit a small light ball, with feathers around it, across a high net, using a racket, like tennis.
Example: A net in badminton is much higher than in tennis, and the ball and rackets are smaller and not as heavy.
singles match: [noun] a game in which one player plays against one opponent.
doubles match: [noun] a game in which two players play against two opponents.
Example: She won the women's singles gold medal in tennis in the Olympic Games. Then, playing with her friend, they won the women's doubles gold medal by defeating two American opponents.
shuttlecock: [noun] badminton uses a shuttlecock, not a tennis ball. It is very light and it has feathers around the edge.
Example: Players hit the shuttlecock across the net in badminton.

short-sightedness: [noun] a person who can only see things if they are very close, is short-sighted.
Example: I need glasses for reading, because of my short-sightedness.

train my eyes: [verb phrase] I developed my ability to see things quickly and accurately.
Example: The detective trained his eyes to look for small but important details at the scene of the crime.

Cue Card No. 2: Describe an experience when you played an indoor game with others.
You should say:
What you played
Who you played it with
Why you played it
And how you felt about it
Part 2 Sample Answer: I was never an outdoorsy kid and vastly preferred paying video games and board games too.
Unlike many video games, which can be played solo, board games require at least one other participant. Monopoly is no exception. It was one of my favorites because it combined strategy and lighthearted fun. One of the last times I played Monopoly was with a best friend from school. He had a reputation for being a sore loser, but I decided to give him the benefit of the doubt and play with him anyway.
We started the game and it seemed to proceed as normal, until his luck nosedived and he started to lose. It was obvious he was becoming visibly upset, having gotten too invested in the game. In spite of this I tried to enjoy it without antagonizing him.
His facial expression quickly contorted further and he did something I'd never seen him do before: flip the board. All the pieces went flying and it was clear the game was over.
It took a few moments for it to sink in. I couldn't believe my eyes. Without saying a word he stormed off, leaving me to clean up the mess he'd made.
A few days later I saw him in school again. He sheepishly apologized for what happened and suggested we try to find different non-competitive activities to do together instead.
Part 3 Questions:
What indoor games do children like to play nowadays?
What qualities should a team leader have?
Is teamwork important?
What do you think of people spending too much time playing computer games?
Also check :