Top 11 IELTS Vocabulary Books
Justin,
Updated On


Limited-Time Offer : Access a FREE 10-Day IELTS Study Plan!
Having your vocabulary on point should be one of your goals if you want to ace the IELTS test. Building your vocabulary is not just memorising unheard-of words and their definitions, but also using them in conversation effectively.
People are often on the lookout for IELTS vocabulary book pdf files or the best vocabulary books available for IELTS in pdf format and other related resources online. So the question arises: are there any good books to improve vocabulary? The good news is, there are.
In this article, we have given some of the best IELTS vocabulary book recommendations for candidates to choose from. These are some of the best vocabulary books available for IELTS that will help you take your English vocabulary prep to the next level.
Check out this list of the 11 best vocabulary books for IELTS preparation.
1. IELTS Vocabulary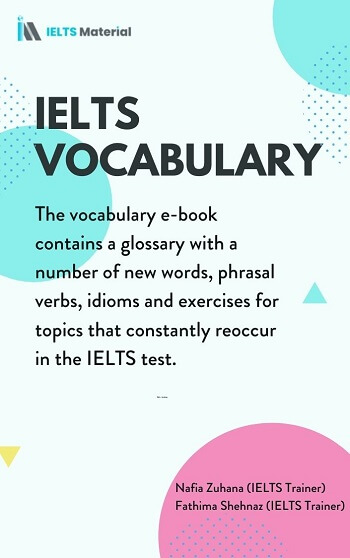 The IELTS Vocabulary book by IELTSMaterial.com is one of the best books for English vocabulary. It consists of glossary, idioms, phrasal verbs, exercises and a sample essay for each topic. These topics very commonly appear in the IELTS Test. This vocab e-book not only helps you learn new words, but also introduces you to new idioms, phrasal verbs and understand the usage of the words in the writing section by providing you with an example of a sample essay for each topic.
2. Collins Vocabulary for IELTS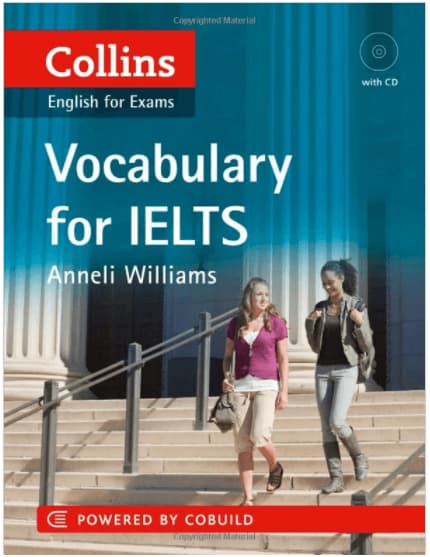 This IELTS vocabulary book comes with a CD and is divided into 20 units. The vocabulary it covers is relevant to all the four sections: speaking, listening, reading, and writing.
Each unit contains activities that help you build your vocabulary in a systematic way. There is also a practice test at the end of each unit modelled on the actual IELTS exam.
3. Barron's Essential Words for IELTS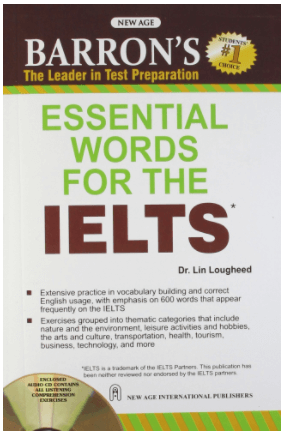 This book is truly essential for students who want to ace the IELTS exam. You will get comprehensive practice in building your vocabulary and correct usage in conversation. You also get a mega-list of 600 words that frequently appear in the IELTS exams. These words related to popular categories that include tourism, nature, the environment, art, hobbies, social issues and many more.
4. 4000 English Words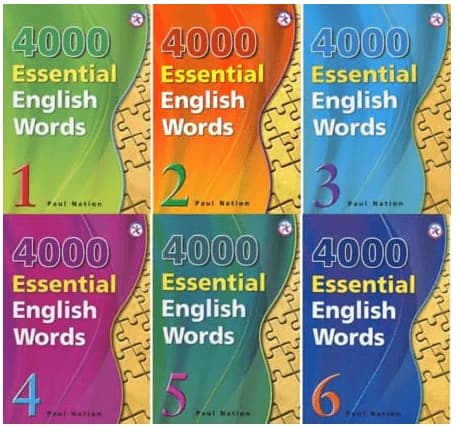 A six-book series, 4000 English Words aims to build your vocabulary by focusing on 4000 words that frequently appear in the IELTS exam from beginner to advanced level.
Each unit in each book contains 20 words along with sample sentences showing you their proper usage. The end of each unit also features a short story with all the words being used so that you get a more in-depth understanding of their usage.
Furthermore, the vocabulary and stories get more sophisticated every level you cross.
5. IELTS Band 9 Vocab Secrets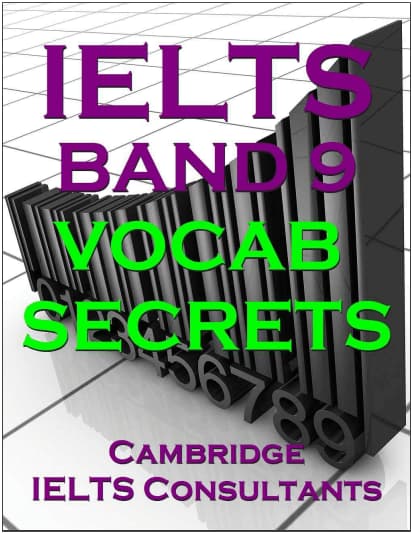 Published by Cambridge IELTS consultants, this book has ten vocabulary topics including but not limited to: Work and careers, education and schooling, culture, art and traditions, children and families, and global challenges.
Each topic gives you a lexicon of words and a sample academic writing task pertaining to that topic. They also explain how to go about answering that writing task.
Furthermore, in every topic module, lies a band 9 model essay showing you the correct usage of all the words discussed in that module.
6. English Vocabulary in Use

English Vocabulary in Use is a series of vocabulary training books ranging from basic/beginner, all the way to advanced. The Cambridge University Press publishes this series. They follow a specific format, which involves presenting the vocabulary on the left-hand page and practice questions on the right-hand page.
For each level, there are two books: a study book, and a "test your English vocabulary in use" exercise book.
This is one of the most popular series of books on this list.
7. Oxford Word Skills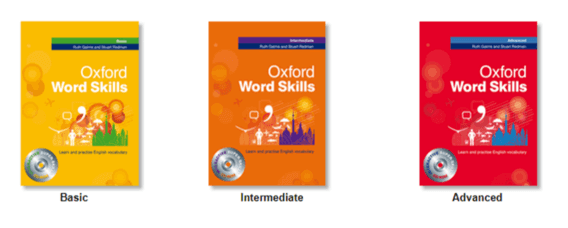 Oxford Word Skills is a three-level vocabulary course with books and corresponding CDs to help you with listening and pronunciation.
8. IELTS Vocabulary Booster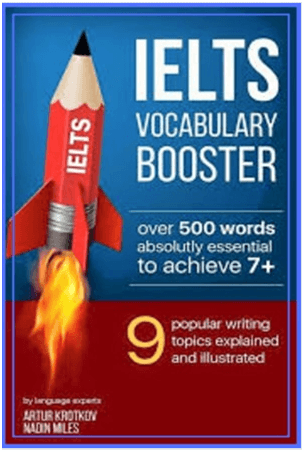 IELTS Vocabulary Booster contains all the important vocabulary needed for IELTS. It is a collection of over 500 words frequently used in IELTS exams, essential to score a band of 7 and above.
Now, this book mainly concentrates on vocabulary in the context of essay-writing. However, you will find it useful for the other sections as well.
9. Cambridge Vocabulary for IELTS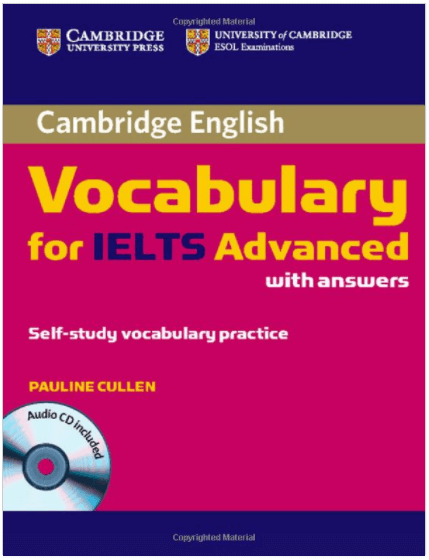 Cambridge Vocabulary for IELTS is a self-study guide for students taking the Academic IELTS who want to score a band of 6.5 and above. The book all comes with an audio CD to help you improve your listening skills.
Instead of just listing new words, they are introduced via listening and reading exercises, similar to those in IELTS exams. This is a more effective way of building your vocabulary as you remember new words better when you learn them through exercises.
10. Check your English Vocabulary for IELTS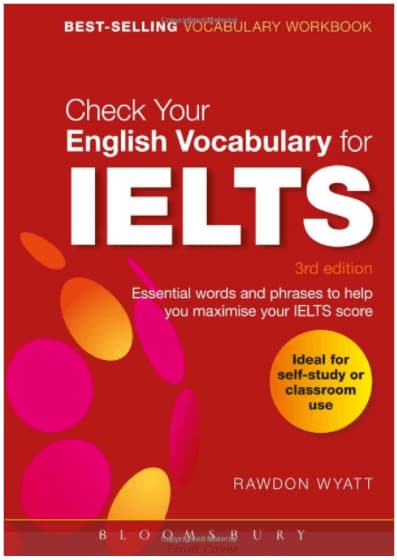 Check your English Vocabulary for IELTS is a must-have book for all non-native English speakers who want to gain the upper hand in their IELTS preparation, specifically in the writing section.
They follow an interesting structure. Instead of just providing a list of words to memorize, they help you build your vocabulary through simple exercises. This has the benefit of improving retention.
11. Vocabulary Building Series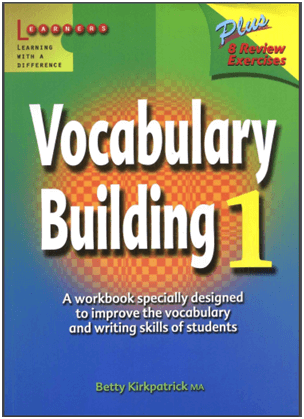 Vocabulary Building by Betty Kirkpatrick, contains four volumes, with the first one pictured above. These books focus on common words and expressions which tend to be either vague in meaning, or overused.
Books 1 and 2 focus on the usage of common words in the English language.
Books 3 and 4 help students build on the knowledge they gained in books 1 and 2, and also focus on euphemisms, cliches and other expressions.
So there you have it. The top ten vocabulary books we recommend to take your IELTS like a boss!
Also check :
Frequently Asked Questions
Why are vocabulary books important?
Good vocabulary is the key to scoring a good IELTS band. So, vocabulary books can benefit IELTS candidates preparing for the exam. Learning vocabulary from a book is considerably easier than memorising words from a dictionary because acquiring terms from vocabulary books in context makes greater sense in what the aspirant is reading, making it simpler to recollect later.
What are the top 5 vocabulary books useful for the preparation of the IELTS?
The following top 5 vocabulary books assure the IELTS aspirants to up their vocabulary level: The IELTS Vocabulary book by IELTSMaterial.com, Collins Vocabulary for IELTS, 4000 English Words, Barron's Essential Words for IELTS, English Vocabulary in Use
What are some additional strategies to improve vocabulary besides reading books?
Apart from relying on vocabulary books, IELTS aspirants can improve their vocabulary by reading journals, newspapers, and magazines, listening to English audio, and watching English TV shows with subtitles. They can also keep a new vocabulary journal, in which they can write down new terms and their definitions to remember them later.
Why is it important for an IELTS aspirant to have good vocabulary skills?
It is highly important for an IELTS aspirant to possess vocabulary skills as it contributes to 25% of the total score in the IELTS writing and speaking modules. The examiners will assess their ability to use a wide range of appropriate vocabulary and use those words accurately while conversing or writing an essay.
Will the vocabulary books help with IELTS preparation?
Yes, absolutely! Every potential aspirant seeking to enhance their vocabulary abilities during their IELTS preparation would most likely benefit from the above-mentioned vocabulary books. Aspirants would benefit greatly from expanding their language skills using vocabulary books