Can Listening to Podcasts be Beneficial for IELTS Listening?
Nehasri Ravishenbagam,
Updated On


Limited-Time Offer : Access a FREE 10-Day IELTS Study Plan!
In today's fast-paced world, podcasts have become an increasingly popular medium for consuming information and entertainment. With a wide range of topics available, including language learning, it's no wonder that podcasting has gained traction among English language learners preparing for exams like the International English Language Testing System (IELTS).
In this blog, we will explore whether listening to podcasts can be beneficial for IELTS Listening, provide actionable tips to enhance your English language skills and suggest the top 3 Podcasts to gear up your language-learning journey. So, let's explore further!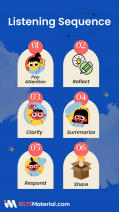 The Benefits of Listening to Podcasts for IELTS Preparation
To listen podcasts in English is an amazing way to develop your language learning skills. To know more about the advantages of it, dive in!
1. Enhances Your Listening Comprehension Skills
The IELTS Listening section calls for attentive listening and comprehension of a range of accents, speeds, and topics. By exposing you to authentic English conversations, listening to podcasts can greatly improve your listening comprehension abilities.
Podcast hosts and guests frequently speak spontaneously, giving instances of spoken English from everyday situations. Your ability to understand English spoken at varied speeds will increase as a result of regular exposure to these conversational patterns, which will also assist you in becoming comfortable with various accents.
2. Expands Your Language and Vocabulary
Podcasts offer a wide selection of themes that let you explore a variety of subject areas while expanding your vocabulary. You have the chance to broaden your vocabulary when you listen to English podcasts since you come across new words and expressions.
Furthermore, podcasts give you context, enabling you to understand words by hearing them used in context. This exposure to rich and diverse vocabulary will undoubtedly enhance your language proficiency and better equip you for the vocabulary-related tasks in the IELTS Listening section.
3. Helps You Develop Listening Strategies and Techniques for the IELTS Test
Listening to podcasts provides an opportunity to develop essential listening strategies and techniques that are vital for the IELTS exam. By focusing on specific aspects like identifying the main ideas, understanding details, and recognizing specific information, you can train your brain to actively listen and comprehend spoken English.
Moreover, podcasts often incorporate interviews, discussions, or storytelling formats, which will expose you to various listening scenarios, helping you adapt to different question types in the IELTS Listening section.
Want to Supercharge Your Listening Skills for IELTS? Try Our Listening Ebook With the Latest Question Papers Now! 
Tips to Practice Listening With Podcasts
Anyone can suggest you start listening to Podcasts. But, do they tell you how to? Now, let us tell you how!
1. Start with Transcripts
Listening to podcasts can be challenging, especially if you're at the early stages of your language-learning journey. To make the most of your podcast practice, find podcasts that offer transcripts.
By following along with the transcript while listening, you can enhance your understanding and improve your accuracy. As your skills progress, gradually reduce your reliance on transcripts, and challenge yourself to comprehend the spoken content without them.
2. Choose Relevant Podcasts
When selecting podcasts for IELTS preparation, it is crucial to choose those that are relevant to the exam's listening tasks. Look for podcasts that discuss a wide range of topics, similar to those encountered in the IELTS Listening section. Additionally, opt for podcasts hosted by native English speakers to expose yourself to different accents and speaking styles.
3. Practice Active Listening
Passive listening alone may not yield the desired results. To maximize the benefits of listening to podcasts, practice active listening. Focus on understanding the main ideas, taking notes on key points, and identifying specific information mentioned in the podcast. Engage with the content by asking yourself questions and reflecting on the topics discussed.
Top 3 Podcasts to Develop IELTS Listening
With a plethora of options available, it can be overwhelming to find the most effective podcasts for improving your IELTS Listening skills. To help you navigate through the sea of choices, we have curated a list of the top three podcasts that can aid in developing your IELTS Listening abilities.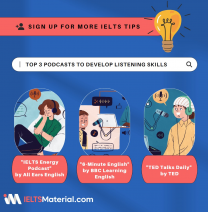 1. "IELTS Energy English Podcast" by All Ears English
The "IELTS Energy English Podcast" is an excellent resource specifically designed to enhance your IELTS Listening skills. Hosted by the team at All Ears English, this podcast offers valuable tips, strategies, and practice exercises tailored to the IELTS exam.
With episodes covering various topics and question types, you can familiarize yourself with the format and requirements of the IELTS Listening section. The hosts also provide insights into common mistakes to avoid and techniques to improve your overall listening comprehension.
2. "6-Minute English" by BBC Learning English
The "6-Minute English" podcast by BBC Learning English is a fantastic option for those looking to develop their listening skills while expanding their knowledge on diverse topics.
Each episode focuses on a specific theme, and the hosts engage in lively discussions, interviews, and debates. By listening to this podcast, you can improve your vocabulary, understand different accents, and enhance your ability to grasp main ideas and specific details.
3. "TED Talks Daily" by TED
"TED Talks Daily" is a popular podcast that features inspiring and thought-provoking talks from experts across a wide range of fields. While not specifically designed for IELTS preparation, this podcast can significantly enhance your listening skills.
By immersing yourself in these thought-provoking talks, you can sharpen your listening comprehension, improve your vocabulary, and gain exposure to different accents and speaking styles.
Selecting the right podcasts can play a crucial role in developing your IELTS Listening skills. Regularly listening to these podcasts and following the above-mentioned tips can enhance your understanding of spoken English, familiarize yourself with different accents and topics, and improve your ability to tackle the challenges posed in the IELTS Listening section.
Do not forget to actively engage with the content, take notes, and practice identifying main ideas and specific information!