Until the cows come home – Idiom of the day for IELTS Speaking 
Meaning: for a very long time 
Origin:  The origin of the phrase goes back to a time when people were familiar with the time cows came home (in the very early morning… 4 – 5 a.m.) because they wanted to be milked.
Example: 
We could talk about this problem until the cows come home, but it wouldn't solve anything.
We can learn IELTS until the cows come home this week to get a high score in IELTS
Exercise: 
Determine the meaning of the bolded expression.  Choose the best answer.
Bobby would have been playing ball until the cows came home if it hadn't been for Suzie dragging him away to eat dinner.
Bobby was just about to stop playing ball.
Bobby didn't even want to play ball to begin with.
Bobby prefers nature to athletics.
Bobby would have continued playing ball for a long time.
Fill in the gap
You can't talk until the ……… come home. I won't accept that scheme.
(a) dogs
(b) cows
(c) cats
(d) hens
The following two tabs change content below.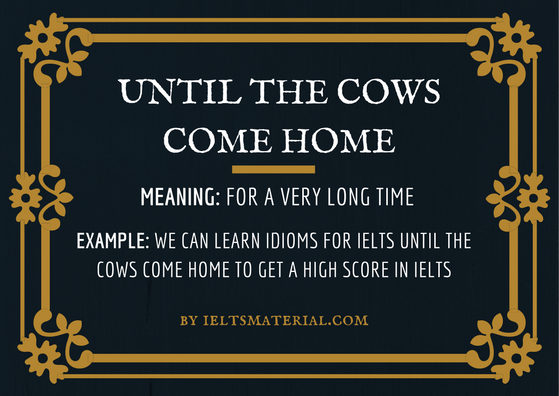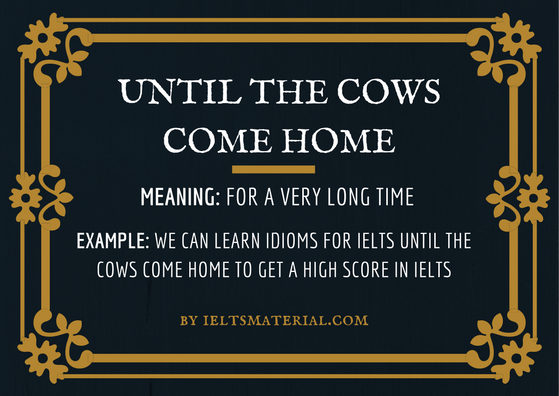 Main IELTS Pages:
This website is to develop your IELTS skills with tips, model answers, lessons, free books, and more. Each section (Listening, Speaking, Writing, Reading) has a complete collection of lessons to help you improve your IELTS skills.
Get all the latest updates/lessons via email:
Subscribe for free IELTS lessons/Books/Tips/Sample Answers/Advice from our IELTS experts. We help millions of IELTS learners maximize their IELTS scores!
Subscribe to IELTS Material to receive the latest lessons