IELTS Listening Map Questions | Example 2
Janice Thompson,
Updated On
Section 2
You will hear a monologue. 
We understand the importance accommodation plays in student life, which is why we aim to provide you with not only the best possible range and standard of housing but also advice and assistance on the whole accommodation process. With our help, you should find yourself somewhere you want to live and get settled in with, as little hassle as possible. Throughout the guide that I have just handed out, you'll find details with the wide range of accommodation available at the university and how you can apply for it. We hope that the information we provide will assist you to make your choices, but please contact us at any time, if you have any questions. Our accommodation ranges from the catered to the self-catered, the modern to the traditional and is based over 25 sites across the city all of which are located within a short walk or bus ride of the city center. First, let's look at catered accommodation. Moving away from home for the first time can be as scary as it is exciting. Our traditional catered accommodation makes things easier for you with meals included in the rent and a comprehensive support network to help you adjust. And with around 2,000 students in catered accommodation, you'll have ample opportunity to make new friends.
If you like choosing what and when to eat, self-catering will be ideal. More than half of our new students live in self-catered accomodation which offers a taste of real Independence plus the benefits of a sociable and supportive environment. You can choose from either self-catering flats, larger occupancy residences or university managed accommodation for one person, flats, couples or families. Then there's private accommodation. University accommodation isn't for everyone. If for some reason you don't get a place or would prefer to rent privately, we also have a register of university approved accommodation and can offer advice and support, if you want to rent private flats or lodgings in the city. Now, here you can see a map of the university accommodation nearest to the campus.
Marvin halls are located on Humber Road between Seven road and Thames road. This is the tallest halls of residence, being a 25-story block of student flats. You can get a good view of the campus from here. Grampian halls are also located between Seven road and Thames road where Liverpool road, sorry lane joins the two. Don't get Liverpool road confused with Liverpool lane as I just did. It's on the south side of the street. Brecon halls are between the south gate and the west gate. They're very slightly nearer the westgate, actually. These halls are popular because they are newer and the rooms are somewhat larger than in older halls. Sparing Halls are nearest to the north gate and.southgate on Avon road, but not opposite it. Well, whichever type of accommodation you go for, I hope it suits you. Now, I'd like to mention.
Questions 1-4
Decide which letter on the map shows the location of each of the following university halls of residence.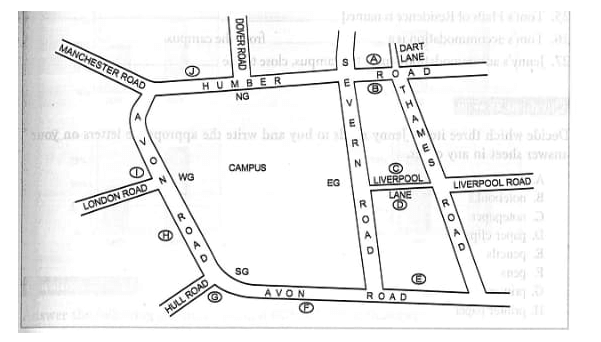 Marvin Halls

Grampian Halls

Brecon Halls

Sparing Halls
Answers
Explanation
For the first question, it is clear from the talk which goes thus:
"Marvin halls are located on Humber Road between Seven road and Thames road. This is the tallest halls of residence, being a 25-story block of student flats."
For the second question, it is clear from the talk which goes thus:
"Grampian halls are also located between Seven road and Thames road where Liverpool road, sorry lane joins the two."
For the third question, it is clear from the talk which goes thus:
"Brecon halls are between the south gate and the west gate. They're very slightly nearer the westgate, actually."
For the fourth question, it is clear from the talk which goes thus:
"Sparing Halls are nearest to the north gate and.southgate on Avon road, but not opposite it."
Also check :