IELTS Listening Map Questions | Example 4
Ruben Smith,
Updated On


Limited-Time Offer : Access a FREE 10-Day IELTS Study Plan!
Section 2
You will hear an audio guide to a public library. 
Welcome to the "Sell More" public library, which has just been reopened after major refurbishment. This tour will introduce you to the building and its services. At any time, you can stop the tour. We enter by the cafe and our tour begins at the issue desk. 
If you stand between the information desk and the issue desk and look at the opposite wall, you will see shelves of books in the left hand corner. This is where you will find a large number of novels and short stories. They are arranged alphabetically. If you are looking for something in particular and it's not on a shelf, you can reserve it. 
The next area directly opposite the issue desk is a section where people can study. The library provides computers for users, free of charge on the next floor beside the reference books. But this area is for people to use their own laptops. You should ask for the internet passcode at the information desk. 
In the right hand corner of this floor, there is a cafe. A selection of daily newspapers is always available there, but you can also take magazines into the cafe to read, while you have a drink. You will find these on the racks to the left of the cafe and there is a large selection. They are for reference only and cannot be borrowed, but you are welcome to photocopy any articles of interest. We ask you to return them when you are finished. You are not allowed to take fiction or any other books from the shelves into the cafe.
Next to the cafe is the exit door leading to the stairs and escalator to the other floors. The largest collection of books in the library is fiction and the next largest is nonfiction, which is in the corner of this floor, opposite the cafe. These can all be borrowed as opposed to the reference books on the next floor, most of which cannot be taken out of the library, but they can be photocopied. There are several photocopiers available for this purpose downstairs in the basement. 
To the one side of the issue desk is a door leading on to a gallery. This was added to the library as a public space where talks are given once a week on a Saturday, by visiting authors of both fiction and nonfiction. It also houses the biography section. There are notices advertising the talk in the study area. Any books that you want to borrow should be taken to the issue desk. Before we leave this floor, I will give you some information about using the library. There are also helpful notices by the information desk. 
To join the library and take books out, you need a membership card. Take your passport or identity card as well as proof of your home address to the information desk and you will be issued with a card. After a period of two years, all readers are required to go to the desk with a document that has their name and current address on it. So the library can keep up-to-date records of where people are living. There is no need to show a passport again, and there is no charge for this. But any lost cards are charged at five pounds. If you can't find the book you want on the shelves, you can reserve it. If it's in another library in the city, we can usually get it for you within a week. If someone else has borrowed it, It can take a few weeks. Either way, we notify you by phone or email, when the item is available to be picked up. We will hold it for you for five days. Books can be borrowed for 14 days and can be renewed for a further two weeks. Children's books also have a two-week borrowing period. The same system exists for CD-ROMs and CDs, but DVDs for both children's and adults can only be borrowed for up to seven days. It isn't impossible to renew them. Some reference books can be borrowed but normally only for one day, so 24 hours. The library opening hours have been changed slightly. 
Instead of opening late on Wednesday evenings till 8 p.m, we will be closing at six as on other weekdays. But we will close at 7:00 instead of 5:30 on Saturdays and a new development, we are going to open on Sunday mornings from next month 9 to 1. We are closed on public holidays and notices are posted in the library about these. 
Before you go upstairs, please note that if you're going to the exhibition area on the third floor, large bags are not allowed. There are lockers beside the reference area on the second floor, where you can deposit them. If you need change, you can get that from the information desk on the first floor. Now press "PAUSE" and proceed to the second floor. When you reach the top of the stairs, press "PLAY". 
Questions 1-4
Label the map below.
Choose FOUR answers from the box and write the correct letter A-H.
Biography

Fiction

Magazines

Newspapers

Non-fiction 

Photocopiers 

Reference books

Study area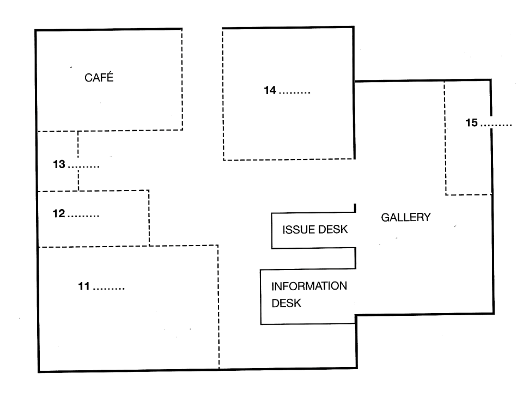 Answers
Fiction

Study area

Magazines

Non-fiction
Explanation
For the first question, it is clear from the talk which goes thus:
"Next to the cafe is the exit door leading to the stairs and escalator to the other floors. The largest collection of books in the library is fiction and the next largest is nonfiction, which is in the corner of this floor, opposite the cafe."
For the second question, it is clear from the talk which goes thus:
" There are notices advertising the talk in the study area."
For the third question, it is clear from the talk which goes thus:
"In the right hand corner of this floor, there is a cafe. A selection of daily newspapers is always available there, but you can also take magazines into the cafe to read, while you have a drink. You will find these on the racks to the left of the cafe and there is a large selection. "
For the fourth question, it is clear from the talk which goes thus:
"In the right hand corner of this floor, there is a cafe. A selection of daily newspapers is always available there."
Also check :