IELTS Listening Map Questions | Example 5
Janice Thompson,
Updated On
Section 1
You will hear a telephone conversation about opening a bank account. 
Helpline: Expat helpline. Terry Davis here. What can I do for you?
Customer: Hello Terry. I've been in this country for a while. I've just been offered a job in the city. So I think I'm going to need to open a bank account. I haven't had one before, so I will want to know what papers I will need.
Helpline: Well, basically you'll need to be able to prove to the bank that you're who you say you are and that you live where you say you do. Okay.
Customer: Aaha!
Helpline: And for some banks, at least that means you'll have to show them two separate pieces of identity. So I'll run through the list, if you like.
Customer: Yes, please.
Helpline: Okay, I'll bring it up on the screen. Let's see. Here it is. Right. The first thing it says is a valid passport.  
Customer: Mine's Australian. 
Helpline: Yes, that would be fine, of course. The next one is a driving license and again one from your country would be okay. Then that's followed by a birth certificate. No. Hang on. That's only if you're under 18. 
Customer: Which I'm not.
Helpline: Right. So not that, then. But you can also show them a benefit book for instance, if you're in ill health or unemployed or getting income support. 
Customer: Yes, I could bring that or lend it from my employer, maybe. 
Helpline: Well that's not actually on the list. So we'll have to assume you can.
Customer: Okay. And to prove where I live?
Helpline: Again, there are several possible things listed here. For instance, you could use a bill for council tax or something else for where you live such as an insurance certificate. 
Customer: I've got one of those and somewhere among my papers. What about bills? Things like fine bills, I mean.
Helpline: As long as it has your address on it. Yes fine. 
Customer: So a bill from my mobile would do. Would it?
Helpline: I'm afraid it would have to be for a fixed-line phone. You could use other types of household bill though, as long as you get them through the post 
Customer: How about my electricity bill. That will say where I live. Won't it?
Helpline: If it's in your name and not that of a landlord. Yes
Customer: It is. So I'll probably take that then.
Helpline: There's one other you might want to use. A vehicle registration document, if you have a car or motorbike or something, of course. 
Customer: No, I haven't actually. Now, I believe there's a bank actually inside the commercial center and I might have an account there seeing as how that's where I'll be every day. 
Helpline: Yeah. That would seem to make sense. I know people who bank there. 
Customer: I actually read about it in a city guide. My cousin's excerpt when he was here a couple of years ago and I made a few notes and she might if I run through them with you now, just to make sure the details haven't changed.
Helpline:  Fine. Go ahead. 
Customer: Okay first question. It's still a branch of the popular bank. Is it? The one with links to Australian banks?
Helpline: No, it's actually been taken over by another big banking group, The Savings Bank. It still seems quite popular though, especially with people doing business in the Asia-pacific area.
Customer: mmmm…And when is it open, Monday to Saturday? 
Helpline: I'll have to check their website for that. Give me a second or two. Will you?
Customer: Sure.
Helpline:  I've got it. Customer service and it's just weekdays. I'm afraid.
Customer: Does it say what their business hours are?
Helpline: I'm just looking for that. It's on a different page for some reason. I think there's been a change at some banks in the last year or so. Yeah, here it is. It's open from 9:30 in the morning till half past three in the afternoon.
Customer: And it's on the top floor of the main center building, is it. Next to the travel agency? 
Helpline: That's where it used to be but they've since moved it to a slightly bigger place. It's on the ground floor now. 
Customer: Aah! And one last thing on this and I know most banks give incentives to young people who try to account with them. But apparently this one didn't? Do you know if they're offering anything these days?
Helpline:  I'll just check. I'm sure they'd say so on their new client page if they were. No, there's nothing mentioned here. 
Customer: That's a pity. I was quite looking forward to getting my free gift.
Helpline: There are plenty of other banks within walking distance, you know, it may be worth shopping around to see what they've got to offer, longer opening hours including Saturdays. Perhaps less crowded. 
Customer: Can you tell me how to get to a couple of them. I know where the commercial scenery is? So that's probably my best starting place. 
Helpline: Sure. For the Royal bank. You need to turn left when you leave the center, go along Market street past the post office and turn left up Bridge street past the shaw theater. 
Customer: Mmm
Helpline: Then you take the first right? You'll see an internet cafe on the other side and the Royal is just a bit further along on the right directly opposite the Park hotel. 
Customer: Ok. I've got that. mmm….What about the Northern Bank?
Helpline:  For that one, you turn right as you come out of the center and go along Market street until you come to the junction with West street. There you turn right again and carry on up as far as the next junction where you take a left. You'll see the bank from there. It's the third building on the right. 
Customer: Fine and the last one. The National Bank? 
Helpline: You can go either way from the center really, up West street or Bridge street, and then along past City hall. The bank is on the other side of the road right next to the tourist office. You can't miss it. 
Customer: Alright. Thanks a lot for your help. 
Helpline: Anytime. Bye. 
Customer: Bye.
Questions 1-3
Match the places in Questions 1-3 to the appropriate letters A-H on the map.
Royal Bank ________

Northern Bank. ________

National Bank. ________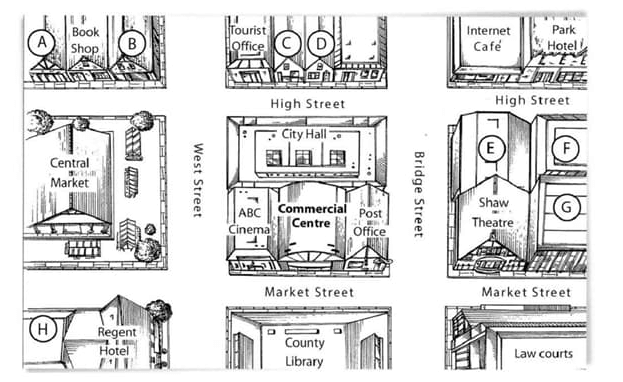 Answers
Explanation
For the first question, it is clear from the talk which goes thus:
"For the Royal bank. You need to turn left when you leave the center, go along Market street past the post office and turn left up Bridge street past the shaw theater. "
For the second question, it is clear from the talk which goes thus:
"For that one, you turn right as you come out of the center and go along Market street until you come to the junction with West street. There you turn right again and carry on up as far as the next junction where you take a left. You'll see the bank from there. It's the third building on the right. "
For the third question, it is clear from the talk which goes thus:
"You can go either way from the center really, up West street or Bridge street, and then along past City hall. The bank is on the other side of the road right next to the tourist office. You can't miss it."
Also check :