Section 1: Question 1-10
Complete the form below. Write NO MORE THAN TWO WORDS AND/OR A NUMBER for each answer.
                                  COMPLAINT RECORD FORM
Example
Name:                                                       Susan Yorke 
Address:                                                   Flat 1
                                                                   1 ……………..
                                                                   Harchester
                                                                  HA6 5LD
Daytime telephone number:               0781 233 452
Purchase reference number:               2 …………………… 8443
Date of purchase:                                   15th January
Item description:                                   Aqua Powershot digital camera in a
                                                                   3 …………………… colour
Insurance?                                              Yes, has a 4 ………………… policy
Details of complaint:                            5 ………………….. missing
                                                                  should be 6 ………………….. but isn't
                                                                  7 …………………… on case
Action to be taken                                 If repair not possible, offered to provide a
                                                                  8 ……………………, but customer requests a 9 ……………………
                                                                 Asked customer to send item to 10 …………………….
Section 2: Question 11-20
Questions 11-15: Match the places. Write the correct letter A-II next to the Questions 11-15.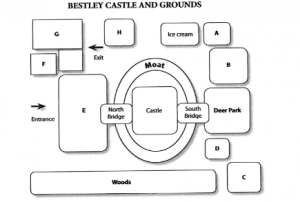 11. tourist information 
12. car park
13. museum
14. picnic area
15. gift shop
Questions 16-18: Which THREE activities or events do you need to pay to get in?
Choose THREE letters A-F.
A. museum
B. castle
C. fireworks
D. gardens
E. rock concert
F. jazz concert
Questions 19 and 20: Answer the questions below.
Write NO MORE THAN TWO WORDS AND/OR A NUMBER for each answer.
19. How often is the charity event held? ………………………
20. Who does Age Concern help? …………………………
Section 3:  Questions 21-30
Questions 21-26: Choose the correct letter A, B or C
21. Before giving his presentation, Paul is worried about ……………………..
A. choosing what information to use.
B. not remembering what to say.
C. organizing the projection equipment.
22. Paul's friends advise him not to ……………………
A. speak about popular periods.
B. talk at length about art history.
C. speak too quickly in the presentation.
23. Why does Paul like the idea of the timeline?
A. It will be visually pleasing.
B. It will save some time.
C. It will keep him focused.
24. Paul is going to show famous works of art to ……………………
A. show people that he has good taste.
B. make people think about what counts as art.
C. prove that modern art isn't as good as classic art.
25. Paul wants his presentation to …………………..
A. change personal opinions.
B. create a big fight.
C. start an exciting debate.
26. What does Isabel say about modern artists?
A. They are skillful.
B. They paint like children.
C. They have a sense of freedom.
Questions 27-30: Complete the notes below. Write NO MORE THAN TWO WORDS for each answer.
                     TIPS TO FIND PICTURES
• go to fine art section in 27 …………………….
• ask 28 …………………. for access to slide bank
• if not, use the 29 ……………………..
• find pictures using a 30 ………………………
Section 4: Questions 31-40
Questions 31-36: Complete the diagram below. Write NO MORE THAN THREE WORDS AND/OR A NUMBER for each answer.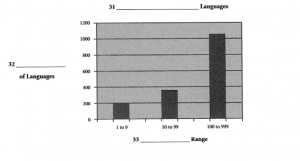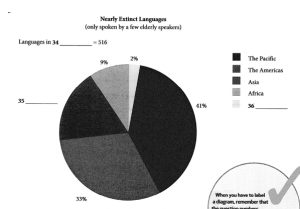 Questions 37-40: Complete the sentences below. Write NO MORE THAN TWO WORDS for each answer.
37. Technology has made communication easier, encouraging the use of a ………………………
38. Some speakers may associate major languages with better …………………….
39. A group of people can lose their …………………… when their language becomes extinct.
40. We can help preserve languages through specific programmes and by encouraging people to become …………………………
ANSWER
1. Alpine Avenue
2. DMX
3. silver
4. Four Star/four star
5. memory card
6. waterproof
7. (big) scratch
8. replacement
9. refund
10. Customer Services/customer services
11. F
12. G 
13. D 
14. B 
15. H
16-18. (in any order) B    C      E 
19. every year
20. elderly people
21. A 
22. B 
23. B 
24. B 
25. C 
26. C 
27. (the) library
28. (the) staff
29. (library) computers
30. search engine
31. Minority/minority
32. Number/number
33. Population/population
34. total
35. 15%
36. Europe
37. common language
38. (economic) status
39. oral traditions
<
p class="p1″>40. literate
The following two tabs change content below.
Learning new languages is always good for further positions. The more you learn, the better knowledge you get.
Latest posts by Kristine Nguyen (see all)
Main IELTS Pages:
This website is to develop your IELTS skills with tips, model answers, lessons, free books, and more. Each section (Listening, Speaking, Writing, Reading) has a complete collection of lessons to help you improve your IELTS skills.
Get all the latest updates/lessons via email:
Subscribe for free IELTS lessons/Books/Tips/Sample Answers/Advice from our IELTS experts. We help millions of IELTS learners maximize their IELTS scores!
Subscribe to IELTS Material to receive the latest lessons