SECTION 1
Questions 1 – 5
Complete the Account Details using NO MORE THAN TWO WORDS for each blank space
Account Details
Example 
Account holder:                       ______No_______
Discount offered
First year students                 (1)_______________
Name:                                       Nasreen (2)_____________
Address:                                   (3)_________________ Mansions, Compton Street, London.
Postcode:                                 SE (4)_____________________
Telephone number:               0181 (5)___________________
Questions 6 – 8 
Put a tick in the spaces below, if the information is correct. Or fill in the blank with the correct information, if it is wrong. The first one has been done for you as an example.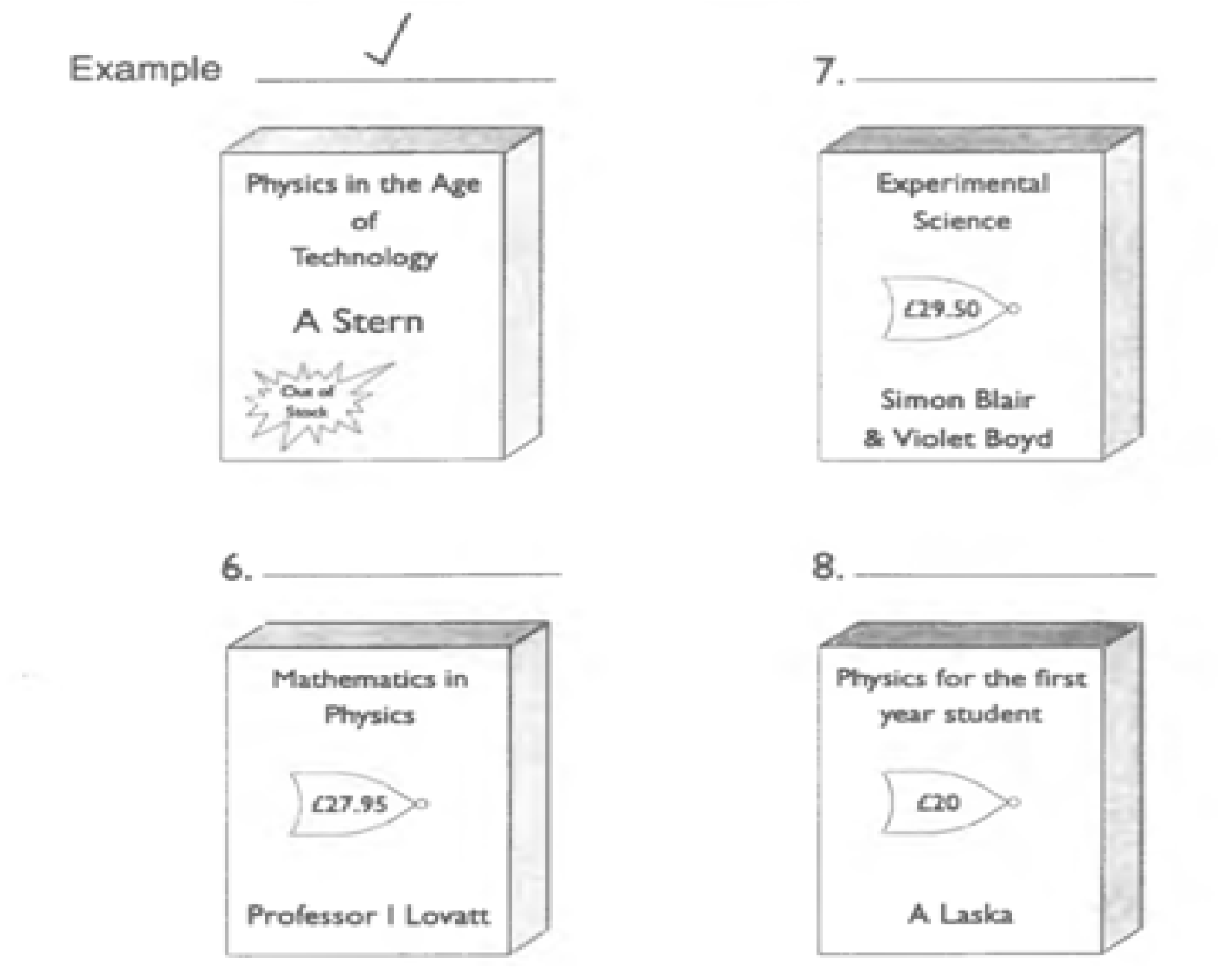 Questions 9 – 10
Circle the appropriate letter.
9. To collect the books ihe student must bring A three forms of identification.
B      two forms of identification.
C      one form of identification.
D      two forms of identification and the university confirmation letter.
10. The books will be kept
A      in the Chemistry Department in the basement
B      in the Physics Department in the basement.
C      in the Physics Department on the first floor.
D      in the Maths Department in the basement.
SECTION 2
Questions 11 – 14 
Circle the appropriate letter.
11. There are_____________ student counsellors at the university,
A six                                              B four                                 C   five                                   D three
12. The speaker has come to talk about the_____________________________ .
A Student Union                                                    B Student Welfare Service
C student health                                                     D Student Accommodation Service
13 The number of main sites is________________________________
A three                                          B four                                C five                                    D six
14 Where on this site is the student counsellor's office?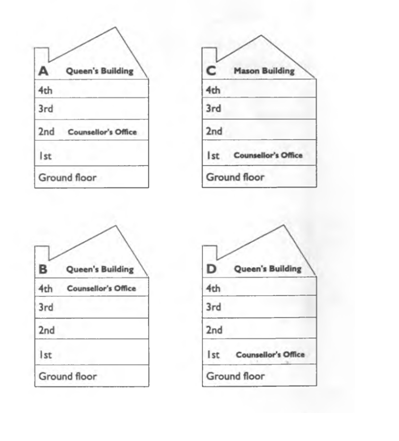 Questions 15 – 20
Complete the notes below using NO MORE THAN THREE WORDS for each answer
15. The information leaflet is available almost __________________________   .
16. The Helpline in the evenings and weekends is dependent on the_____________________
17. The Helpline is staffed at the weekends for ______________________________
18. Students contact the Student Welfare Service for a ____________________ ,
19. If the counsellors cannot help you, they will put you in touch with________________
20- The Service gives ______________________________ to all volunteers on the Helpline.
SECTION 3
Questions 21 – 23
USE NO MORE THAN THREE WORDS to answer the following questions:
21. On whal topic did Jim write his essay ? ________________
22. Besides the OECD statistics, what other figures did Jim use? __________________
23. At the beginning of hisessay, what does Jim say the 19th eentuty Luddites and people today are worried about? ______________________
Questions 24-27
In Jim's essay, there are 3 reasons for people's fears and 2 reasons why people's fears are unjustified. In each case below,  choose the option which accurately describes the point. The first one is an example
Example: The first reason for fear:
✓a. IT affects service and traditional industries
   b. Electricity affects service and traditional industries
24. The second reason for fear:
A. The introduction of IT is more demanding than other technologies
B. The introduction ot IT is happening more quickly than for previous technologies
25. The third reason for fear:
A. IT makes it easier to change jobs
B. IT makes it easier for employers to move jobs around
26. The first reason why people's fears are unjustified:
A.  There has been a continuous rise in people in work and income in rich countries
B.  Technological advance has industrialised rich countries
27. The second reason why people's fears are unjustified:
A. New jobs are not upsetting old ones
B.New jobs are replacing old ones
Questions 28 – 30
Circle the appropriate letter.
28 New technology does not afways reduce employment, because
A. people do not need to work as hard as before.
B. new products are a necessity.
C. it can create new demand.
D. it can slow down output.
29. In his conclusion, Jim says that IT should not destroy jobs, if
A. there is a balance.
B. the workforce are favourable.
C. the workforce are businessmen.
D. the workforce have a good education and they are skilled.
30. The phrase, a favourable business climate, means an environment where
A. there is not too much in the way of protectionism.
B. there are many restrictions, rules and regulations.
C. minimum wage levels are too high.
D. restrictions on work pradices exist.
SECTION 4
Questions 31 – 37
Complete the notes using NO MORE THAN THREE WORDS for your answer.
31. The speaker is a specialist in__________________.
32. The speaker is giving the __________________of the term.
33. The focus of her talk is the purpose of______________________.
34. Good design leads to_____________________.
35. One facet of the role of design is to make sure that products do the job they are _____________
36. People are persuaded to buy products by__________________and _______________
37. A shopper may buy a personal stereo for its as_______________ well as its trendy appearance.
Questions 38-41
Circle the appropriate letter.
38. The role of the designer is becoming more important, because …
A. the progress of technology is slightly faster than it was.
B. there are possibilities for new ideas.
C. products break more easily these days.
D. every model has to be updated more quickly.
39. In the medical field, the designer is engaged in…
A. developing a range of new equipment.
B. otd equipment that is developing.
C. everything related to hospital portering equipment.
D. advising inventors.
40. Designers can help manufacturers by…
A. exporting their designs.
B. helping to make their products attractive.
C. making their products appreciated by other manufacturers.
D. training them to appreciate design.
41. Design is important in life, because…
A. existing is more than living.
B. it is part of our attitude.
C. it improves the quality of our daily life.
D. we do not want things that do not look good, even if they do not work.
Answer keys:
15%/fifteen percent
Kerrigan
127a Adelaide
19 7FT
797 4882
√
Physics
£25
D
B
C
B
A
D
everywhere on campus
generosity of volunteers
roughly 8/ eight hours
variety of reasons
someone who can
training and support
global employment
The World Bank
machines replacing people
B
B
A
B
C
D
A
European product design
introductory lecture
design
efficient products
intended to (do)
advertising/ adverts (and) the media
efficient function
D
A
B
C
BONUS EXERCISE: GAP-FILLING 
The texts below are transcript for your IELTS Listening Practice Test. To make the most out of this transcript, we removed some words from the texts and replaced with spaces. You has to fill each space with the missing word by listening to the audio for this IELTS listening practice test. 
Section 1
SA: …versity Bookshop, Bridge Street, Doris speaking, can I help you?
S:         Is that the University Bookshop?
Yes, it is.
S:         I'd like to place an […………………………….]for some books, if I may.
SA       Have you got an […………………………….]with us?
S: No, not yet. I haven't started university yet.
I'll be starting in October, but I'll be coming in early to have a look round and to get […………………………….]in and wanted to order some books.
SA:      Right. I see. Would you like to open an account?
S:         Mmm, I don't know.
SA:      Well, you get a student […………………………….]on all book […………………………….].
S:         Oh! And how much is that, then?
SA:      […………………………….] for first year students.
S:         15%! That sounds all right.
SA:      You just have to make sure that you settle your account at the end of each month.
S: OK. Well, mm, I might as well open one, then.
SA: I just need to […………………………….]some details. Do you want the account to be at your term time address or your home address?
S: They're the same.
SA: Right. First of all, can I have your name?
S: […………………………….].
SA: Is that, K , I…
S: No, I'll have to spell it for you. It's K, E for everyone, double R, I, G for Go, A and N for Nobody.
SA: A N for Nobody. …Kerrigan.
S: Yes. That's it.
SA:      And your address?
S:         It's […………………………….] Adelaide Mansions …
SA:      Hold on. 117a … Ade …
S:         No, 127a …
SA:      Ok, Right. And Adelaide, that's A, D, E for everyone, L, A , I, D, and E for everyone.
S:         Yes, that's it. Then Mansions.
SA:      Mansions. Right.
S:         […………………………….].
SA:      Right.
S:         London.
SA:      London. And the postcode?
S:         […………………………….].
SA:      SE …19.
S:         […………………………….]
SA:      7?
S:         Yes 7 F for Freddie and T for Tommy.
SA:      FT. Right. So let me just check that. Mm 127a Adelaide Mansions, Compton Street, London SE19 7FT.
S:         That's correct.
SA:      And are you on the telephone?
S:         Yes, it's […………………………….].
SA:      797…
S:         4882.
SA:      4882.
S:         Yes, that's it.
SA: Right, that's that out of the way. And which books would you like to order?
S: Well, I just want four books to […………………………….]with.
SA: Hmm.
S: Have you got Physics in the Age of Technology by Adrianna Stern.
SA: Physics in the Age of… it's out of […………………………….], I'm afraid.
S: Oh, OK.
SA: Would you like me to order it for you?
S: No, what about mm. Mathematics in Physics by Professor I Lovatt. […………………………….]…
SA: Just, just wait, Mathematics in … Physics by …
Professor I Lovatt. Let's just check that. Right, here we are. Yes,…. we've got it in stock. It's […………………………….].
S: £27.95! With the discount?
SA: I'm afraid, yes. Ah, the next one?
S: Experimental Physics by Simon Blair and Violet Boyd.
SA: Experimental Physics by Simon Blair and Violet Boyd. OK, let's see ….That's £29.50.
S:         OK and Physics for the first year student by A. Laska.
SA:      Physics for the first year student… That's … […………………………….].
S:         OK. I'll stick with these three for the moment.
SA:      Right. Would you like to have the books […………………………….]to you?
S: No, No it's it's okay. I'll come in one day this week and pick them up.
SA: Right. When you come in, can you bring two forms of […………………………….].
S: OK, Like what?
SA: A credit card,… […………………………….],… a cheque card and
S: Oh, OK.
SA: … and your letter confirming […………………………….]to the university.
S: Yeah, OK. What time do you close?
SA: We're open until 6pm every day except Thursday, when we close at 7.30.
S: And you're on which floor?
SA: The Physics Department is in the […………………………….]. The books will be kept here and as you're paying by […………………………….]we'll post the bill to you.
S: Thanks. Bye.
SA: Bye-Bye.
Section 2
Good morning My name is Dave Eastman and I'm one of the five student […………………………….]in the university. And I'm here today to introduce myself to you […………………………….]and to say just a few words about the Student Welfare […………………………….]. But before I begin, I'd like to thank your Faculty Head, Professor Anwar, for inviting me here to talk to you. At the end, I'll […………………………….]questions open to the floor.
The service we offer is available on all […………………………….]of the university campus. The three main sites have a counsellor available week-days, Monday to Thursday, between […………………………….]and […………………………….]. On this site, the office is situated in the Queen's Building, on the first floor. I understand that all of you are based on this site, so I won't go into […………………………….]about the others.
Information about the service and the other offices is […………………………….]in this leaflet, which you can pick up practically everywhere on campus. We also run a Helpline, which is open after the office is closed. The number for the line is […………………………….]. This number with all the others, my own, included, is contained in the leaflet. Obviously, we would like to make the Helpline available […………………………….]a day. but the money simply isn't there, so we have to rely on the […………………………….]of volunteers. I can say on average the line is open about 3 hours per evening most evenings and roughly […………………………….]at weekends. If there is no-one to take your call, or in the event of an […………………………….], there will be a message on the answering machine which will give you other […………………………….].
You might be thinking why not just give us the […………………………….]and get on with the lecture. Well, the answer to that, as you probably well know, is that people don't always read leaflets; they look at them and say: That's not for me.
People contact us for a […………………………….]of reasons. They may come to see us if they feel […………………………….], because it's the first time many have been away from home: or they may have personal relationship problems: or money problems. Certain times of the year bring increased […………………………….]to bear on students, the exam time being the main one and I'm not just talking about Finals. Preparing a paper for a tutorial or a seminar can also be a […………………………….]exercise. On […………………………….]like this, we are available to help you.
We don't pretend that we have an answer for every problem, but we can try and help; and if we can't we can usually refer you to someone who can.
I would also like to take this […………………………….]to ask for volunteers for our advice […………………………….]. You don't need any previous experience and, because you are […………………………….]to the university, it does not mean that you do not have anything to offer. We provide training and support for all […………………………….]. So if you'd like to get involved see me at the end of this […………………………….].
I'd like to thank you for listening and now it's your chance to ask some questions…. Yes the […………………………….]in the third row in the red T-shirt.
Section 3
L: Come in!
J: Hello, Dr Townsend.
L: Ah – hello Jim, come and sit down. Now – it's about this essay of yours, am I right?
J: Yes, the one on global […………………………….].
L: Ah yes, global employment, let's see …What was the exact […………………………….]again?
J: 'Information Tech …
L: Right, here it is: " 'Information Technology will put […………………………….]of people out of work throughout the world in the coming […………………………….]. Explore the arguments on both sides of this […………………………….]and give your opinion.'
J: Yep. that's it.
L: Yes, on the whole, I was very pleased with what you wrote … mm …You've […………………………….]the different points of view clearly.
J: Thank you.
L: Did you give the sources for your […………………………….]?
J: Yes, I…
L: Ah, yes, I see, the World Bank and the […………………………….]. Where did you get the […………………………….]from?
J: On the Internet.
L: Right, I see. OK – well, let's have a closer look.
J: OK.
L: Now, near the beginning, you draw a […………………………….]between present day fears about machines replacing people,
J: Yeah.
L: and the […………………………….]Luddites. It's an […………………………….]parallel, but don't you think it might be better to explain who the Luddites were?
J: Well, I mm did think about it, but …ah ..
L: Yes?
J; I thought it might be a little bit […………………………….].
L: Well, yes, maybe, but a short sentence might help just to show the […………………………….]between then and now.
L: Good. Let's move on then.
J: Right.
L: So, in the first paragraph you […………………………….]three reasons for people's fears: IT is more […………………………….]in its impact than the effect of steam power or electricity, […………………………….]service industries as well as traditional manufacturing. Second, IT is being introduced faster than earlier new technologies and thirdly, … that it makes it possible for jobs to be easily moved from one place to another. Could you have described any other reservations?
J: Well, I suppose I could have said that the richer industrial […………………………….]fear the easy transfer of their jobs to […………………………….]and, therefore, cheaper economies, but I felt it was too […………………………….]a fear. You could also blame the media for their […………………………….]of large job losses at big firms without […………………………….]small business creation.
L: I see – fair enough. So then you continue with two paragraphs saying why people need not be afraid. I see you start with the historic […………………………….], that over the past […………………………….]of huge technological advance, employment and real incomes in rich industrial countries have risen […………………………….]continuously,
J: Yes….
L: and you illustrate it by an OECD […………………………….]. Then you state that although jobs are […………………………….]by new technology, new ones are constantly being created which […………………………….]the losses – i liked your example here: that as […………………………….]and coachmen disappeared, […………………………….], drivers and car […………………………….]took their place.
L: Now, where were we?
J: We were …
L: Yes, you said that although new technology may reduce the amount of […………………………….]necessary to produce a given volume of […………………………….], this doesn't necessarily reduce overall unemployment,
J: Employment,
L: Sorry, yes, employment, because technology can boost output and create new […………………………….]and new products.
J: Yes.
L: Perhaps you could have given some examples here of products which didn't exist 20 years ago?
J: You mean things like […………………………….], mm … personal […………………………….], soft contact lenses! Yes, mm, I suppose I should have done.[…………………………….]L: And, of course, computers themselves, both personal and industrial! Good! So let's have a look at your […………………………….]– so you believe that on balance, given a favourable business climate, and a well educated, […………………………….]workforce, there's no reason why IT should destroy jobs.
J: Yes.
L: You haven't ah explained what you mean by a […………………………….]business climate'.
J: Mmm well 11 mean an environment where there aren't too many […………………………….], rules and regulations like […………………………….]over goods and restrictions on work practices and, perhaps, minimum wage levels that are too high.
L: I see. Well, you've certainly thought through the issues, but they are complex and perhaps you could have gone into them rather more deeply. However, as I said at the beginning, you're good and clear about your points, so I've marked it
 Section 4
Good afternoon, and welcome to everybody. My name is Dr Paulette Southfield and I […………………………….]in European product design in the Department of Product and […………………………….]Design. It has fallen on me to kick off your first term with the […………………………….]lecture. And after much thought looking for a […………………………….]title, I decided to call my talk today, simply: What is design for?
What is design for? is one of the most important questions that we seek to answer in this […………………………….]. After all, an electric kettle is no more than a vessel with a heating […………………………….], a chair – no more than a seat and back with enough legs for support, and a motor car no more than a box with seats, four […………………………….]and an engine. But, we all know that a […………………………….]can pour badly and be […………………………….]to handle, a chair […………………………….]and ugly to look at and a car […………………………….]and unattractive. The answer to my question is, of course, […………………………….]in these examples: good design makes for efficient products, like an efficient kettle, maybe cordless and […………………………….]by arthritic or elderly hands; a well designed chair is comfortable and an inviting asset to our living-rooms and a carefully designed car […………………………….]maximum safety, comfort and […………………………….]. The conclusion we can draw from this is that tne roie of […………………………….]– to Darapnrase Terence Conran – is to […………………………….]that things do the job they were intended to do that tney are well made ana efficient and that they are pleasing to use and to look at.
There are, however, other reasons for the […………………………….]of design. Advertising and the media fuel the […………………………….]nature of […………………………….]but, together with greater choice, they encourage a more […………………………….] approach from tne public who can compare the […………………………….]of one product with those of another. The […………………………….]appeal of a bold new table lamp can be […………………………….]against tne cnarms of a […………………………….]others – while the choice of a new persona' stereo may involve its […………………………….]appearance as much as us efficient […………………………….].
And yet there is another reason for the […………………………….] role of the designer in today's world of rapidly advancing […………………………….]. As the life cycle of every product grows ever shorter, the […………………………….]has to be working on an updated model as soon as the latest one is off the drawing board. Nowhere is this more evident than in the design of motor cars. The same technological advance has also made a huge […………………………….]in the field of medicine and here the designer is […………………………….]in the development of new equipment, from the […………………………….], the increasingly […………………………….]dentist's chair and the […………………………….]hospital 'porter', to the […………………………….]hip replacement and other […………………………….].
Finally, we should not forget the role of design in the marketing wars. As […………………………….]battle to enhance the […………………………….]of their products over those of their […………………………….], the talents, […………………………….]and training of their designers are […………………………….]. A proper appreciation of this factor can even be significant for national […………………………….]ana their export markets.
I would like to end though with a few words on the […………………………….]between good design and that efusive factor – quality of life. If we start by agreeing that living is more than just […………………………….]we must admit that living with everyday things that are […………………………….]pleasing as well as effective, […………………………….]that quality. Most of us react against things which are […………………………….]feeble or […………………………….], but are drawn towards things which […………………………….]efficiency, imagination and style, in the words of French designer, Roger Tallon, design is first and […………………………….]an attitude.
Now if anyone woulo like to ask any questions, or raise any further points.
Practice every day to improve your IELTS listening skills. Don't forget to visit IELTS Material website on a daily basis to find more practice tests for every skill in the IELTS Test.
The following two tabs change content below.
Main IELTS Pages:
This website is to develop your IELTS skills with tips, model answers, lessons, free books, and more. Each section (Listening, Speaking, Writing, Reading) has a complete collection of lessons to help you improve your IELTS skills.
Get all the latest updates/lessons via email:
Subscribe for free IELTS lessons/Books/Tips/Sample Answers/Advice from our IELTS experts. We help millions of IELTS learners maximize their IELTS scores!
Subscribe to IELTS Material to receive the latest lessons