SECTION 1
Questions 1-4
Complete the form below.
Write NO MORE THAN TWO WORDS AND/OR A NUMBER for each answer.
Example: Grandview Hotel
Reservation Form
Arrival date: 1_______________13th. Number of nights: 2
Number of guests: 2________________
Guest name: Roxanne  3______________
Credit card number 4______________
Questions 5-7
Choose THREE letters, A-G.
Which THREE places will the caller visit?
A. art museum
B. science museum
C. shopping mall
D. monument
E. post office
F. restaurant
G. park
Questions 8 – 10
Choose the correct letters, A, B or C
8. When will the caller arrive at the airport?
A. In the morning
B. In the afternoon
C. At night
9 How will the caller get to the hotel?
A. Subway
B. Bus
C. Taxi
10. What time does the hotel front desk close?
A. 10:00
B. 12:00
C. 2:00
SECTION 2
Questions 11 and 12
Complete the information below.
Write ONE NUMBER for each answer.
City Tours Fare Information
Adult All-Day Pass: 11 $______________
Children ages 5-12 All-Day Pass: 12 $______________
Children under age 5: Free
Questions 13—15
Label the map below.
Write NO MORE THAN TWO WORDS for each answer.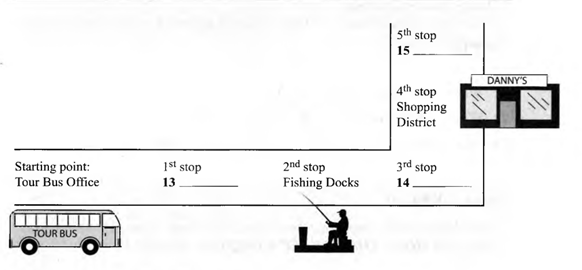 Questions 10-20
Complete the chart below.
Write NO MORE THAN ONE WORD for each answer.
| | |
| --- | --- |
| Place | Activity |
| First stop | Enjoy the 16___________ of the day |
| Second stop | Look at the 17____________ |
| Third stop | 18_____________ fish |
| Fourth stop | Purchase 19______________ |
| Fifth stop | Visit the 20______________ |
SECTION 3
Questions 21-23
Answer the questions below.
Write NO MORE THAN THREE WORDS AND/OR A NUMBER for each answer.
21. When is the research project due ?__________________
22 Where will the students conduct the interviews?______________________
23 How many interviews will they complete all together?___________________
Questions 24-30
Complete the outline showing the steps the students will take to complete their projects.
Write NO MORE THAN THREE WORDS far each answer.
A. Read 24_______________.
B. 25 __________________
C. Get 26________________
D. 27___________________
E. Get together to 28__________________
F. Prepare 29_______________
G. Give 30__________________
SECTION 4
Complete the timeline below. 
Write NO MORE THAN THREE WORDS AND/OR A NUMBER for each answer.
1832                                      31 __________________
In her teens                        Alcott worked to 32 _______________
At age 17                              Alcott wrote 33_________________
34_______                      Alcott enlisted as an army nurse.
35_______                      Alcott published her letters in a book called Hospital Sketches.
36_______                      Alcott returned from her trip to F.urope.
37_______                      Alcott published Little Women.
1879                                    38_died
39_______                     Alcott set up a home for her family in Boston.
1888                                   40_________________
Answer keys:
1. February
2. one
3. Wilson
4. 2336189872
5. C
6. F
7. G
8. C
9. A
10. C
11. 18
12. 9
13. Hill Park
14. Bay Bridge
15. Green Street
16. view
17. boats
18. eat
19. baskets
20. theater
21. in three weeks
22. a shopping mall
23. thirty
24. a government study
25. design the questionnaire
26. professor's approval/approval for questionnaire
27. conduct interviews
28. analyze the results
29. charts (showing results)
30. class presentation
31. Alcott was born.
32. support her family.
33. her first novel/The Inheritance
34. 1862
35. after the war
36. 1866
37. 1868
38. May died.
39. 1882
40. Alcott died.
BONUS EXERCISE: GAP-FILLING 
The texts below are transcript for your IELTS Liste. ning Practice Test. To make the most out of this transcript, we removed some words from the texts and replaced with spaces. You have to fill each space with the missing word by listening to the audio for this IELTS listening practice test. 
Section 1. You will hear a woman making a hotel reservation over the phone.
Man:   Good afternoon. Grandview Hotel.
Woman: Yes, hello. I, uh, I'm planning to spend a few days in your city next week, and I'd like to, uh, make a [……………………………].
Man:   Of course. When did you want to stay here?
Woman: Next week. Wednesday night and Thursday night.
Man:   So, that's [……………………………].
Woman: Yes, that's right.
Man:   And how many [……………………………]will there be?
Woman: Just me. So, do you have a room available?
Man:   Yes, we do. I'll just need to take some of your [……………………………]. May I have your name, please?
Woman: Oh, right, yes. It's Roxanne [……………………………]. W-i-l-s-o-n.
Man:   Thank you, Ms. Wilson. And may I have your credit card number?
Woman: It's [……………………………].
Man:   . . .9872. Got it. All right, Ms. Wilson, I have your reservation [……………………………]. Can I help you with anything else?
Woman:         Well, yes. I was wondering, since I'll have a couple of free hours Friday morning before I leave, is there anything interesting to see close to the hotel?
Man:   Do you like museums? The art [……………………………]very close by.
Woman:         I love museums, but not art. Can't stand it. I've heard your city has a very interesting [……………………………], though.
Man:   Yes, but unfortunately it's closed in the winter. Are you interested in shopping?
Woman:         Sure, I love shopping. Are there any good [……………………………]nearby?
Man:   Yes. We have a large shopping mall just two bus stops away. You take the bus to Monument Square, and it's just half a block from there. Just look for the [……………………………], and you'll see the mall [……………………………]next to it.
Woman:         Fabulous. Wliat about lunch? I hear your city has good restaurants.
Man:   Yes. There's a nice restaurant very near. It's just [……………………………]the street from the park.
Woman:         Sounds good. I can have lunch, then walk in the park [……………………………]. I have one more question. What's the best way to get to the hotel from the airport?
Man:   Subway is the fastest, of course. There are buses, but they're quite slow.
Woman:         I'll be arriving quite late, after [……………………………]. I thought I might have to take a taxi.
Man:   The subway runs until [……………………………].
Woman:         Oh, good. Then I'll do that. Will there be someone at the hotel front desk that late?
Man:   Oh, yes. The front desk stays open until two.
Section 2. You will hear a tour leader giving information about a bus tour.
Thank you for choosing [……………………………]. The reason so many people choose our tours when visiting this city is because you can [……………………………]your tour to suit your own interests. Your all-day pass [……………………………]you to board our bus at any stop and stay as long as you like at each place. The all-day bus pass costs Si8 for adults. Children between the ages of five and twelve pay half the [……………………………], and children under five ride for free. Our buses run every hour on the half hour, starting at [……………………………].
Our most popular tour is the Center City Tour, which goes to all the major [……………………………]in the center of the city. From the starting point here at the tour bus office, the bus goes to the first stop, [……………………………]. As you may guess, this park is located at the top of a small hill. The next stop is the [……………………………]. Following that, the bus goes on to the third stop, Bay Bridge, located at the foot of the [……………………………]which crosses the bay. The fourth stop is in the shopping [……………………………], then the fifth and last stop is at Green Street.
Tour leader: There are many interesting things to do and see on the Center City Tour. At the first stop, you can enjoy a [……………………………]view of the bay, the city, and especially of the fishing docks, which are [……………………………]at the foot of the hill. At the second stop, you can walk around and look at the [……………………………]. Fresh fish from the bay is also for sale here, since this is the place where the [……………………………]bring in their catch. The next stop is where some of the city's finest [……………………………]restaurants are located, so you might want to plan a lunch stop here. You can eat fresh fish here [……………………………]in the traditional local way. The fourth stop is, of course, where you can do your shop¬ping. Don't miss the [……………………………]to purchase some of our city's famous [……………………………]baskets. You'll want to take several home as [……………………………]of your visit to our city. Finally, at the last stop on the tour, you can visit one of the oldest buildings in our city, the rhe- ater. This building was built over [……………………………]ago and is still used today as a place to see plays, [……………………………], and other [……………………………], as well as our annual film festival.
Section 3. You will hear a conversation between two students plan-ning a research project.
Student 1: We'd better start planning our [……………………………]project, because we don't have much time left before it's due.
Student 2: I know, only three more weeks.
Student 1: Is that all? I thought we had more time than that. Well, let's get to work, then.
Student 2: OK, so we agreed we're going to interview shoppers about their spending habits. Did we decide to conduct our [……………………………]at the department store?
Student 1: We haven't decided anything [……………………………]yet, but I think the shopping mall would be a [……………………………]. We'd get more of a variety of shoppers there.
Student 2: Yes, that's a good point. So, let's do that. How many interviews did the [……………………………]say we had to complete?
Student 1: She said at least thirty. That sounds like a lot, doesn't it?
Student 2: Yes, but if we divide it up betw that'een the two of us that's just [……………………………]each. That's not so bad.
Student 1: OK, so I guess we'd better start designing our [……………………………].
Student 2: Well, we have to do some reading first, don't we? Didn't we say we were going to compare our results to the results of a [……………………………]study? Right, the government study about how the [……………………………]crisis has changed people's spending habits. We want to see if we get [……………………………].
Student 1: Yes, so we'd better read that first and then design our questionnaire. Then I guess we'll be ready to go out and interview [……………………………].
Student 2: No. Don't you remember? The professor said she had to [……………………………]our questionnaire first, before we actually [……………………………]the interviews.
Student 1: Oh, right. So we'll get her approval and then conduct the interviews. I think a Saturday would be the best day for the interviews, because everyone's out shopping then.
Student 2: Right. We'll do it on a [……………………………], then.
Student 1: And let's also plan to get together the next day to [……………………………]the results. It's best to do that while everything's fresh in our minds. Don't you think? Sure. That sounds like a good idea. OK, so then we're going to have to [……………………………]our results to the class. Do you have any ideas for that? It's an [……………………………]part of our grade, so I think we should plan it well.
Student 2: Well, I think the [……………………………]thing is to prepare some [……………………………]showing our results and how they compare with the government study. That will help make the information a lot clearer to the class.
Student 1: Right. OK, so we'll draw up some charts of the results.
Student 2: And then that's it. All that will be left to do is give the class presen-tation. Do you think we can be ready on time?
Student 1: I sure hope so. Let's get started now.
Section 4. You will hear a professor give a lecture on Louisa May
Lecturer. Good afternoon. Todav, I'd like to continue our [……………………………]of the lives of [……………………………]American writers by talking about Louisa May Alcott, one of the best-known [……………………………]writers. Alcott is known for her [……………………………]girl's novels, but she was a much more serious [……………………………]than those novels might lead one to believe. She was horn in [……………………………], the daughter of Bronson Alcott, who was one of the [……………………………]of the [……………………………]Movement. Rronson Alcort was a [……………………………]but not a provider, and the family lived close to poverty. From an early age, Louisa was [……………………………]to find a way to improve her family's economic [……………………………]. As a teenager, she worked to support her family by taking on a variety of [……………………………]jobs, including leather, [……………………………], and household [……………………………]. Alcott also srartcd writing when she was voting. She wrote her first novel when she was just [……………………………]years old; although, it wasn't [……………………………]until many years after her death. It was called The [……………………………].
In [……………………………], the Civil War broke out. Alcott worked as a [……………………………], sewing uniforms and [……………………………]for soldiers. The following year, she [……………………………]as an army nurse. She spent the war years in Washington, nursing wounded soldiers at a [……………………………]hospital. While working at the hospital, she wrote many letters to her family at home in [……………………………]. After the war, she turned the letters into a book, which was [……………………………]under the tide Hospital Sketches. She also wrote [……………………………]romantic stories, which she sold to [……………………………].
Around this same lime, she was offered the [……………………………]to travel to Europe as the companion to an invalid. When she returned home from Europe in [……………………………], she found her family still in financial [……………………………]and in need of money, so she went back to writing. Her big break came in [……………………………]with the [……………………………]of her first novel for girls, Little Women. The novel [……………………………]instant success, and the public wanted more. From then on, Alcott [……………………………]herself and her family by writing novels for girls. It wasn't the writing she had dreamed of doing, but it [……………………………]her a good income.
Alcott took carc of her family for the rest of her life. In [……………………………], her youngest sisrer, May, [……………………………]. A year later, May died after giving birth to a daughter. Louisa Alcort raised her sister's [……………………………]child. In 1882, Bronson Alcoa [……………………………]a stroke. Soon after that, Louisa Alcott set up a house for him, her nicce, her sister Anna, and Anna's wo sons in Boston. Her mother was no longer living by this time. Alcott was still writing [……………………………]for girls, including two [……………………………]to Little Women: Little Men and Jo's Roys. The latter was [……………………………]in 1886.
Louisa Alcott had [……………………………]poor health ever since she [……………………………]typhoid fever while working as a war nurse. She died in March of [……………………………]at the age of 55. She was [……………………………] in Concord, Massachusetts.
Practice every day to improve your IELTS listening skills. Don't forget to visit IELTS Material website on a daily basis to find more practice tests for every skill in the IELTS Test.
The following two tabs change content below.
Main IELTS Pages:
This website is to develop your IELTS skills with tips, model answers, lessons, free books, and more. Each section (Listening, Speaking, Writing, Reading) has a complete collection of lessons to help you improve your IELTS skills.
Get all the latest updates/lessons via email:
Subscribe for free IELTS lessons/Books/Tips/Sample Answers/Advice from our IELTS experts. We help millions of IELTS learners maximize their IELTS scores!
Subscribe to IELTS Material to receive the latest lessons