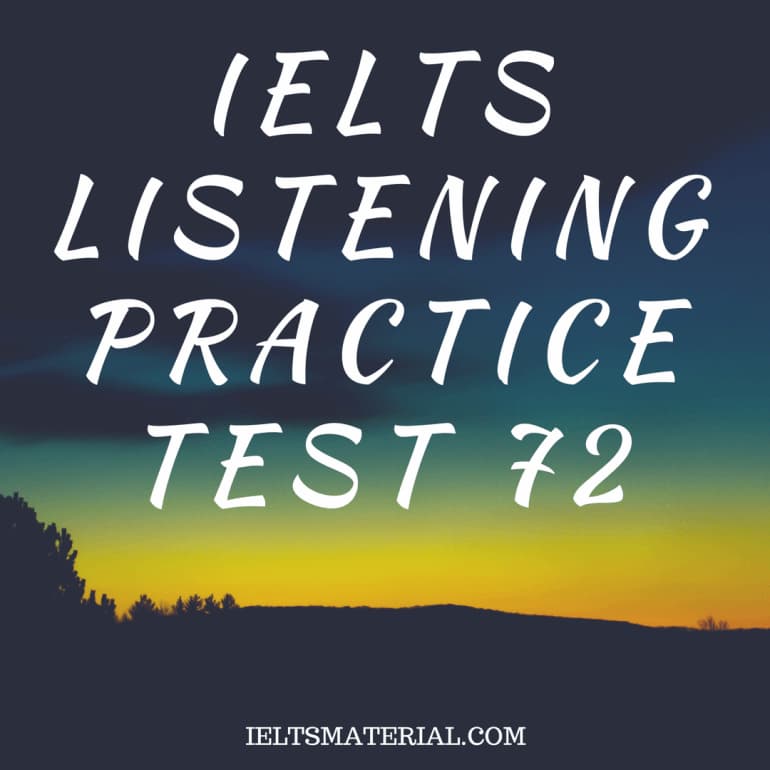 IELTS Listening Practice Test 72
In the Listening Test 72, you will hear 4 audio recordings and answer questions 1-40 based on them.
Section 1 is a monologue given by a guide to a group of tourists going on a coach tour of the capital cities of Europe.
Section 2 is a conversation two students talking about a university assignment.
Section 3 is a conversation between Mrs. Davis and a lady she is interviewing called Gina.
Section 4 is a monologue given by a College Principal.
Audio
Audio Transcription
Section 1
Questions 1-10
Questions 1-8
Complete the notes below.
Write NO MORE THAN THREE WORDS for each answer.
TOUR OF EUROPEAN CAPITALS

Leader:
Jenny Allen
Driver:
Ray

1

……………………………..
Duration:

2

…………………………….. days
DAY ONE
Wolverhampton => London arrive 1:00 Lunch

3:00
3………………………………
5:00
book into hotel

4

………………………………
theatre trip
11:00
back at the hotel

5

………………………………

DAY TWO
London =>

6

………………………………

7:00
breakfast
9:30
Eurostar
1:00
book into Hotel

7

………………………………
5:00-

8

………………………………
free time
8:30
dinner
Questions 9 and 10
Write NO MORE THAN THREE WORDS for each answer.
9. Why is there no tour of Brussels?________________
10. What will the group be visiting in Amsterdam?________________
Section 2
Questions 11-20
Questions 11-14
Complete the notes below.
Write NO MORE THAN THREE WORDS for each answer.
BUSINESS PLANNING EXERCISE
FORM: PRESENTATION WITH

11

…………………………….
STUDENT
TASK
WHY
Mark
financial

12

……………………………
good at figures
Andrew
helping Mark

13

…………………………… with figures
Jessica
helping Debbie
good research skills
Debbie
research

14

……………………………
good research skills
Questions 15-18
15. The presentation will be in…………………………………………………………………… weeks.
16. Jessica cannot work on the presentation next week because she'll be………………………………………
17. Most of the basic work on the project will be done by……………………………………………………………..
18. The meeting to discuss the progress of the project will take place on………………………………………
Questions 19 and 20
Choose the best answer A-D
19. What time will the final meeting take place?
A. 11:00
B. 12:00
C. 1:00
D. 2:00
20. Who will present the final talk?
A. a Japanese student
B. Mark
C. Jessica
D. no one chosen yet
Also check :

Section 3
Questions 21-30
Questions 21-27
Complete the interviewer's notes below.
Write NO MORE THAN THREE WORDS for each answer.
INTERVIEW NOTES

Position:
Assistant in the languages department
Interviewer:
Mrs. Davis
Applicant:

21

……………………….. Barracco
Appointment:

22

……………………….. now

23

………………………..
Application form already received and checked:

24

………………………..(Yes/No)
English Level:
Fair Good Excellent
Work Experience:
Worked in a bank

25

………………………..
To teach:
ENGLISH / ITALIAN/ RUSSIAN
Commitments:
Applied for a place on

26

………………………..
Details of teaching position:
Teach a course on

27

………………………..
Questions 28-30
Write NO MORE THAN THREE WORDS for each answer.
28. What is the interviewee particularly concerned about?________________
29 Where will the interviewee live?________________
30 When will the interviewee find out if she will be employed as a teaching assistant?________________
Section 4
Questions 31-40
Questions 31-32
Circle the correct answer A-D
31. Tonight's ceremony is mainly
A. to celebrate the centenary of the college.
B. to celebrate the achievements of the college over 100 years.
C. to present a prize to the college.
D. to present prizes to the students.
32. Government figures show that the college's main strengths are
A. teaching, research and care for students.
B. research and engineering.
C. teaching and engineering.
D. engineering research and care for students.
Questions 33-36
Complete each sentence in NO MORE THAN THREE WORDS.
33. In 1900, the area's traditional industries were…………………………………………… and agriculture.
34. The college originally wanted to help ………………………………………………………….. from the town and local area.
35. Dr. Bart Halliday is………………………………………………………………………. for winning the Nobel Prize.
36. By 1917 it was producing………………………………..a year.
Questions 37-40
Write a short answer to these questions using NO MORE THAN THREE WORDS.
37. Why didn't Lucian Dudley finish his studies?…………………………………………………………
38. What invention brought fame to the college?…………………………………………………………
39. In which other areas have the college become renowned?…………………………………………………………
40. How long has the speaker been Principal of the College?…………………………………………………………

Answers
Unlock Answers
Section 1
1. Smith
2. Six/6
3. tour of London/sites
4. 6.30 (pm)
5. cat/drink/eat and drink
6. Paris
7. King George
8. 8 (pm)
9. because of elections/blocked off roads
10. Van Gogh (accept Goph/Goff) exhibition
Section 2
11. handouts
12. costing
13. experience
14. smaller companies
15. two
16. having (minor) surgery/in hospital
17. Debbie and Andrew
18. Thursday
19. B
20. D
Section 3
21. Gina
22. father (in London)
23. Thursday afternoon/2 o'clock
24. Yes
25. for two summers
26. Master's (course)
27. Italian media
28. money
29. (her) college (accommodation)
30. couple of weeks/two weeks
Section 4
31. D
32. A
33. weaving and cutlery/agriculture and cutlery/ weaving and agriculture
34. the poorest boys/the brightest boys
35. famous/known
36. 300 graduates/graduate engineers
37. because of illness
38. (Bell) racing engine
39. bridge building (technology)
40. 12 years/a dozen years