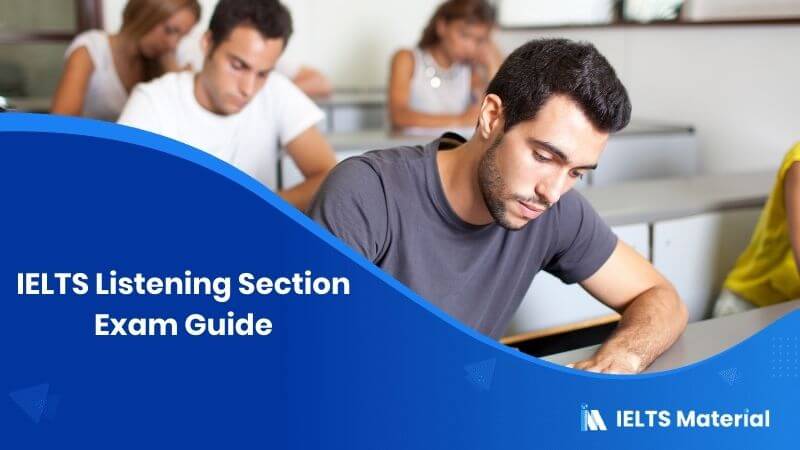 IELTS Listening Section Exam Guide
This Section contains a detailed analysis of the Listening section of the exam with Exam Tips and Guidance for all the different Listening tasks that students will encounter taking the IELTS exam, with reference to the tasks included in the Practice Test
Listening Section format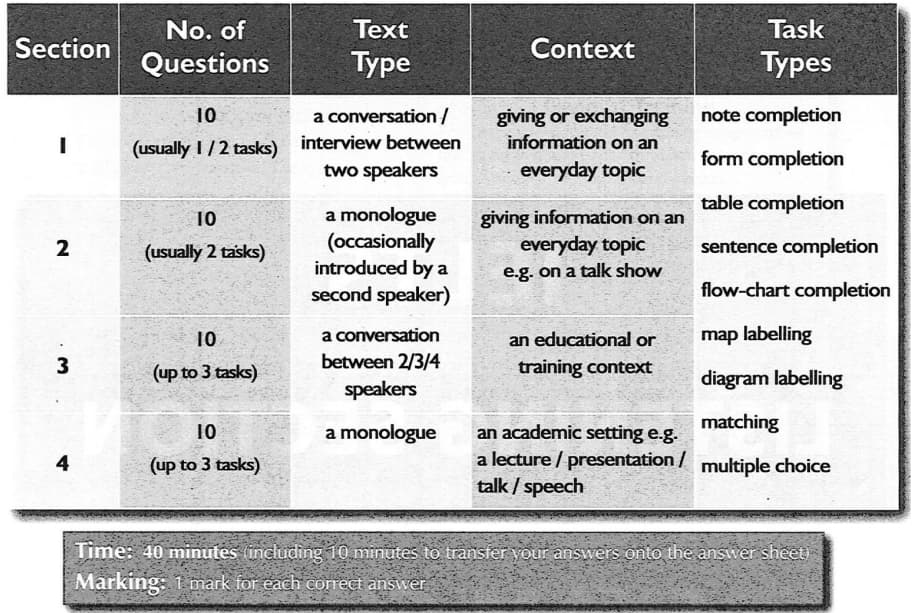 SECTION 1IS…
a face-to-face or telephone conversation
about a topic of general interest
usually comprised of one or two tasks (there is a pause between tasks)
ten questions long WITH an example at the beginning
tests…
your understanding of specific information (Le. dates, everyday objects, places etc.)
spelling (all words must be spelt correctly)
spelling:
if you are asked to write the name of a street, person, company etc., it will be spelt for you
you should be very familiar with the names of the letters of the alphabet to aid you in spelling what you hear
numbers:
you may have to write down a year, phone number, part of an address etc.
remember that 'O' can be pronounced 'oh' or 'zero' when saying a phone number
when talking about money, we typically say amounts in the same way as in the examples below:
£4.50 = four pound(s) fifty / four fifty
$3135 = thirty-one dollar(s) and eighty-five cents / thirty-one eighty-five
most years are pronounced in the same way as in the examples below:
1985 = nineteen eighty-five 2015 = twenty fifteen
(we put the first two numbers together and then the second two)
except for the years 2000 – 2009, example:
2000 = two thousand
2009 = two thousand and nine or two thousand nine
(we say the year as we would a number)
you can write dates in different ways and still get full marks:
3rd March, March 3rd, March 3 and 3 March are all considered the same two-word answer
for measurements, you can write either the whole thing or an abbreviation, for example:
25m = 25 metres = 25 meters
Also check :
SECTION 2
IS…
a talk / speech / announcement / recorded message / rad» excerpt with one speaker talking (possibty introduced by another speaker)
about a topic of general interest
usually comprised of two tasks (there is a pause between tasks)
10 questions long there is NO example
tests…
 yotr understanding of factual information
you ability to select relevant information from what you hear
SECTION 3
IS…
a discussion between two to four speakers (e.g. between two students and a university lecturer)
concerned with some aspect of academic life
up to three tasks (there is a pause between tasks)
10 questions long – there is NO example
test…
 your ability to identify key facts and ideas and how they relate to each other
your ability to identify speakers' attitudes and opinions
SECTION 4
IS…
 a lecture / talk / presentation / speech, often in front of an audience
concerned with a topic of academic interest, like a scientific subject for example
up to three tasks (there is no pause between tasks)
10 questions long – there is NO example
tests…
 your ability to follow the speaker's opinion
your ability to spell accurately
your ability to understand and distinguish between different ideas (e.g. causes, reasons, effects, consequences)
your ability to follow the way the ideas are organised (e.g. main ideas, specific information and attitude)
TASK TYPES: (1) NOTE COMPLETION
Remember…
Always check the word Smit in the instructions.
Use the time before the recording starts to took at the heading and read through the notes.
Look at each gap nfcvidualy and It«* about what kind ot word(s) wodd Ml it ue. umbers, a date, an address, a noun, a verb etc.
Foiow the introduction carehily when the recordmg starts; the narrator wi tel you what the section is about.
Focus on each question m turn as you listen to the recording. Keep up with the recordng as it moves from one question to the next and do not dwd on gaps you have mssect there isn't time and the wi posstty cost you the answer to the next gap as well.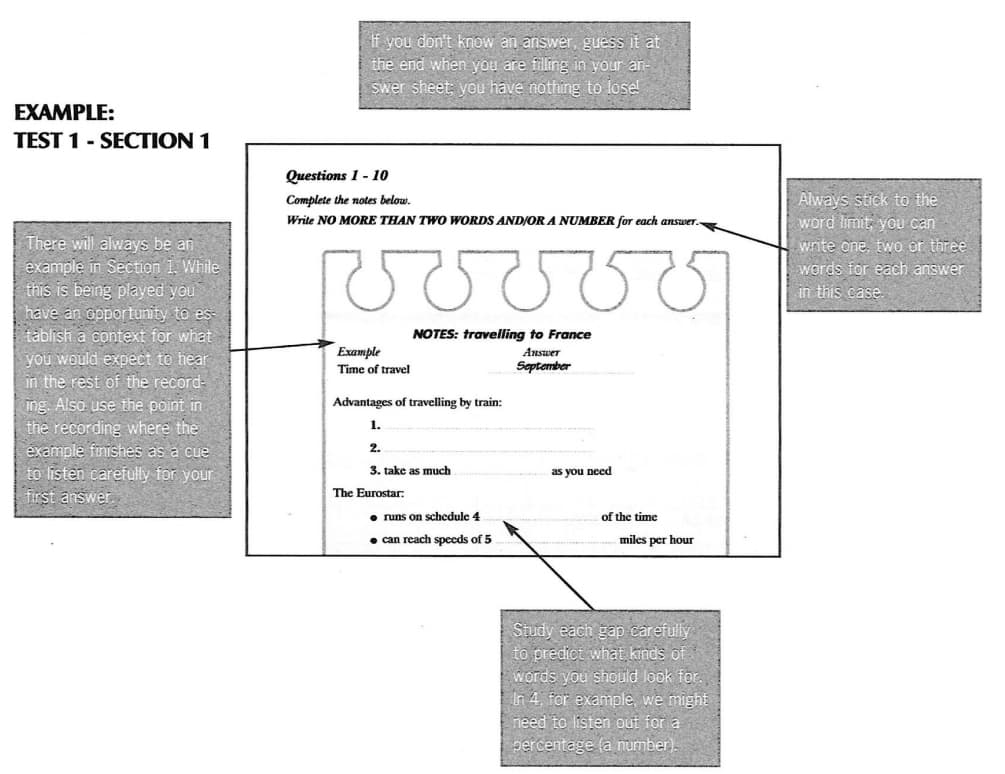 TASK TYPES: (2) MULTIPLE CHOICE
Remember…
The questions wil folow the order of the recorrfcig.
You wil be told either to choose ONE option from A, B and C, or TWO options from A, B, C. D and E.
Always read the questions before you start The wil give you an idea of what the retorting is about and what to listen for.
Listen carefuly to the narrator's introduction to find out what the recording is about
As soon as you've freshed one question, listen out for the answer to the next (do not dwell on questions you aren't sire of as you only hear the recordng once; quickly move on or risk missing another answer).
TASK TYPES: (3) FORM COMPLETION
TASK TYPES: (4) TABLE COMPLETION
N.B. Table completion tasks are very similar to note completion exercises.
TASK TYPES: (5) FLOW-CHART COMPLETION
Remember…
flow charts require you to follow the development of a diccussion.
The steps in the flow-chart will be in the sane order as what you hear
Listen careMy to the part of the dscussion to whch the task relates because you wil only hear it once.
There are two types of flowchart task; A and B (see below). A requres you to choose an option (A. 8. C etc) from the box to complete each space. B requires you to write the exact word(s) you hear in the space.
TASK TYPES: (6) DIAGRAM LABELLING
Remember…
You will have to transfer the information you hear to a simple picture or plan of some kind.
You will need to be familiar with the kind of language used to express where things are.
Listen carefully to the part of the discussion to which this task relates because you will only hear it once.
There are three types of diagram labelling tasks. See below for details.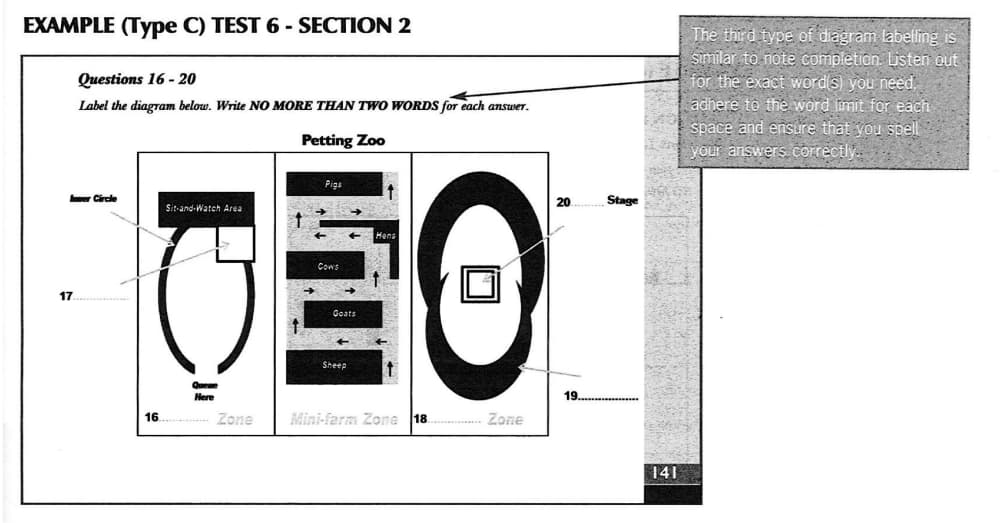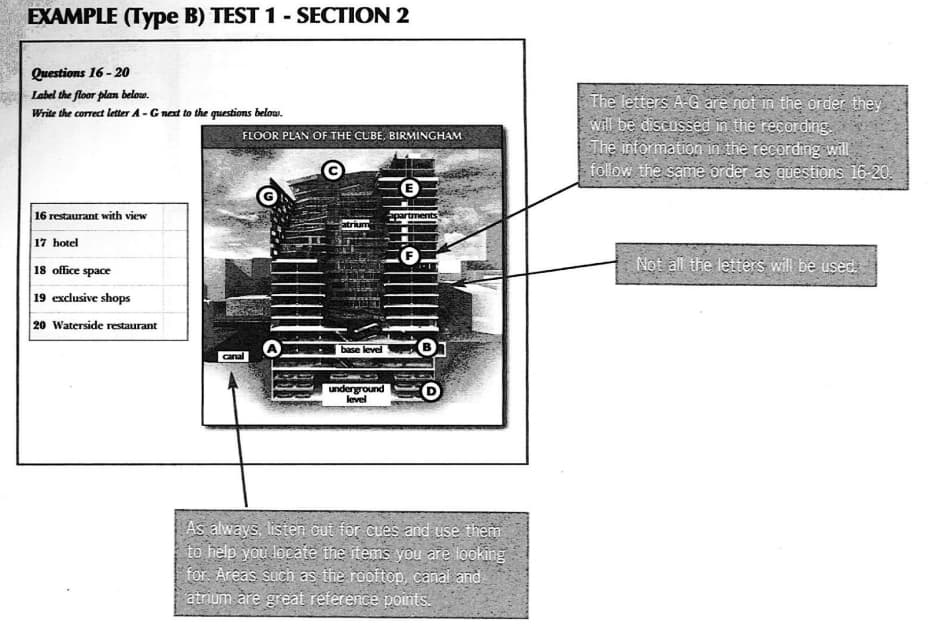 TASK TYPES: (7) MAP LABELLING
N. B. Map labelling is very similar to diagram labelling. There are three types of map questions and they follow the format of types A, B and C above.
Remember…
Read the instructions so you know what to write (e.g. a word or letter).
Look at the map and try to understand what it shows and how each location might be described.
Use the places already marked on the map to help you follow the recording.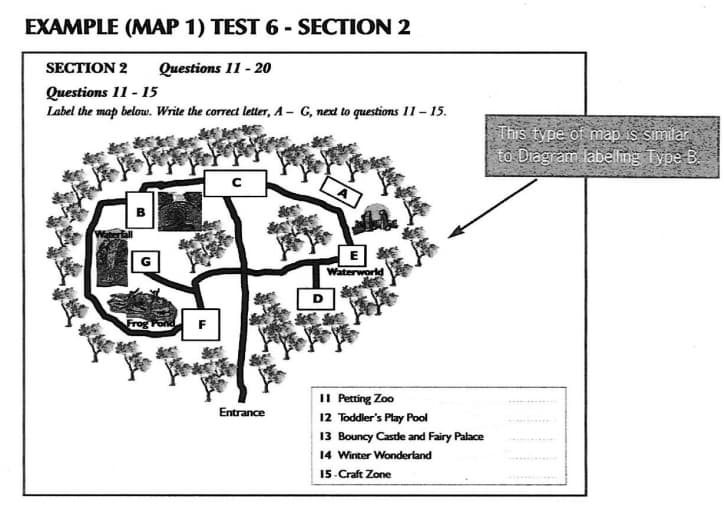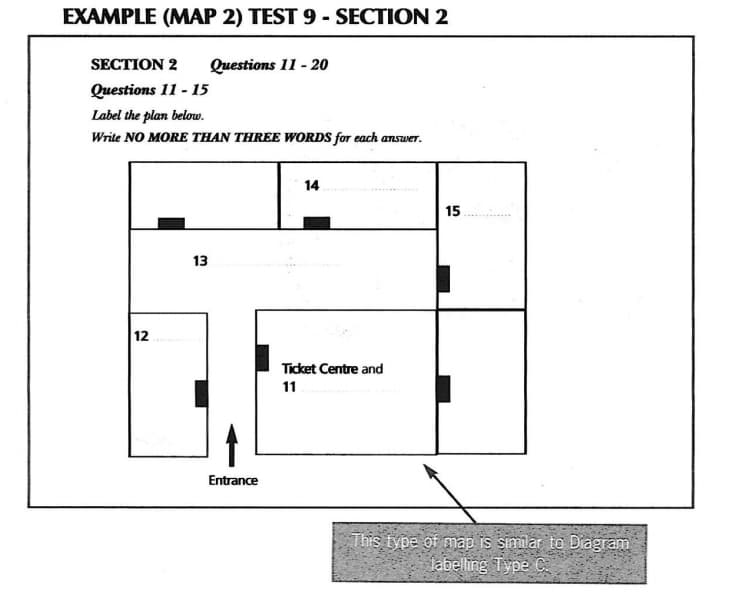 TASK TYPES: (8) MATCHING
Remember…
Matching requires you to listen to detailed information and connect it to a number of places, people, groups etc.
You will only hear the part of the recording related to the matching task ONCE.
Match ONE piece of information from the box to each question.
TASK TYPES: (9) SENTENCE COMPLETION
N.B. Sentence completion is similar to note completion. I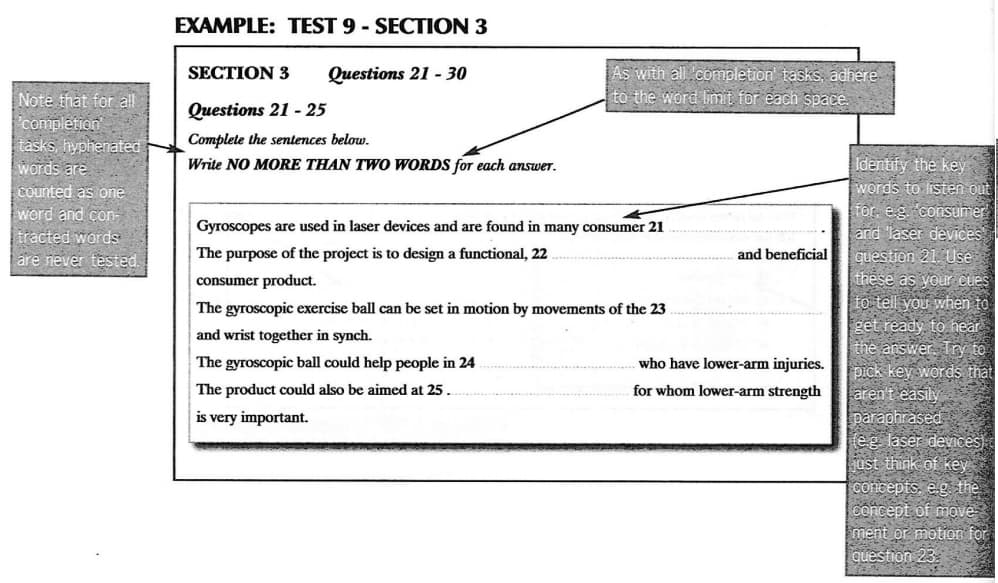 General Listening Tips
The listening paper lasts 30 minutes.
You will be given ten minutes at the end to transfer your answers to your answer sheet.
The paper is common to both the academic and general modules of the IELTS.
The level of difficulty increases from Section I to Section 4.
Each section is heard ONCE only.
The instructions for each task are written on the paper.
There is a short pause before each section and a short pause before each separate
A brief introduction is heard before each section, outlining the context of the recording. This introduction is not written on the paper itself.
Correct spelling is absolutely essential.