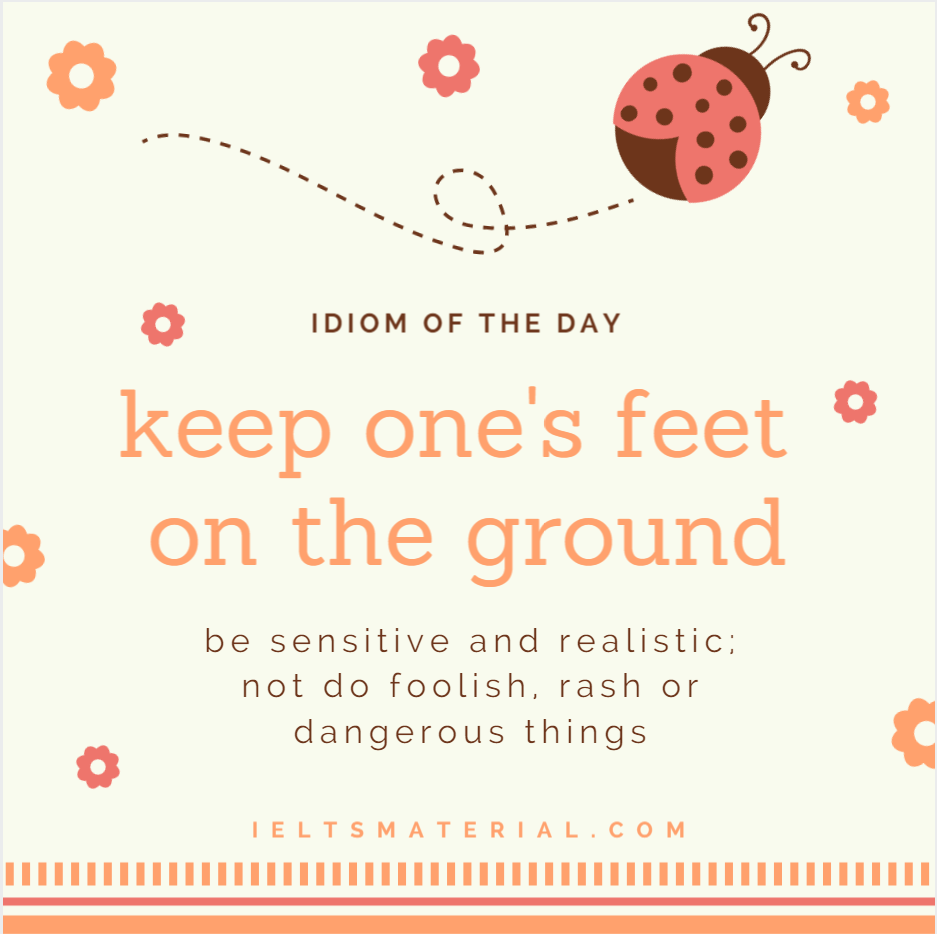 Keep One's Feet on the Ground – Idiom of the Day for IELTS Speaking
Keep One's Feet on the Ground – Idiom of the Day for IELTS Speaking
Definition : be sensitive and realistic; not do foolish, rash or dangerous things
Synonyms : have both/ one's feet on the ground
Examples :
Despite unexpected success and fame at an early age, she managed to keep her feet on the ground and remained utterly devoted to her acting career.
Jack had better keep his feet on the ground and get a job rather than fantasize about rising to stardom all day.
It is the best time for us to expand our business scale and market, yet, we still have to keep our feet on the ground.
IELTS Actual Tests Questions (March - June 2021) with Answers
Devoted (a): having great love for somebody/something and being loyal to them
Fantasize (v): to imagine that you are doing something that you would like to do, or that something that you would like to happen is happening, even though this is very unlikely
Matching :
| | |
| --- | --- |
| 1.      At one's feet | a.      to make someone or an audience rise up applauding or cheering in approval or in salute to someone or something |
| 2.      Have one's feet on the ground | b.      Respecting and admiring someone |
| 3.      Put one's feet up | c.       Relax by sitting or lying down |
| 4.      Under one's feet | d.      to make someone or their ideas seem less good, especially by doing something before them or better than them |
| 5.      Cut the ground from under one's feet | e.      be sensitive and realistic; not do foolish, rash or dangerous things |
| 6.      Bring to one's feet | f.       in one's path or in one's way |
Also check :