What To Expect On The IELTS Listening Day?
Courtney Miller,
Updated On
Ready to take your IELTS Exam? Read this article for a complete overview of what look forward to on the IELTS Listening day.
Knowing what to anticipate in the IELTS exam is crucial as test day draws near. It ensures that students can perform well on the test, as well as the experience of giving the test goes smoothly.
The IELTS consists of four modules – Speaking, Listening, Reading and Writing, each of which is administered separately. The Speaking test will be scheduled up to 7 days before or after your test day according to availability. The three remaining modules are completed together on the test day.
There are no gaps between the Listening, Reading, and Writing components of the IELTS exam. The Listening test will be administered first, followed by Reading and Writing modules. In this article, we will go over the complete Listening module and what students can expect and must prepare for in order to secure a good Listening score.
To attempt a complete Listening practice test now, check out IELTS Listening Practice Test 2023 With Answers | JAN 2023!
Arriving for the Listening test
As the check-in procedure may differ depending on the exam venue, be sure to arrive early and bring all required documentation. A test invigilator will direct you to your seat after you have checked in and had a chance to secure your personal items. They offer you instructions that are quite detailed and tell you exactly what to do, where to look, and what to pay attention to. Follow the instructions! Make sure you can clearly hear the audio recording before commencing the Listening test. If you can't hear the recordings clearly, raise your hand if you can't and let the exam supervisor know.
Introduction to IELTS Listening
The Listening component of the IELTS has four sections with ten questions each. Each section of the test gets harder as you go, taking about 30 minutes to finish. After the listening test, you will have 10 minutes to record your responses on the answer sheet.
The Listening test is the same for both the General Training and Academic versions. The test will feature a variety of voices and native-speaker accents since IELTS is an international exam.
The four sections will have different audios, as follows:
Section 1: A discussion between two people regarding a broad subject.
Section 2: A monologue featuring a single speaker discussing a common topic.
Section 3: A discussion between two people about a topic related to academics and studies.
Section 4: An academic monologue or lecture.
You must listen to each recording carefully and attempt to answer all the questions. The recordings will contain all the information you require to complete the questions. You will not need to memorise any extra information or knowledge beforehand relating to the topics of the audios.
To successfully complete the tasks you must familiarise yourself with the types of questions which will be asked in the Listening test.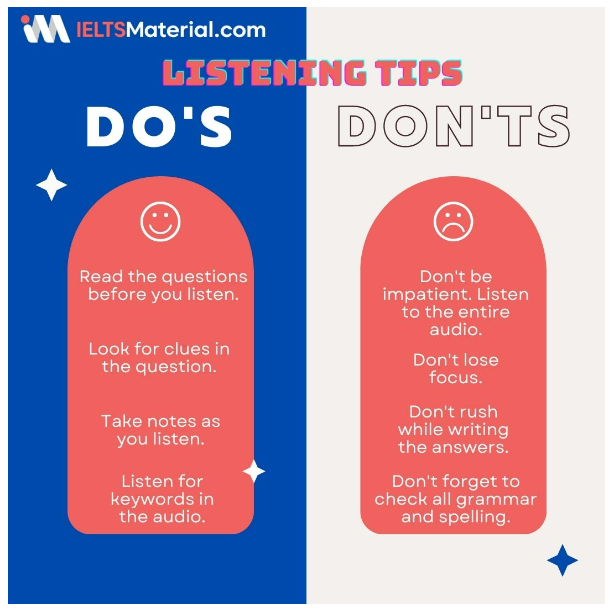 IELTS Listening Question Types
The recordings can only be listened to once, therefore, if you want to perform well on the listening tasks, you must be adequately prepared. You must be thoroughly familiar with all the listening question types, so let's look at these now.
Multiple Choice Questions
You will be presented with a question accompanied by three potential answers, or an incomplete sentence followed by three options. You must select the accurate response.
Matching
You must match a listed set of items from the listening audio to the correct mating information.
Diagram Labelling
You must correctly label the given diagram with the information provided in the listening audio.
Completion
You must fill in the blanks in the given
 sentence
summary
notes
table
flowchart
Short-answer questions
You must use the information from the listening audio to create a concise response to the question that is asked. There is a word limit in place.
Prepping for IELTS Listening on the Test Day
Here are some pointers to help you be prepared for your IELTS Listening day.
The ID you need to bring should be confirmed with your exam centre in advance. Don't forget to bring it.
Make sure you are aware of the exact location of your IELTS test facility and how long it will take you to get there. You won't be able to enter the test room if you arrive late.
You are not permitted to bring any electronic devices into the exam room, including your phone.
Just in case one of the pencils breaks, you should bring at least two pencils as well as a pen and an eraser with you. No supplementary blank paper or dictionaries are permitted in the testing area.
Although you are not permitted to bring a watch into the testing area, there will be a clock there to help you.
Make sure you have a clear goal for your test and an awareness of the strategies you can use. Always remain composed and self-assured.
You will have 10 minutes to transfer the answers to the answer sheet. When doing this, be careful with your spelling and ensure that your answers are grammatically sound.
Conclusion
If you're fully prepared for your IELTS Listening day, it should be an easy ride for you. Every student who scores a 7 or better on the test will tell you that planning is essential. This includes working hard to hone listening skills generally as well as studying test methods and procedures. To get started on your IELTS journey, sign up to IELTSMaterial now!