CELPIP General Test: A Comprehensive Guide to Success
Raajdeep Saha,
Updated On


Limited-Time Offer : Access a FREE 10-Day IELTS Study Plan!
Are you planning to take the CELPIP General Test to demonstrate your English language proficiency? Look no further! In this comprehensive guide, we will delve into all aspects of the CELPIP General Test, including its format, sections, scoring system, preparation strategies, and more.
Whether you're aiming to immigrate, study abroad, or enhance your career prospects, mastering the CELPIP General Test is a crucial step toward achieving your goals. So, let's explore the world of CELPIP and unlock your language proficiency!
Understanding CELPIP
CELPIP, which stands for "Canadian English Language Proficiency Index Program," is a globally recognized English language assessment tool. The CELPIP General Test evaluates your English language proficiency in four key areas: Listening, Reading, Writing, and Speaking. It is accepted by various immigration, academic, and professional organizations in Canada.
CELPIP General Test Format
The CELPIP General Test consists of four sections, each designed to assess specific language skills. Here's a breakdown of the test format: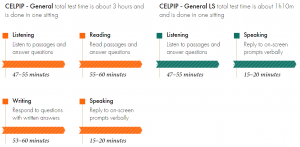 Source: Celpip.ca
Listening 
This section evaluates your ability to comprehend spoken English in various real-life situations, such as conversations, news reports, and presentations.
Reading 
The reading section assesses your comprehension skills through a variety of text types, including advertisements, letters, articles, and more.
Writing 
In this section, you will be asked to complete various writing tasks, such as responding to emails, writing essays, and interpreting graphs or charts.
Speaking 
The speaking section evaluates your ability to communicate effectively in English by participating in various tasks, such as describing images, expressing opinions, and engaging in discussions.
CELPIP General vs. General LS
CELPIP General Test assesses all four language skills (Listening, Reading, Writing, and Speaking) and is commonly used for immigration purposes. CELPIP General LS focuses on the Listening and Speaking sections, primarily used for Canadian citizenship applications or professional designations. General Test is longer, taking around 3 hours, while General LS is shorter, around 1 hour and 10 minutes. Scores from both tests are valid for two years and can be used for specific purposes. Consider your requirements and purpose in choosing the suitable test.
Scoring System
The CELPIP General Test follows a standardized scoring system, with a range of 1 to 12 for each section. The scores are based on your performance in each task, and an overall score is calculated by averaging the scores of the four sections. Higher scores indicate a higher level of English language proficiency.
Preparing for the CELPIP General Test:
To achieve success in the CELPIP General Test, proper preparation is essential. Here are some strategies to help you prepare effectively:
Understand the Test Format: Familiarize yourself with the structure and requirements of each section. This will enable you to allocate your time efficiently and focus on improving specific skills.
Practice Regularly: Dedicate time to practice each section of the test. Utilize official CELPIP practice materials and sample tests to get a feel for the actual exam.
Enhance Language Skills: Work on improving your vocabulary, grammar, reading speed, and listening comprehension through targeted exercises and engaging with English media.
Develop Writing Skills: Practice different writing tasks, such as letter writing, essay composition, and summarizing information. Seek feedback from a teacher or mentor to refine your writing style.
Build Speaking Confidence: Engage in conversations with native English speakers or language partners to improve your fluency, pronunciation, and overall speaking skills.
Time Management: Practice completing tasks within the allocated time limits to ensure you can effectively manage your time during the actual test.
Test Day Tips
On the day of the CELPIP General Test, keep the following tips in mind:
Get Adequate Rest: Ensure you have a good night's sleep before the test day to feel refreshed and focused.
Arrive Early: Reach the test center early to avoid any unnecessary stress and allow time for check-in procedures.
Stay Calm: Maintain a calm and composed mindset throughout the test. Take deep breaths and stay confident in your abilities.
Read Instructions Carefully: Pay close attention to the instructions provided for each task to ensure you understand the requirements accurately.
Utilize Breaks Wisely: Make the most of the breaks between sections to relax, recharge, and prepare mentally for the next section.
CELPIP General Test: A Cumulative Conclusion
The CELPIP General Test is crucial for anyone aiming to prove their English language proficiency. By understanding the test format, focusing on targeted preparation, and adopting effective strategies, you can increase your chances of achieving a high score.
Remember to practice regularly, enhance your language skills, and stay confident during the test. With dedication and perseverance, you'll be well on your way to unlocking your language proficiency and achieving your goals, whether they involve immigration, academic pursuits, or career advancement.
Sign up with us to get CELPIP classes and additional materials to solve.