How to do IELTS preparation in 2023?
Janice Thompson,
Updated On


Limited-Time Offer : Access a FREE 10-Day IELTS Study Plan!
How to do IELTS preparation in 2023?
IELTS as an exam may seem tough to many and to a certain degree, and it is in reality. But IELTS preparation when done correctly can make things easy to achieve. With application season just around the corner, you must be getting all your test scores in place along with the preparation. Wherein IELTS comes into play as the medium of your English proficiency test that allows the institution to see the level of understanding you have of the language. The stress of scoring well can be tremendously overwhelming. However, you need not worry as this blog contains everything you need to know on how to prepare for IELTS so that you pass with flying colors.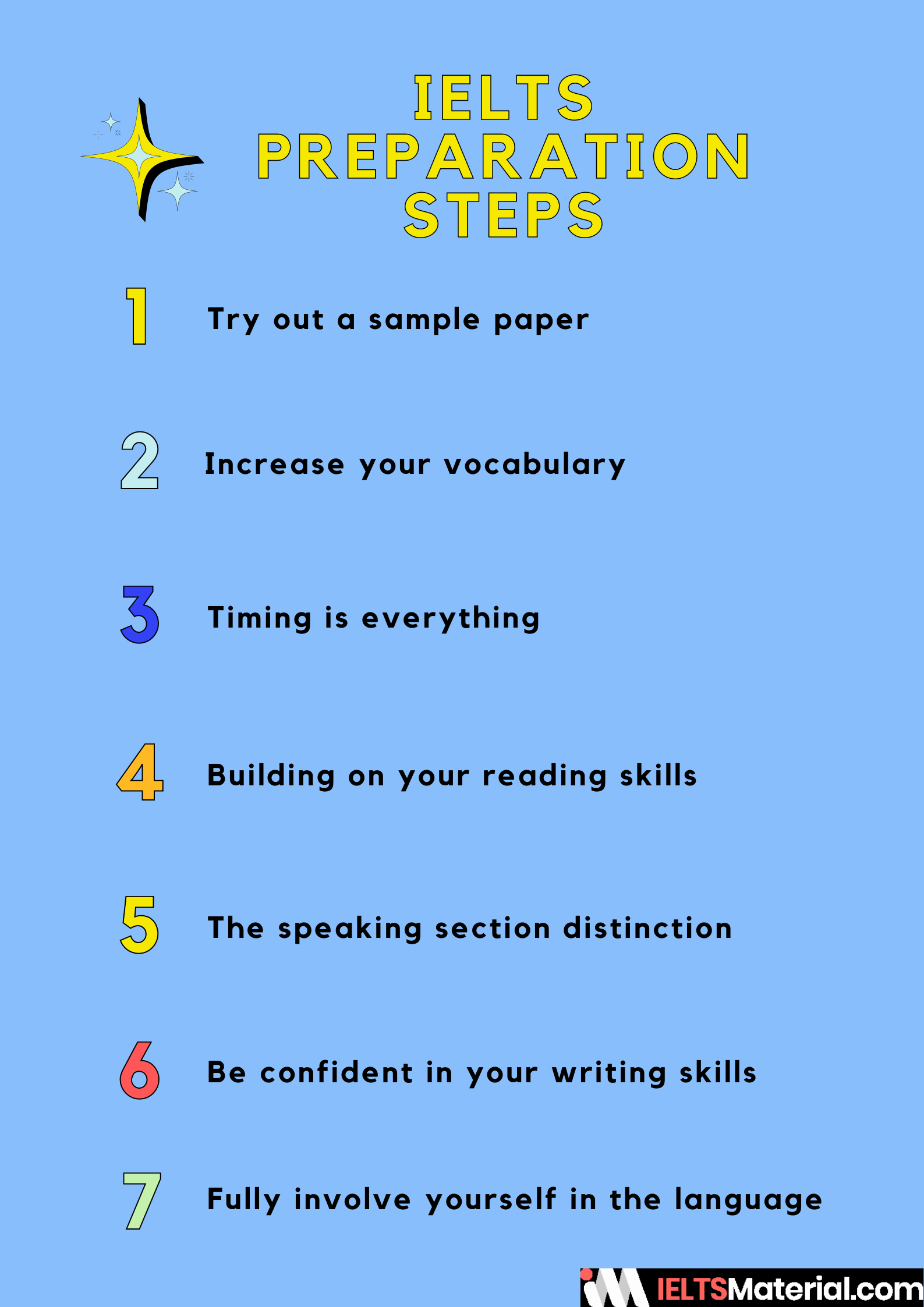 Step 1: Try out a sample paper
You should take a practice test to better understand your skills and shortcomings as one of the most obvious measures for your IELTS preparation. You can then decide which area you need to improve on and which one you are confident with. However, if you are unsure of where you are weak, hiring a professional to assist you is a terrific alternative, as is enrolling in a course whose main goal is to get you ready for your exam.
Step 2: Increase your vocabulary
People frequently become so focused on the test that they may forget to improve their language skills, broaden their vocabulary, and practice their fluency. This information is crucial for demonstrating to the examiner how proficient you are with language. You can enroll in a program to practice IELTS preparation tips and techniques.
Step 3: Timing is everything
Time yourself as you administer the sample exams. Know how much time you are spending on each segment and how much time is given for each exam unit. Make an effort to speed up wherever possible. It would be advisable to increase your speed because there is a time limit for each module.
Step 4: Building on your reading skills
You must be an adept reader who can quickly understand the main idea through speed reading and all the supporting details. You must be aware of all the details, which may be requested in the form of matching information, entire mental maps, or even fill-in-the-blank questions, even if you only skimmed the section. Although any type of question could be posed on the exam, make sure you are familiar with all of them.
Step 5: The speaking section distinction
This portion of this speaking evaluation lasts less than 15 minutes and is divided into three smaller sections. The first five minutes are entirely devoted to introductions. The second portion concerns your capacity to speak about any arbitrary subject that will be presented to you on a job card. This gives the examiner a clear picture of your vocabulary and fluency. Only a build-up of the second segment, the final section. The examiner will now focus on your linguistic resources and pronunciation at this point.
Step 6: Be confident in your writing skills
The writing skills are divided into two tasks—namely, the first one being data analysis writing and the second an essay. Most people have trouble with the essay since it might be difficult to write extensively on a subject they may not be familiar with. You should practice writing for all forms of data for the first task (e.g., line graphs, bar graphs, pie charts, etc.). Practice your essay format for the second challenge. Learn the right English writing conventions for introducing a topic, concluding, and connecting all of your ideas. You'll be better prepared if you take an IELTS course since you'll learn exactly what kinds of questions are likely to be asked and what they might be about.
Step 7: Fully involve yourself in the language
You will perform better on the test if you are truly devoted to mastering this language through structured IELTS preparation. You will benefit greatly from speaking with native speakers and receiving useful criticism to help you develop. Your writing skills will improve if you keep a daily journal. Try to expose yourself to a variety of reading materials, such as books, magazines, and so forth. But, if you are unable to receive feedback, enrolling in a program or course that will aid in your examination preparation will also be of great use to you.
The entire process can be stressful and take a lot of time; however, if done correctly will pay off later. One should start preparing for their exam 3-4 months prior. It takes, on average, 3-4 weeks to get your band score up by 1 point. Joining a course always helps gain awareness of the exam process and will give you valuable insight into the assessment and where you currently stand on the scale of their marking scheme etc. We wish you all the best from our side and hope that you score great on your assessment. The test is nothing to be afraid of. Some practice and determination will take you a long way.
Once you clear your IELTS exam with a good score, several options open up for applying to colleges abroad. Another aspect to keep in mind while applying abroad is the accommodation that you will stay in. Amber is a platform that provides thousands of home options across the world right from student accommodation in Dublin to student housing in Melbourne! Visit the website to find a home that best suits your need absolutely hassle-free.