IELTS Listening Map Completion – Lessons, Tips
Janice Thompson,
Updated On
Understanding IELTS Map completion questions
In this type of question, you will find somebody describing a non-academic topic or giving instructions to an audience. Or, it can also be a person providing information about a specific building, location, etc. The information that you will have to answer the question will come in the same order as in the recording and the question sheet. 
Strategies for answering the Map Diagram questions
There are a few strategies that have to be borne in mind while answering these types of questions. They are listed below:
Reading the information should be the first step as it will help you get hold of prompts

when listening to the recording.

Reading the information will also make you familiar with the topic, which will be helpful in education and abstract topics.

Since you will only have 20 seconds to read the information before listening to the recording, you must underline keywords. It will help you concentrate on essential words and will make you familiarize with the location. 

Along with keywords, concentrate on directions of the map. If you can, write a mini-compass around the map. This will help you create your own sense of direction when listening to the recording.

Pay attention to direction words used when discussing the maps. This will allow you to understand the question quicker and keep a pace with the speaker. 
Tips for Map Diagram IELTS questions
Some tips to answer the questions and obtain a high band in the IELTS examination are given below: 
Read all of the instructions carefully and try predicting the answers before you hear the recording

The word that you would have to answer could be an adverb, a verb, an adjective, a direction, a building or a location. Try predicting the word type beforehand

Try visualizing the scenario by putting yourself in the position of the audience with whom the speaker is conversing

Ensure that you listen the beginning carefully as it will help you understand the topic

Concentrate on the major parts of the map where you can find the primary direction and navigational language

Take notes whenever possible so that you don't forget anything
Sample Practice
Section 1 is a conversation between Fred and Mary about a farewell party.
Fred: Mary, thank God you're here. We've a ton of work to do if we are going to get everything ready for tonight. Whose idea was it to have this going away party for Christ anyway?
Mary: It was your idea Fred, remember.
Fred: Hey, I suggested a small get together for a few close friends. I didn't mean inviting half the university.
Mary: Well, it's too late now. We have about 3 hours to get everything under control. Have you got that list of things we need to do?
Fred: Yes, it's in my room. Hang on, I'd go get it. Ha, I can't find it.
Mary: What do you mean you can't find it?
Fred: I can't find it. What do you think I mean? Damn, I remember, I left it in the library.
Mary: Okay, okay, cool down. We'll manage. I can remember what's on it. Let's check the food and drinks situation. Did you arrange the beer?
Fred: Yeah. Jim said he'd bring 10 cases of cold Budweiser. I sent a couple of big bins to keep it cold. He says he'd get here around 5.
Mary: Huh, you know Jim, he'd probably turn up drunk around midnight.
Fred: No problem. I phoned him a few minutes ago. He's at Jenny's place. She's keeping him away from alcohol until he's delivered everything safe and sound. What about the wine, you said you'd look after it?
Mary: Oh my God, I completely forgot. What's the time?
Fred: Half past 3.
Mary: Okay, I'd go to the liquor store and sort it out. Will they deliver?
Fred: No problem, but you'll have to pay upfront.
Mary: I reckon about 60 people will turn up. Allow for half a bottle per person. That makes 30 bottles, half red, half white. What do you think?
Fred: uh, that should be enough. Better to have too much than too little. Why not make it 40. 25 reds and 15 white.
PAUSE
Mary: Yeah, I guess most people prefer red. Where is the nearest liquor store?
Fred: Not far. Go out the front door, turn right. Sorry left. Take the second street on your right and its 300 yards down on the left, just before you get to the park.
Mary: Okay, I'd go in a few minutes. Let's first make a quick list to make sure we haven't forgotten anything. Glasses. Glasses. What about glasses?
Fred: Sally borrowed a 100 beer glasses and a 100 wine glasses from the student bar. There in the cupboard. Should be enough.
Mary: Yeah should be. And what about the barbeques?
Fred: I've got two barbecues and plenty of charcoals out the back. Jane and I spent 3 hours yesterday getting the steaks, chicken legs and sausages ready. They're all in the big fridge. Should taste terrific. Tons of garlic, pepper and soy sauce, no MSG.
Mary: Sounds good. What about plates and things?
Fred: Sally has looked after that as well. She's borrowed them from the bar too. They're in the cupboard with the glasses. You know Sally refuses to use throwaway things. Bad for the environment.
Mary: Good for her.
Fred: Oh, just remembered. Could you pick up another 20 loaves of French bread and a few packets of paper napkins?
Mary: No problem. Is there a shop on the way?
Fred: There is a supermarket just before you get to the liquor store. Can you manage everything or should I go with you?
Mary: I've got this huge rock sack. No problem. Damn, just remembered. I'm over my limit on my credit card. Have you got $500 on you? We'll work out who owes who how much later.
Fred: No problem. I took out $1000 this morning. Here's $500.
Mary: Ta. Okay, I'd get going. See you in a while.
Fred: Ciao. See you.
PAUSE
Questions 1
On the map below, choose the letter representing the liquor store. Note: S means 'supermarket'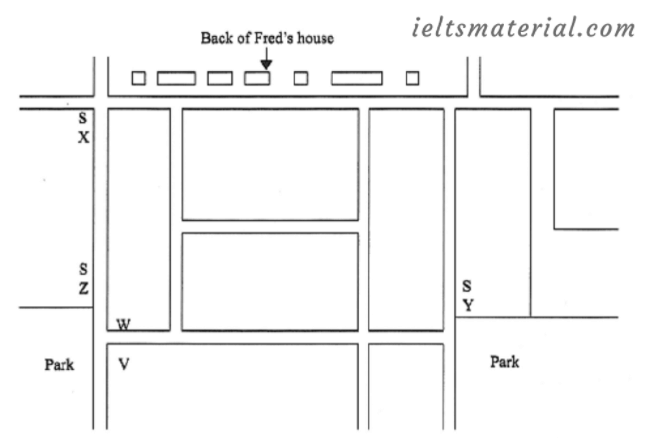 Answer
Explanation
It is clear from the talk which goes thus:
"Not far. Go out the front door, turn right. Sorry left. Take the second street on your right and its 300 yards down on the left, just before you get to the park." 
FAQ
Can I make notes in the map question?
Yes, you can. However, it is recommended that you avoid writing long words. Only use keywords, abbreviations or simple letters. 
What is the aim of the map question?
In this question type, the aim is to connect the information that you hear to the gaps available in the map. 
What is the maximum number of words to be written in the map?
You can use no more than two words. However, you must check the instruction to find the correct requirement. 
Here are the 10 examples for the IELTS Listening Map Completion:
Also check :