IELTS Magazine is our brand new project on our official IELTS blog (ieltsmaterial.com), which is electronically published on a weekly basis. This non-profit project aims to keep IELTS candidates abreast with current trends in IELTS studies, and provide IELTS learners with the latest IELTS lessons/news on our official website and from British Council, IDP: IELTS Australia, and Cambridge English Language Assessment.
It has been an honor and a pleasure building this community and this vision with each of you. Thank you to all of our readers and subscribers for taking a chance on our IELTS Magazine. And thank you, too, to all of the incredible writers, translators, advisers, staff, and interns who made this magazine its best possible self. We deeply appreciate the efforts of everyone who has been helping us with all articles on this very first magazine & upcoming weekly magazines. If you would like to contribute as a writer, feel free to send us an email at ieltsmaterial.com@gmail.com.
Now, we can't wait to share with your our 19-page Week 4 IELTS Magazine (download PDF file below)
The content of the 4th IELTS magazine:
– Check Your Vocabulary for IELTS Examination (Ebook)
– IELTS Writing Test & Sample Essay

– IELTS Reading Actual Tests Vol 1 – 4 (Ebook)
– 25 Useful Idioms to Help You Score Band 8.0+
– How to Express Contrasting Ideas in IELTS Writing & Speaking?
– 10 Phrasal Verbs to Push Your IELTS Speaking Score to Band 8.0+
– How to Improve Your Vocabulary for IELTS?
– 2017 IELTS Speaking Part 1 Topics: Transportation & Holidays (these topics & question are used for the IELTS tests from June to August 2017)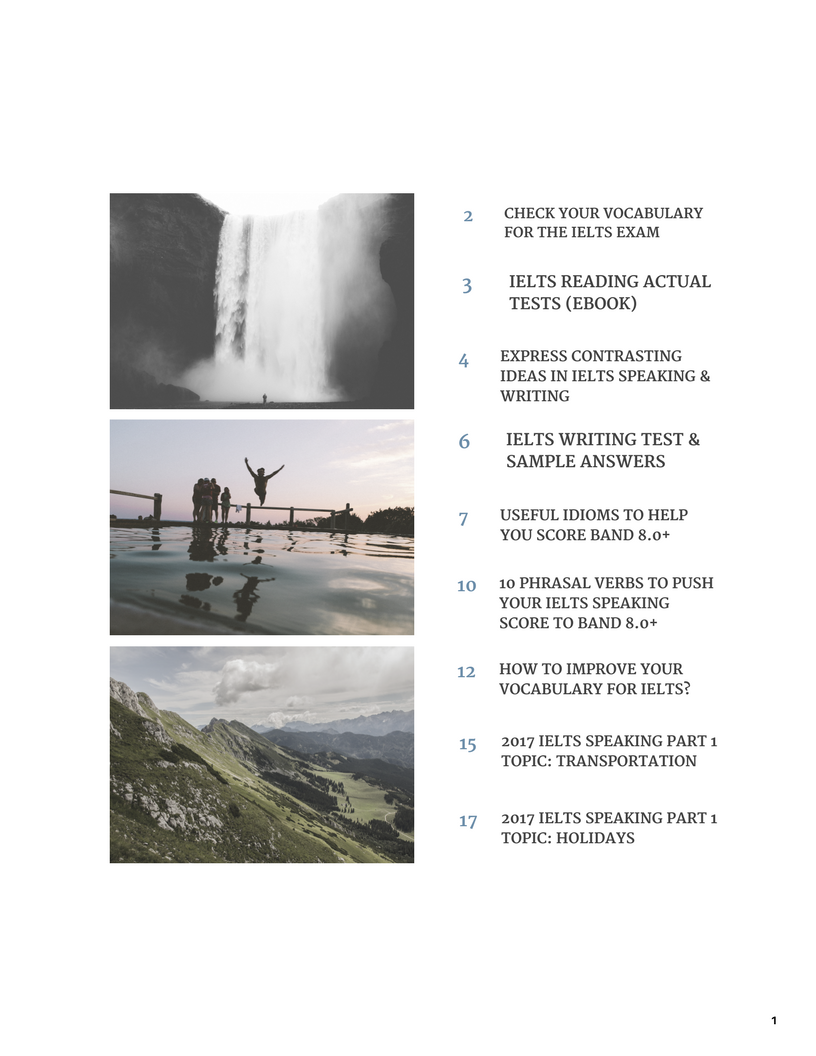 DOWNLOAD IELTS MAGAZINE:
The following two tabs change content below.
Improve your IELTS skills with tips, model answers, lessons, free books, and more ------------ "The more you share, the more you get."
Latest posts by IELTS Material (see all)
Main IELTS Pages:
This website is to develop your IELTS skills with tips, model answers, lessons, free books, and more. Each section (Listening, Speaking, Writing, Reading) has a complete collection of lessons to help you improve your IELTS skills.
Get all the latest updates/lessons via email:
Subscribe for free IELTS lessons/Books/Tips/Sample Answers/Advice from our IELTS experts. We help millions of IELTS learners maximize their IELTS scores!
Subscribe to IELTS Material to receive the latest lessons