TOEFL Exam 2023: Eligibility, Fees, Pattern, Preparation and Results 
Janet,
Updated On
The Test Of English as a Foreign Language, or TOEFL is one of the two major English language tests in the world. The exam is accepted by most of the academic and professional organizations/ institutions in English-speaking countries.
Every section of the test will have different questions or tasks to be performed and some of the tasks may be new to you. Hence, to get a high score, continuous practice is required. The topics in the examination will keep changing, but the format of the questions will remain the same.
Thus, getting some information about TOEFL is really important. Hop on to read the blog to get all the latest information about the TOEFL exam before taking it!
Sections of the TOEFL Exam
There are 4 sections in TOEFL, each of them are explained below:
1. Reading
The Reading section of TOEFL goes up to 60-100 minutes during which you will be given 3-5 academic passages with each passage being around 700 words long.
There will also be 12- 14 questions based on the passage. This section is to test your ability to grasp and analyze the written content given to you. The content topic will be related to science and academic discussion.
To do well in this section, you must read complex passages daily to get a hold of the vocabulary and grammar of the same.
2. Listening
The Listening section of TOEFL goes up to 60-90 minutes long and this section tests your ability to understand the content given to you orally. This section will have 4-6 lectures with different information followed by 4-5 related questions along with extra how and why questions.
Each of the recordings played will have different accents. They will be played only once, but the questions along with them can be played twice or thrice.
3. Speaking
The Speaking section of TOEFL goes up to 20 minutes long. You will be given six tasks that you'll have to complete by speaking on the microphone.
In the first two tasks, you'll have to share your opinions on everyday topics and the remaining 4 tasks will be based on integrated speaking where you will have to read a short passage or listen to a recording, based on which, questions will be asked.
This section will test your ability to showcase your ideas and thoughts in the English language.
4. Writing
The Writing section of TOEFL is about 50 minutes long. It consists of two tasks: one is an integrated task and the second one is an independent task.
In the independent task, you will have to write your opinion based on a casual topic, while in the integrated task, you will have to write an essay on listening and reading material.
The writing tests are to assess your grammar and vocabulary ability while writing in English.
Eligibility Level for the TOEFL Test
Generally speaking, the TOEFL (Test of English as a Foreign Language) exam accepts candidates who have completed their 10+2 level study from any recognised institution. To take the TOEFL test, a candidate must have graduated from high school or a comparable institution.
What is the TOEFL Eligibility in Order to Retake it?
At accredited testing facilities all throughout the world, the TOEFL exam is given more than 50 times annually. The exam may be taken again as much as you'd like, but there should be a 12-day break in between each try.
How Long is the TOEFL exam?
The entire exam takes roughly 3 hours to complete, but candidates should consider 3.5 hours, including 30 minutes for check-in.
Scoring on the TOEFL Test
The total marking of all the sections together will be out of 120 marks. More details relating to the scoring are given below:
Each section of the TOEFL test is scored from 0 to 30 and the overall test is scored out of 120 marks.
The marks will be available after 6 days of your TOEFL examination and will be valid for 2 years.
Your score report will also include your best scores, i.e. your highest score from all the sections.
If the score is not suitable for the institution that you wish to go to, you can take several attempts at the exam until you get a better score, but there must be a waiting period of at least 3 days before taking the next attempt.
You are eligible to choose 4 institutions of your choice where you wish to take admission and the TOEFL scores will be directly sent to those institutions.
You must check the institution's website to find out the score requirement set by them.
Points to be Kept in Mind while Attending the TOEFL Exam
You can make notes on the paper while attempting any section of the TOEFL test. You will be given paper and pencil to take notes. But, while leaving the test centre, you'll have to submit all the used and unused paper to the concerned authority.
There will be a 10-minute break during which you can have a drink or snack.
If you want to go for a break in between the examinations, you can do that too, but the time will not be paused for you.
Mobile, tablets and other electronic gadgets will not be allowed in the examination hall. You won't be allowed to use it during the break time either.
Read More on the Expert Tips to Ace Your TOEFL Exam here.
TOEFL Exam Fee 2023
The registration fee for the TOEFL exam varies by location. The TOEFL exam costs US$190, or Rs. 14,242.11 ($1=74.96) in India.
Apart from that, candidates must pay additional fees for services such as late registration, exam rescheduling, and score review.
The following are the pricing for various services of the TOEFL exam:
| | |
| --- | --- |
| Special Requests | Charges |
| TOEFL Registration Fee | $190 (INR 16,900) |
| TOEFL Late Registration Fee | $40 (INR 3,900) |
| TOEFL Rescheduling Fees | $60 (INR 5,900) |
| Reinstatement of cancelled TOEFL scores | $20 (INR 1,990) |
| Additional TOEFL score reports (per institution or agency) | $20 each (INR 1,950 each) |
| Speaking or Writing Section score review | $80 (INR 7,900) |
| Payment Return | $160 (INR 2,900) |
TOEFL Exam Results
Once you complete your TOEFL Exam, a tentative date for your TOEFL results will be displayed for you.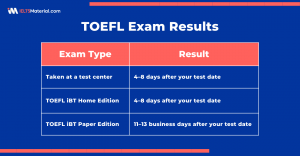 Advantages of Taking the TOEFL Exam
There are a few reasons why the TOEFL test is important. Some of them are discussed below:
It helps you to get noticed by the Admission officers as it improves your English-speaking skills just like the way they are used in the classroom.
Other speaking tests are rated by one person, whereas the TOEFL test is rated by multiple trainers.
You can test your scores online within 6 days of your examination and also get feedback on the parts you need to improve on.
It is accepted by 9000+ institutions and about 130 counties and also the top 100 universities in the US.
Confused About IELTS, CELPIP, and TOEFL? Get More Insights and a Comparison of All 3, here.
Top Tips to Score Higher in the TOEFL Exam
Achieving a higher score on the TOEFL test is within your reach with proper practice! Here are five crucial tips to enhance your performance:
Effective Time Management: Allocate specific time for each section, ensuring you complete all questions.
Master the Format: Familiarize yourself with the test format through practice tests and study materials.
Expand Vocabulary: Enhance your vocabulary by reading extensively and learning new words daily.
Refine Your Writing Skills: Practice writing essays on various topics and get feedback to improve your structure and coherence.
Fluency is Key: Work on your speaking and listening skills by engaging in English conversations and listening to diverse content.
TOEFL is a very complex test, and it is advisable to start practising for the test at least 2 months in advance, to get a good score on the examination. You just have to practice improving your English language, and you'll easily be able to get the score you are aiming for.
While IELTS is one of the preferred tests, TOEFL is just another one that you can take. To know the structure, eligibility and more such information, get enrolled into our FREE online coaching classes today!