10 Grammar Pet Peeves To Keep In Mind For A High IELTS Band
Prachi Ramkrishna,
Updated On


Limited-Time Offer : Access a FREE 10-Day IELTS Study Plan!
Introduction
In today's world, English is widely recognised as the language of worldwide communication. Regardless of where you are from or what language you speak as a native speaker, learning English will certainly be beneficial in your personal and professional development. Of course, there are many grammatical pitfalls and barriers in the English language that regularly annoy novice speakers.
Let's go over some common grammar errors you might make if you're learning English. By becoming familiar with these types of mistakes, you can avoid making them in the real IELTS exam.
Importance Of Grammar In IELTS
The IELTS test's grammar score is crucial since it can affect the overall band score in both the Speaking and Writing modules.
Keep in mind that each of the four evaluation categories is worth 25% of your final grade and grammar is one of them.
A sentence's meaning can be greatly affected by even minor grammatical alterations. So to demonstrate your effective communication skills in the IELTS, you need to fine-tune your English grammar.
Writing is frequently cited by students as the most challenging element of the IELTS exam, in part because it necessitates such precise grammar control.
To attain a band score of 7 or higher in the IELTS, you will need to ensure that your responses are as error-free as possible. So first, let's understand the various parts of grammar in the English language.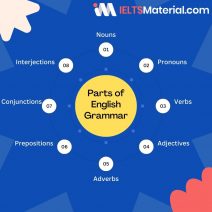 Grammar Pet Peeves To Be Aware Of
Let's look over some common grammar mistakes students make in the IELTS. Avoid losing points by making sure you know these by heart.
1. Homophones
Words that sound the same but mean different things are called homophones. They might even be spelt the same way! So it might be confusing to use them correctly when you're just starting out and expanding your English vocabulary.
Examples: 
There / Their / They're
To / Too / Two
Bough / Bow
Lead / Led
Sell / Cell
Hear / Here
Sea / See
Bear / Bare
Flower / Flour
Ate / Eight
Check: Common Spelling Errors in IELTS and How to Avoid Them | IELTSMaterial.com
2. Incorrect Dangling Prepositions 
Using an unnecessary preposition at the end of a statement is a common error made by second-language English speakers. Try omitting the last word from the example sentences given below:
Example: Where are we going to?
Example: What time should we leave at?
Example: Where is your hometown at?
Does the meaning remain the same? In this way, you can identify any unnecessary prepositions at the end of sentences.
3. Using "The" correctly
Articles such as 'a', 'an' and 'the' can be difficult to understand for new users of English.
Even among more experienced learners, "the" as a definite article is frequently used when referring to plural or uncountable nouns. Keep in mind that we don't use "the" in English when discussing anything generally.
Example: I love History.
When we employ the article "the," we are being singular and specific.
Example: I'm reading about the history of Rome.
4. They're vs. Their vs. There
'They're' is a contraction for the phrase "They are".
'Their' is a possessive pronoun.
Example: Their dog, their house, etc.
'There' is an adverb used to refer to a place.
Example: I went over there to find the tap.
5. Incomplete Comparisons
When you're making comparisons, you must remember to write the complete sentence.
For example, consider the following sentence:
"Our cars are better, stronger and faster."
You must add the following phrase to complete the sentence.
"Our cars are better, stronger and faster than our competitors."
6. Me or I?
Many English users might be confused about which of the following are correct:
Please forward the email to Will and me.
Please forward the email to Will and I.
Try taking the first person out of the sentence:
Please forward the email to __.
Thus, the use of me is the correct option.
7. Who vs. That
Use 'who' if you are describing a person.
Use 'that' when describing an object.
Example: This is the car that I want.
I love the chef who works at Alby's restaurant.
8. Who/Whom/Whose/Who's
'Who' is used to refer to someone.
Example: Who ate the cookies?
'Whom' is used when someone is receiving something or the subject of an action.
Example: Whom did she hit?
'Whose' is used to refer to the ownership of something.
Example: Whose car is parked outside?
'Who's' is a contraction for "who is".
Example: "Who's coming to the party?"
9. Into or In to?
'Into' is used when you want to talk about movement.
Example: The truck pulled into the driveway.
'In to' is used when both words are part of different phrases in the same sentence.
Example: We were called in to a meeting.
10. Should of/Should have
While speaking, contractions can sound muddled. Thus, the contraction of phrases like "should have", "would have" or "could have" tend to sound like "should of/would of/could of". However, this phrase is grammatically incorrect and should never be used in writing!
More Pet Peeves:
The words "your" and "you're" are not the same.
Plural nouns are not written with apostrophes
E.g.: "Eggs" not "Egg's"
"Its" is the possessive form of "it" whereas "it is" is often shortened to "it's"
"Then" depicts the course of events. "Than" is a comparison word for nouns.
The verb "affect" is not the same as the noun "effect"
If your pants are "loose", you might "lose" your keys.
Conclusion
Correct English speaking requires commitment, practice and close attention to detail. You must become fixated on the subtleties of language and word meaning. You must also learn to readily incorporate corrections for your mistakes so that they don't turn into a habit.
Nobody ever speaks English flawlessly, least of all native speakers! But you've set yourself up to communicate in English as well as possible by looking for lists of typical grammar mistakes like this one.
What are some pet peeves of yours? Share them in the comment section below!
Not sure if you're using a word correctly? Leave sample examples of your writing for our IELTS experts to check. You can find IELTS Writing topics here.
Frequently Asked Questions
Is "would of" the correct use of the phrase?
When we contract phrases like "would have", "should have" and "could have", they turn into - would've, could've, should've. Here, the contracted "ve" sound can be similar to "of", but it is grammatically incorrect.
Will I lose marks for incorrect grammar in IELTS?
Yes, you will be penalised for more than three grammar mistakes in the IELTS. Thus, it is important to make sure that your answers are as error-free as possible.
Is correct pronunciation important in IELTS?
You should try to pronounce words correctly in IELTS Speaking. However, this does not mean that you have to mimic the accent of a native speaker. Just use your natural accent and try to be easily understandable to the listener.
Which words require apostrophes?
The apostrophe is used to signify letter omission, produce possessive nouns, and indicate the plural of words or numbers.
When should I hyphenate terms?
Typically, hyphens are only required when two words function as an adjective together. To be certain, you can always consult a dictionary. It's usually advisable to omit the hyphen when using the phrase.