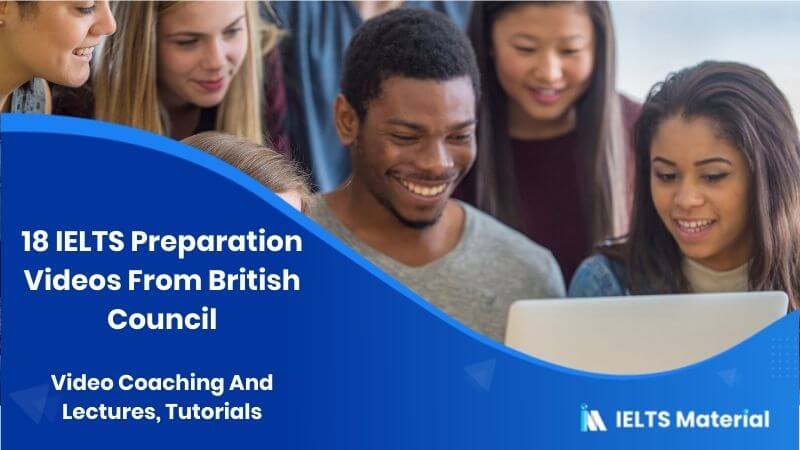 18 IELTS Preparation Videos From British Council – Video Coaching And Lectures, Tutorials
18 useful IELTS preparation videos from British Council about IELTS test structures, overview, exam tips, lessons for 4 IELTS sections (IELTS Listening, Speaking, Writing, Reading) to help you boost your IELTS Score to Band 7.0+
You can prepare for IELTS Speaking, Writing, Reading and Listening with the help of these videos. You can learn each and every aspect of grammar, like fluency, coherence and cohesion, lexical resource, vocabulary and other aspects which are taken into consideration while assessing you during the IELTS exams.  You can go through all the videos below and prepare well for the IELTS examination.
About British Council
The British Council is a British organization specializing in international cultural and educational opportunities. IELTS (IELTS Academic, IELTS General Training, and IELTS Life Skills)  is jointly managed by British Council and IDP.
Overview of 18 IELTS Preparation Videos (for both IELTS Academic and General Training Module)
Online Course Videos for IELTS Writing
1. Journey to IELTS – Writing test
2. IELTS Writing Task 1 things you must do
3. IELTS Writing Task 1 – tips and advice
4. IELTS Writing Answer the question!
5. IELTS Writing Task response Task achievement
6. IELTS Writing Coherence & Cohesion
7. IELTS Writing Grammar
8. IELTS Writing Vocabulary
9. IELTS preparation: Power Writing for IELTS Task 2 Writing

Online Course Videos for IELTS Speaking
1. Improve English for the IELTS Speaking test
2. Improve English for the IELTS Speaking test: Grammar
3. Improve English for the IELTS Speaking test: Pronunciation
4. Improve English for the IELTS Speaking test: Fluency and Coherence
5. IELTS Speaking: Improve English & prepare for IELTS – Vocabulary
Online Course Videos for IELTS Reading
1. Journey to IELTS – Reading test
2. IELTS Reading
Online Course Videos for IELTS Listening
1. IELTS Listening
2. Journey to IELTS – Listening test
Free Download
Download 18 Videos from BC – Mirror 1
Source: IELTS Forum by Zim.vn