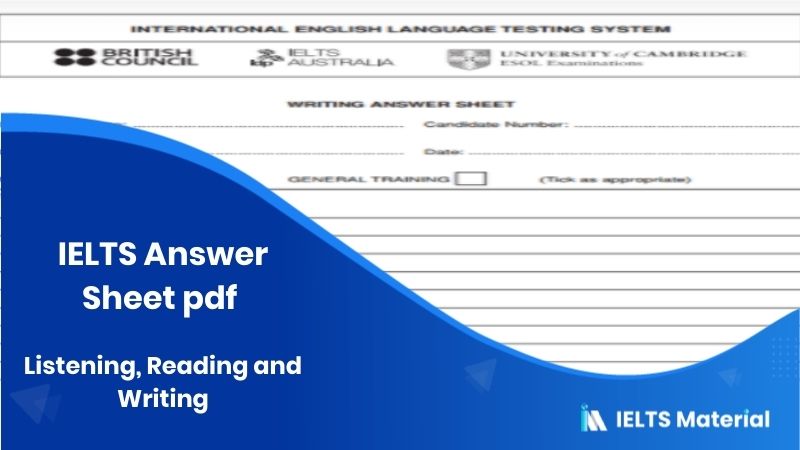 IELTS Answer Sheet pdf 2020: Listening, Reading and Writing
As we all know, IELTS has 4 sections: Speaking, Listening, Reading and Writing.
To familiarise yourself with the questions asked in the IELTS exam, you should download the IELTS answer sheets for Listening, Reading and Writing to practice at home. You can download the pdf of the IELTS sample answer sheet from the link at the end of this article.
IELTS Listening Answer Sheet 2020
In the listening test, you will have 30 minutes to listen to the recordings, during which you'll be allowed to write down points on the question sheet or the booklet that is given to you. After you listen to the audio, you will have an extra 10 minutes to transfer them to the given answer sheet. You are also allowed to underline the important sentences for your reference while transferring the answers.
IELTS Reading Answer Sheet 2020
In the IELTS reading test, you have 1 hour to complete the answer. Here the main task is to read the passage and write the answers for the questions given simultaneously. You can write the answers in the question paper too but it will be a waste of time as there won't be any extra time given again to transfer the answers to the answer sheet. Thus, it is advisable to directly write the answers in the answer sheet itself.

IELTS Writing Answer Sheet 2020
Before taking the writing test, it is advisable to practice it using the official website as it includes different tasks in it and without practice, it may become difficult for you to transfer the answer from the booklet to the answer sheet simultaneously and quickly.
As a conclusion, the scores for the IELTS test can be given only when there are answers written in the answer sheet. Even if the answers in the booklet or the question paper are correct. until and unless you transfer them to the answer sheet you will not get the scores. So it is important to be able to quickly transfer your answers to the answer sheet.
Download the IELTS answer sheet sample here:
Tips for writing in the IELTS answer sheets
During the test write the answers on the listening paper itself.
Use a pencil in order to avoid mistakes.
Write the answer in front of every question number so that if you do a mistake you can erase it and write the correct answer.
IELTS Actual Tests Questions (March - June 2021) with Answers
You only get 10 minutes so use it wisely.
You will have time to check the spellings after you transfer the answer.
You are supposed to write your full name in capital letters.
You need to fill the appropriate boxes in order to indicate the date and the candidate number.
The candidate number will be provided to you as soon as you enter the examination hall or it will be displayed on the desk in which you sit to write the exam.
See also: