Unlocking Success With IELTS Certificate: Everything You Need to Know
Raajdeep Saha,
Updated On


Limited-Time Offer : Access a FREE 10-Day IELTS Study Plan!
In the realm of higher education and global career opportunities, the IELTS certificate reigns supreme. As the acronym for the International English Language Testing System, IELTS holds immense significance in showcasing your language skills.
This blog unravels the intricate details and structure of the IELTS certificate, guiding you toward understanding its pivotal role in shaping your academic and professional endeavors.
Structure of the IELTS Certificate
1. Personal Information
The IELTS certificate begins with your personal details, including your full name, date of birth, and a unique identification number. It is crucial to ensure the accuracy of this information, as any discrepancies might lead to complications in the future.
2. Test Report Form (TRF) Number
The TRF number is a unique identifier assigned to each IELTS certificate. It serves as a reference for institutions or organizations to verify your results electronically. This number should be kept confidential and shared only with trusted parties when required.
3. Test Date and Location
The IELTS certificate displays the date on which you took the test, as well as the location of the test center. This information is essential for record-keeping and enables institutions to verify the authenticity of your certificate.
4. Overall Band Score
The most prominent feature of the IELTS certificate is the overall band score, which is an average of your scores in each of the four sections. This score is a reflection of your English language proficiency level and plays a significant role in academic and immigration-related applications. It ranges from 0 to 9, with half-band increments (e.g., 6.5, 7.0). The higher your band score, the stronger your language skills.
5. Individual Section Scores
Apart from the overall band score, the IELTS certificate also provides your scores for each individual section. This breakdown allows institutions and employers to assess your strengths and weaknesses in listening, reading, writing, and speaking. It helps them gauge your abilities in different language domains and make informed decisions accordingly.
Importance of the IELTS Certificate
There are a number of things for which the IELTS certificate becomes an important part of your career. The reasons are listed below:
1. Academic Opportunities
Many universities and educational institutions around the world require an IELTS certificate as part of their admission process. Your band score determines your eligibility for various courses, scholarships, and programs. A high score can enhance your chances of getting into renowned institutions and pursuing your desired academic path.
2. Immigration and Visa Applications
IELTS is widely recognized by immigration authorities as proof of language proficiency. For individuals aspiring to immigrate or work in an English-speaking country, an IELTS certificate is often a mandatory requirement. Your band score determines your eligibility for specific visa categories and can impact your chances of securing employment opportunities abroad.
3. Career Advancement
In today's globalized job market, employers value candidates with strong English language skills. An IELTS certificate showcases your ability to communicate effectively in English, making you a desirable candidate for international job opportunities. It can open doors to better career prospects and higher salaries.
4. Personal Development
Preparing for the IELTS examination not only enhances your language skills but also boosts your confidence in using English in various contexts. The rigorous study and practice required for the test help you develop valuable language-learning strategies and improve your overall proficiency.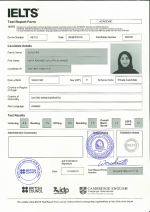 Source: Scribd
Validity of IELTS Certificate
The validity of your IELTS certificate depends on the country or institution you are applying to. In general, most countries and institutions accept IELTS certificates that are no more than two years old.
However, there are some exceptions. For example, the UK government allows you to use an IELTS certificate that is up to three years old if you are applying for a student visa.
| Country | Validity Period |
| --- | --- |
| Australia | 3 years |
| Canada | 2 years |
| New Zealand | 2 years |
| UK | 2 years |
| USA | 2 years |
IELTS Certificate vs. IELTS Marksheet
While the terms "IELTS certificate" and "IELTS mark sheet" are often used interchangeably, it is important to note the difference between the two. The IELTS certificate is the official document awarded to test-takers upon successfully completing the exam. It contains your personal information, overall band score, and individual section scores.
On the other hand, the term "IELTS mark sheet" refers to a detailed breakdown of your scores for each section of the exam. This mark sheet is provided to test-takers for reference and self-evaluation purposes.
IELTS Certificate: A Blessing Disguised As Hard Work
Obtaining an IELTS certificate is a significant milestone in your journey to academic and professional success. This credential serves as a testament to your English language proficiency and opens doors to numerous opportunities.
Understanding the structure and importance of the IELTS certificate empowers you to make informed decisions regarding your education, immigration, and career aspirations. So, if you're aiming to study abroad, immigrate, or advance your career globally, the IELTS certificate is your key to success.
You can view/download your certificate by clicking here.